What is Codegarden? 
Codegarden is a one-of-a-kind conference experience. It's the biggest international Umbraco conference in the world, and also the only Umbraco conference that's organized by Umbraco HQ (the company behind Umbraco CMS).
Codegarden has been a physical conference up until 2019, and last year, we went with a fully virtual experience due to the worldwide pandemic. As Covid-19 restrictions have been lifted in Denmark, Codegarden 2022 will take place in a hybrid format - for the very first time! 
This means that you have the option of an in-person ticket to attend in Odense, Denmark (home of Umbraco HQ) or to join virtually:
Secure your early bird Codegarden ticket now
What to look forward to? 
At Codegarden, you'll get updated on the biggest upcoming news about Umbraco and the industry in general, directly from the people who are working on it. There will both be a Technical and a Business track, to allow you to customize your experience to the content most relevant to you and your team.
You'll learn about Umbraco 10, what to expect from future Umbraco CMS releases, the new features coming in .NET 7 and C#, the latest on Umbraco Cloud, and much more. You'll also get to hear speakers from Umbraco HQ, Microsoft, Spotify, We Make Websites, VMware, and others 🎤
Here's what you can look forward to:
👉 Lots of technical, creative, and business talks by inspiring speakers. Scott Hanselman, Layla Porter, Scott Hunter, Jemima Abu, and Mads Torgersen will be there. Will you? 
👉 MVP Awards and Package Awards shows
👉 Umbraco Awards show, where you'll learn about the most innovative Umbraco solutions across industries
👉 Social sessions where you can meet the friendly community, Umbraco HQ, and network with like-minded Umbracians 
Making Codegarden accessible to all
Codegarden is the conference where hundreds of Umbracians gather to celebrate the Umbraco community, network with like-minded people and get inspired by numerous insightful talks. 
Coming to Codegarden in person will allow you to get the full experience live, feel the unique vibe everyone is talking about, and make meaningful connections during numerous networking and socializing opportunities. This is indeed the true Codegarden experience! 
But what if it's not possible for you to come to Odense? We've got your back! 
You can secure yourself a full-access virtual ticket to watch the full program and engage in networking activities and workshops, or a free virtual ticket that gives you limited access to Umbraco-related sessions. 
See what the different tickets include: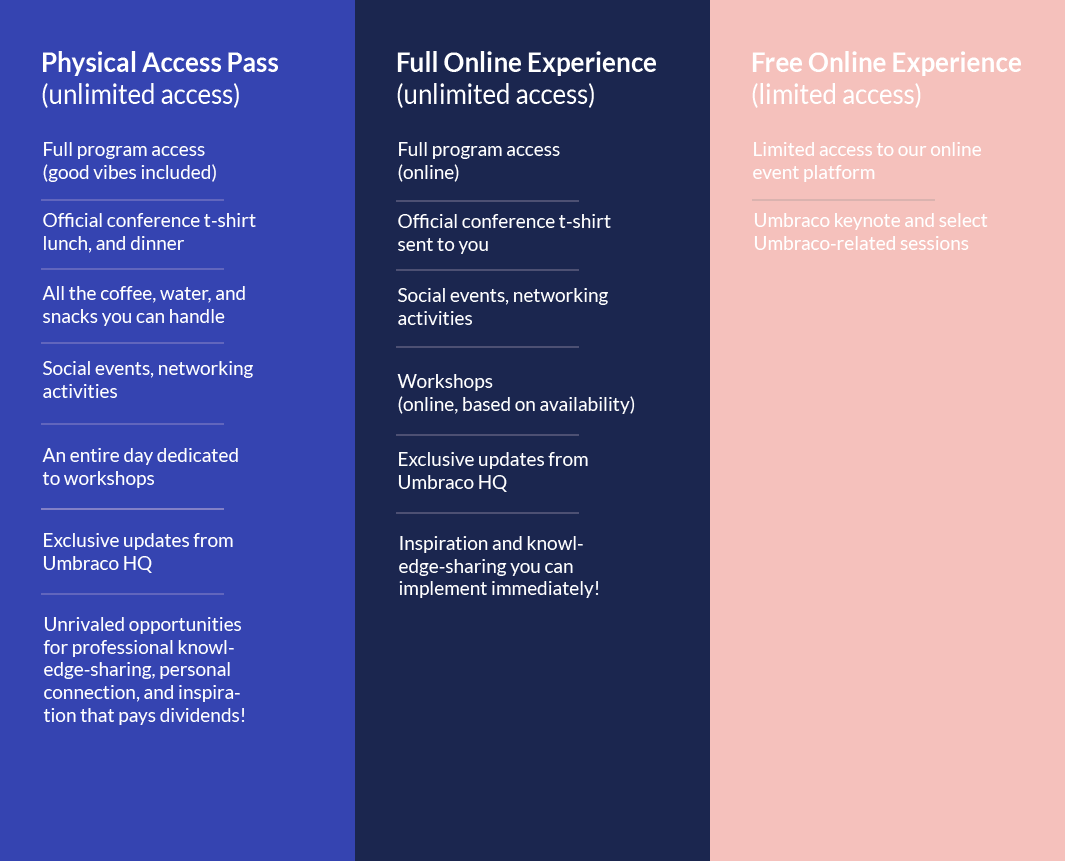 Note that we're now offering an early bird discount on the physical attendance tickets! Securing your spot(s) now saves you €200 per ticket 💰 But you better hurry - the early bird will fly away on April 22nd 🕊
Don't just take our word for it 🙌
See what last year's attendees said about Codegarden 👇
Addressing the elephant in the room 🐘
Since the onset of the Covid-19 pandemic, uncertainty has become a fact of life, so we understand if you have some questions before buying your in-person ticket.
Please be sure to read our full Covid-19 guidelines and Terms & Conditions for Codegarden tickets.
What you should know:
Health guidelines: We will always follow the recommendations from the Danish Health Authority to ensure your safety. There are currently no general Covid-19 restrictions in Denmark.
Refunds: You can take advantage of a full refund up to three (3) weeks before the conference begins. Please contact us at contact@umbraco.com to discuss your needs.
Substitutions: In case you need to transfer a ticket you've bought to another person, you must do so at your earliest opportunity, and at least 14 days before the conference begins. Write us!
See you in June? 😉
We'd love to have you join us at Codegarden 2022 - and we can't wait to give you the best hybrid Umbraco experience ever 🎉 So get rolling and mark your calendars for June 15 - 17, 2022! (Pssst… it's no secret that joining in-person will give you the full and best Codegarden experience - just ask previous Codegarden attendees!)
Secure your early bird Codegarden ticket
P.S. Need more info?
You can always read up more about Codegarden on the official website codegarden.umbraco.com, where you can find information about the tickets, awards, travel & stay, and more!