In early May, the disappointment of there being no Codegarden, the annual highlight of our Umbraco calendar, started to hit home for us. No hugs, no bingo craziness, none of that wonderful community spirit. The first hackathon that we hosted at Easter had gone really well, so planning a second seemed a good way to assuage our no-CG-blues. Having already organised one hackathon, surely the second would be easier…
Less than four weeks later we found ourselves hosting CodePatch, a hackathon and 'virtual celebration of the Umbraco community'. It was held over two days, lasted 24 hours in total, had 94 participants from at least 15 countries, and exceeded all our expectations in how well it went!
How this happened is a credit to the wonderful 'can-do' attitude of so many people in the Umbraco community.
Welcome to the Candid Contributions' CodePatch Diaries!
Sunday May 3rd
Chatted about doing another hackathon before we recorded our 'Open' podcast episode (the one with interviews from Umbraco's own Sebastian Janssen and Per Ploug). Decided to go for Saturday 30th as that's when CG20 would have ended. Thought it would be fun to have a 'pre-party' the afternoon before. All the best Umbraco events have a pre-party.
Monday May 4th
Messaged Ilham at Umbraco HQ asking if there was any reason why we couldn't organise another hackathon for sometime on May 29th/30th. She thought it was a wonderful idea, and confirmed the dates didn't conflict with any HQ plans. "Do you have anything special planned, anything Codegarden-related?" she asked. Confessed we hadn't got any further than just deciding on a date!
Tuesday May 5th
The lovely folk at Skrift featured a promo for the hackathon on their website. Like our first hackathon we must try and be as timezone friendly as possible.
Thursday May 7th
Ilham joined us for one of our CanCon cuppas (a Zoom call that should last no longer than the time it takes to drink a cup of tea). She offered to contact the people who had been accepted to speak at Codegarden to see if they would like to do a lightning talk at our event. A hackathon with some lightning talks, sounded a good idea. As did having a BetaGarden package competition.
Discussed names. Every good event needs a good name. Laura suggested CodePatch, we're kinda patching the lack of Codegarden after all. Carole wondered if the concept of a vegetable patch being a small bit of a garden would make sense outside of the UK.
Saturday May 9th
Laura showed her first graphics for CodePatch. Everyone else ran out of superlatives to use! We stopped considering alternative names.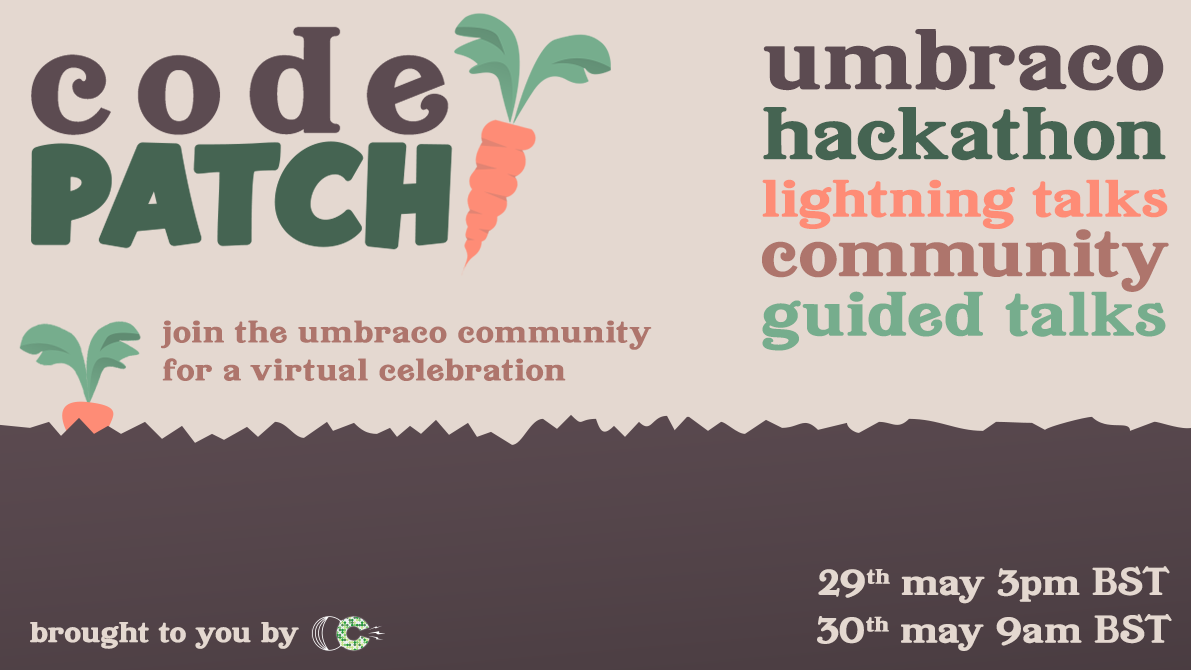 Sunday May 10th
Lotte couldn't go any longer without creating a CodePatch planning Trello board, and then spent far too long looking through vegetable-themed background images for it.
Monday May 11th
Sofie from Umbraco HQ messaged as she heard we were planning something and wanted to make sure it wouldn't conflict with the Documentation Curators plans to have a 'mini-retreat' on the Friday. No conflict, and in fact CodePatch would allow them a platform to share what they got up to, like the 'retreat session' that would have happened at Codegarden. In fact we could ask all the community teams to do the same, now there's an idea…
Tuesday May 12th
Emma wrote the promotional words for Ilham to send to the Codegarden speakers. Lengthy conversation ensued as to whether we were going with Code Patch or CodePatch, and whether CodePatch is camelCase or PascalCase.
Jan Skovgaard heard about the event and changed http://isitcodegardenyet.com/ to say "Is it CodePatch yet?", and reset the countdown to 3pm May 29th. Spent a wonderful few minutes refreshing the page to see lots of lovely Codegarden memories. The website says 17 days to go, plenty of time!
Wednesday May 13th
We have our first speaker! Marc Duiker, a Microsoft Azure MVP from the Netherlands, replied to Ilham's email that he would love to prepare a 15 minute talk. Very exciting, especially as we don't know him personally. No going back now then!
Had a call with Arnold from Umbraco HQ about recording the talks. Turns out there is a Umbraco Community channel on YouTube that we can publish them on. One less thing for us to set up.
Carole suggested a 'guided conversation' for the Friday evening as she's done them before and they work well in a virtual space. Looks like we're now planning a 'proper' schedule from 3pm until late on Friday, and then all day Saturday. Hmmm, how did that happen?! Added a mailchimp signup form to the website so people can start registering their interest in attending.
Tweeted about our plans with the promo banner. Lee Kelleher, MVPx10, replied with "#CodePatch ♥ the name!". CodeCabin replied using the carrot emoji 🥕. We start using 🥕ourselves, a lot.
Thursday May 14th
Heard from Niels Hartvig that he would love to do a talk as himself the developer/hacker, not as the founder of Umbraco. He's been working on an automated bartender which involves Umbraco Heartcore and a lot of woodwork, so we assumed he'll talk about that. Sounds awesome.
Marcin Zajkowski is also up for doing a talk. Slight problem that he'll be in the mountains that weekend with unpredictable internet connectivity. No virtual event organiser wants to hear that! He agreed to do a pre-recorded version.
The CodePatch banner went up on the Umbraco community website ("Our") today, thanks HQ! 
Sunday May 17th
Recorded the 'Share' podcast today and revealed more of our plans, including that we're going to be recording the next episode LIVE from CodePatch. We've never recorded a live podcast before but doing so over Zoom should be ok: everyone comes already mic'd up! 
Monday May 18th
Paul Sterling got in touch, saying he's up for preparing a shorter version of his CG talk. Due to timezones, it means him being up at 7am, on a Saturday, now there's some community spirit!
Core Collaborators and Packages Team have agreed to be involved in what we're now calling the "community catch-up" sessions. Sebastiaan from Umbraco HQ promoted CodePatch in his May blog post.
Tuesday May 19th
Had our 100th sign up on the mailing list today. Cripes.
Thursday May 21st
Asked Callum Whyte if he would be up for hosting BetaPatch, our version of Betagarden (the Codegarden package competition). "Leave it entirely up to me", he said. And so we are.
Friday May 22nd
CodePatch got a mention on umbraCoffee, good old Callum and Marcin! Niels tweeted a photo saying that living is "prepping for CodePatch in the workshop". Matt Wise tweeted that he might have a play with CypressJS testing at CodePatch. We're starting to realise that other people are really looking forward to this, not just us!
Delighted that Emma Garland has joined our list of speakers, she did such a great job at Spark. She's part of the Unicore Team who've confirmed they can be part of a community catch-up, so that's the full house of Umbraco community teams!
Saturday May 23rd 
Marc Duiker tweeted that he was spending his Saturday preparing his talk for CodePatch. The teaser for his 'start exploring your creative coding slide' looked awesome. 
Lotte spent a lovely afternoon playing with some new shiny things for our v8 website. When she remembered that there's less than a week to go, she went with nested content and got it finished.
Sunday May 24th
Got the full line-up published on the CanCon website after some fun with UTC. Conclusion? Time zones are hard! So exciting to see what we have planned.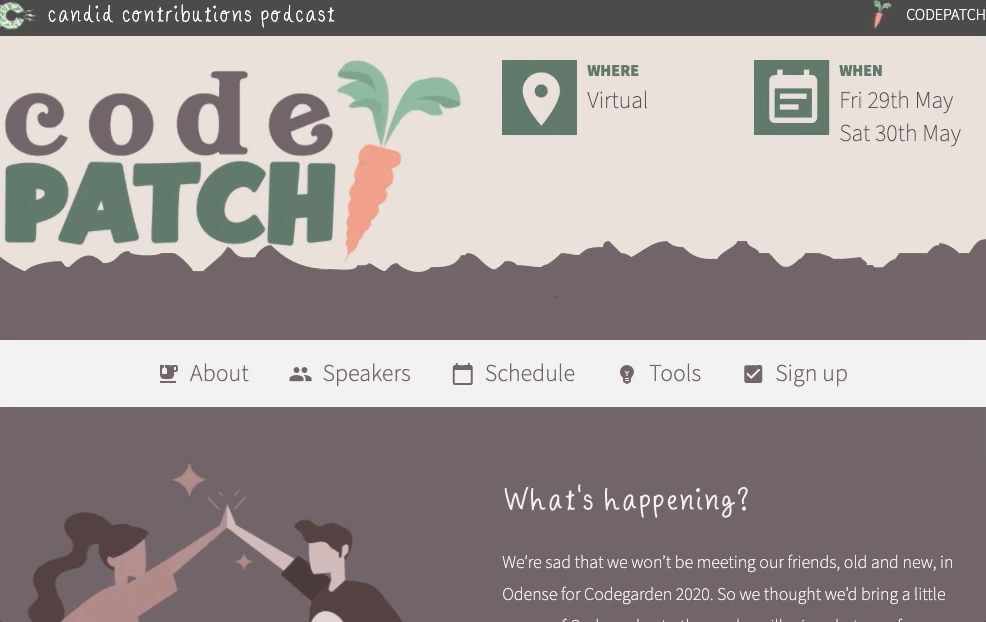 Agreed we should start twitter promotion tomorrow.
Monday May 25th
News breaks that a UK government advisor has flouted the lockdown rules that he helped to shape. Twitter blows up. Agreed we should delay twitter promotion for a day.
Had a trial run of the opening to the 'welcome party', the first hour of the event. Need to do something about audible keyboard noises.
Tuesday May 26th
Had a wonderful chat with Doug Robar, aka UmbracoMan, or the person who has trained probably half the community. So excited that he's up for being involved in the welcome party.  He's happy to say a few words; knowing Doug it will be more than a few! He suggested that we could use Zoom breakout rooms for getting people to talk to each other for a few minutes, a bit like the 'say hello to someone you've never met before' that he used to make us do at Codegarden. As Doug is the king of friendly Umbraco introductions, we're going with it.
Had awesome fun this evening testing the bingo Discord bot that Sven Guesens has been building for us - wouldn't be a Codegarden-related event without bingo... He promised he had time for this and to prepare for his lightning talk on Dependency Injection. The bot source is on GitHub, so 'make a PR to add more bingo words' was added to the Trello to-do list. It's going to be wonderfully chaotic when we play this!
Wednesday May 27th
There was a real community buzz today as Umbraco HQ announced the new and renewed MVPs on what would have been the first day of Codegarden. Sadly they had some technical issues with their event so the MVPs themselves couldn't be heard. We can make some amends by making sure we talk to as many of them as we can at the welcome party. Really glad we're not doing any live streaming, think we'll leave that to the people being paid to run virtual conferences!
Lucy Brailsford, having agreed to do a community catch-up about CodeCabin, did some CodePatch promotion on various Slack channels as she noticed we hadn't had the time to do it. It's wonderful having other people helping to promote the event, the four of us are meant to be getting some work done this week after all! 
The SpaceX launch has just been 'scrubbed' and delayed until Saturday evening, right after BetaPatch. We reckon lots of people will want to watch it, so we've added it to the schedule. Should be fun to watch together, let's just hope the weather is kinder next time.
Thursday May 28th
Chatted with Rachel Breeze from the Accessibility Team. They've had a get together to plan what they're going to be telling us about. Amazing how people in this community just get on and make things happen. We tried, and failed, to find a solution to have captioning on the Zoom call. That's the first time we wished we were using Microsoft Teams, not Zoom.
Now have over 140 people on the signup list. Had mild panic that everyone would turn up at once so would push us over the 100 people Zoom limit. Messaged Ilham about this. She reminded us to first celebrate having so many signups, and then increased the limit for the HQ Zoom account that we're using.
We want to do everything we can to make CodePatch a safe space for anyone who joins, so updated the introduction slides to remind people that it's their responsibility to respect the space that we've created. Revisited the security guidelines we followed for the last hackathon. Have to do everything we can to prevent a Zoom bomber ruining things.
Friday May 29th - The Big Day - Morning
Just a few "minor" things left to do this morning, like email everyone the Zoom link, finish the opening slides, and get all the information that people need into the Discord channels! 
Ruined Spotify history by listening to a lot of Ole Erling to decide the best tracks to play for the opening of the welcome party.
Friday May 29th - The Big Day - Afternoon
Properly excited now. It's 14:59, there are lots of people in the Zoom waiting room, and we've started letting them in...
And that's where this diary is going to end. We are writing a second installment to be published on our own Candid Contributions website with full details of everything that went on during the event itself.
As you can see (if you made it to this far!) there were so many people who helped us with ideas, promotion and support in the lead-up, not to mention those who participated in the event itself.
Pat yourselves on the back, Umbraco community, you're a wonder. 
Love and carrots 🥕 to you all,
- The Contribs
P.S. if you weren't there and want to get a feel for what you missed, check out: