Overview:
A new marketplace provides new opportunities
In just over a week, the next major version of Umbraco CMS, version 11, will see the light of day. Among the many new features and improvements, an entirely new way of discovering integrations, connectors, extensions, and packages through a user-friendly search is introduced.

The new marketplace section is populated by a brand new marketplace portal, available and searchable from anywhere, that improves the overview of what is possible if you want to go beyond the built-in features in Umbraco. The marketplace contains packages that are tailor-made to be installed in Umbraco but also highlight tools and services that can be integrated into your cDXP, complementing and enhancing content, marketing, and commerce capabilities, and much more. 
This new feature is yet another underlining of how seriously we at Umbraco approach the market's desire for composable DXP. We know that good content management is not enough when building a tech stack today. That is why we invite related technology such as DAM, commerce, personalization, translation, and more to be a part of the offering to users of Umbraco.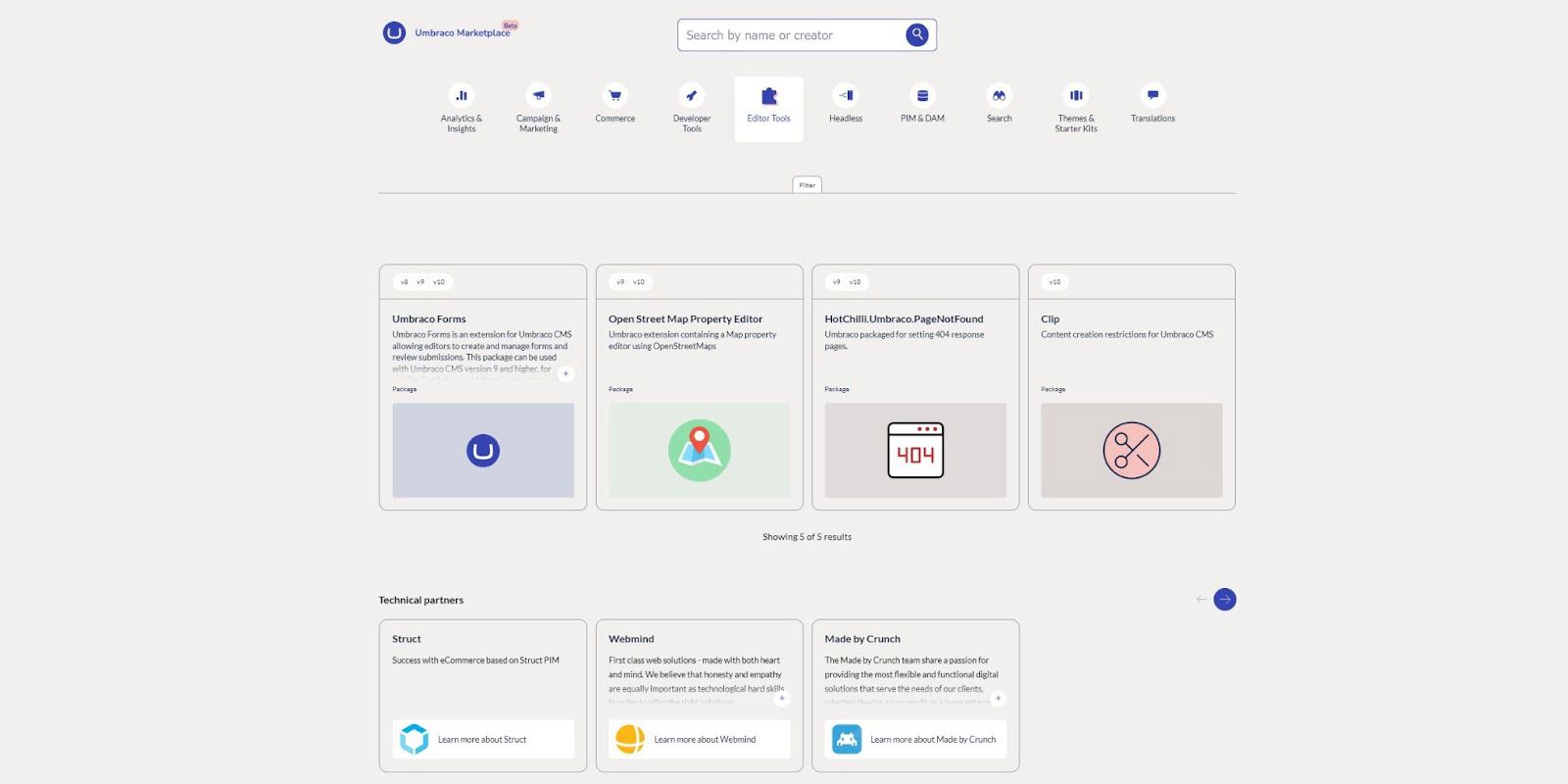 Tech partners and integrations are key
A growing part of the cDXP ecosystem is Umbraco Tech Partners, providing access to services, integrations, and packages that help agencies and companies build first-class web solutions.
By building integrations to other technologies and services, it is easier for Umbraco users to complete a best-of-breed strategy by choosing the technologies that align with their digital and business requirements instead of aligning strategy to a specific tool or platform. 
Umbraco has always had a composable approach and willingness to be open - it is a natural outcome of being open-source at the core. This means there are almost 1000 packages available. On top, we plan to have 75 tech partners by the end of 2022 and double that amount during 2023.
A better home for Tech Partners 
Together with a long list of partners such as Hubspot and Active Campaign, 
Umbraco has delivered packages that make it easy to use these popular services with Umbraco CMS. And through the tech partner program, we encourage and promote partners that do the same.
With the launch of the new Marketplace, Umbraco Tech Partners will get better promotion of integrations and products - not only by the new placement of the Marketplace in Umbraco CMS highlighting packages from NuGet but also with the upgrade of partner profiles at Umbraco.com, which is included in searches done either at the Marketplace, in the CMS, or on the Umbraco.com website. 
What is known as the marketplace today (currently umbraco.com/marketplace) will be the exclusive home for Tech Partner profiles and the perfect place to highlight services that integrate well with Umbraco.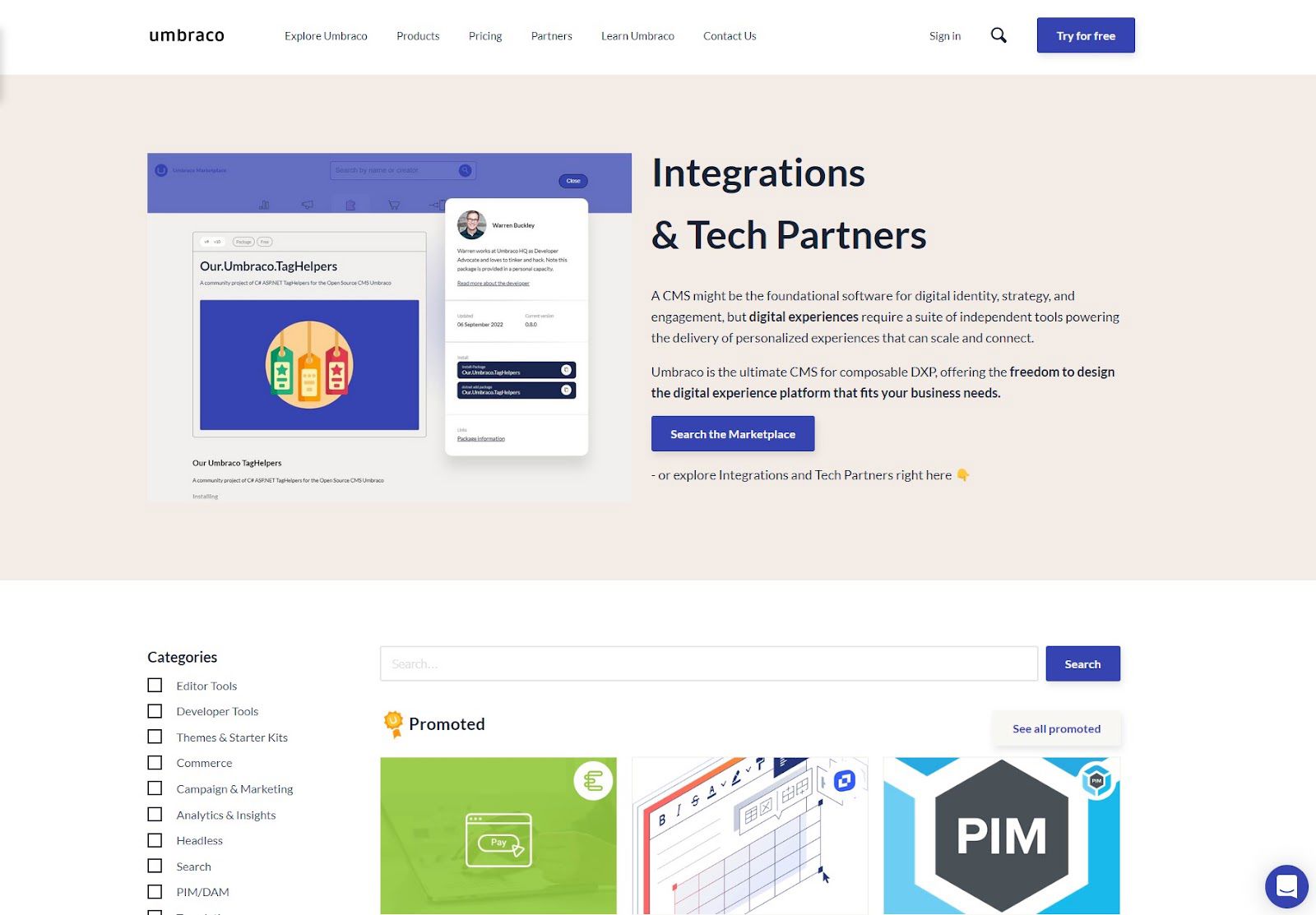 This means that, as an Umbraco Tech Partner, your partner profile will be showcased on umbraco.com, and you'll also have the possibility to highlight your services and integrations that work well with Umbraco on the very same overview. If you have created packages that are tailor-made to be installed in Umbraco, these will live on the new marketplace. 
Note that your Tech Partner profile and potential integration page(s) on umbraco.com will appear in the new marketplace search as well - which gives you the extra visibility you most certainly deserve. 
So what exactly will happen?
With the release of Umbraco 11, on December 1, 2022, the new and exciting changes for the Umbraco Marketplace will take effect. This means a few things will change, and some new features will be available.
A new Umbraco marketplace opens at marketplace.umbraco.com (preview available now)


The new marketplace is accessible and searchable directly from Umbraco CMS


The current umbraco.com/marketplace is moved to umbraco.com/integrations-and-tech-partners/ and provides a new area with a focus on profiling partners and services - and is fully searchable in the new marketplace to provide maximum exposure.
What do I need to do?
For the Tech Partners, there might be some changes you can make to your listing to make it work better with the new marketplace. Categories will be aligned with the ones from the new marketplace and you can choose wether your listing is a Tech Partner profile or an integration. Both will be searchable on the marketplace and used for filtering on the listing. Finally, the UX for creating and updating your listing will be improved.
If you are a Tech Partner AND have one or more .NET Umbraco packages: 
We highly recommend getting the package tagged and updated, so it is displayed on the new marketplace. Are you wondering how to add a package to Umbraco Marketplace? You can read about the step-by-step process right here. We also recommend that you edit your current listing at umbraco.com/marketplace to be a company/Tech Partner profile.
If you are a Tech Partner and DO NOT have .NET Umbraco packages:
We recommend that you edit your current listing at umbraco.com/marketplace to be a company/Tech Partner profile. 
If you have an one or more integrations listed on the current Umbraco Marketplace that are not packages, we recommend that you make sure to update that listing too.
This is all done with your partner log-in in the same place as you're used to. 
If you currently have a .NET package on umbraco.com/marketplace, this will be removed on December 1st, with the move to umbraco.com/integrations-and-tech-partners/. This means that you will need to list your package(s) on the new marketplace, following the above-mentioned instructions - you're of course, welcome to link to the package from your Tech Partner profile. 
When do I need to do this?
The changes for integrations and Tech Partner profiles will be launched on December 1st, 2022, and this is also the official launch of the new marketplace. So any updates to your listing can be added before then, just note that there will be a few changes and improvements on the day of release, including moving the listing to umbraco.com/integrations-and-tech-partners/. The changes will be communicated directly to partners later this week - so stay tuned!
And this is just the beginning 🚀
The marketplace will evolve and grow continuously - this is just the first iteration. As needs and requirements surface, and feedback is fed back, we will update the marketplace and the Tech Partner listing on .com to provide the best possible service for partners and package authors - and, most importantly, users searching for functionality to expand Umbraco with new features and cDXP capabilities.
If you're not currently an Umbraco Tech Partner, this is time to get on board! Reach out to Umbraco's friendly Partner Managers right here.
You will not regret becoming a part of the massive Umbraco ecosystem, counting 750.000+ installs, 1500+ partners, and 225.000+ community members.