Teaching Umbraco, a quarantine story
During these trying times, people all around us are re-evaluating values, rediscovering themselves and trying out new hobbies to keep themselves entertained.
But why not learn a new CMS?
That's why we at Perplex, with the help of Umbraco HQ, asked students to participate in a free online Umbraco Fundamentals training. Certification included!
And that's how, on a Wednesday morning at nine A.M., four enthusiastic students with varying web development experience (and varying snacks) started their Umbraco journey with me as their guide.
Although I was very nervous, especially since it was my first time teaching, I had the feeling I was well prepared.
Gabriel and Rheannon from Umbraco HQ had supplied me with all the course material, had set up an Umbraco Cloud environment for me and the students, gave me a quick tour of the environment and answered any questions I had about giving the course.
I had gone through the slides and most of the exercises so that I knew what was coming. I was ready!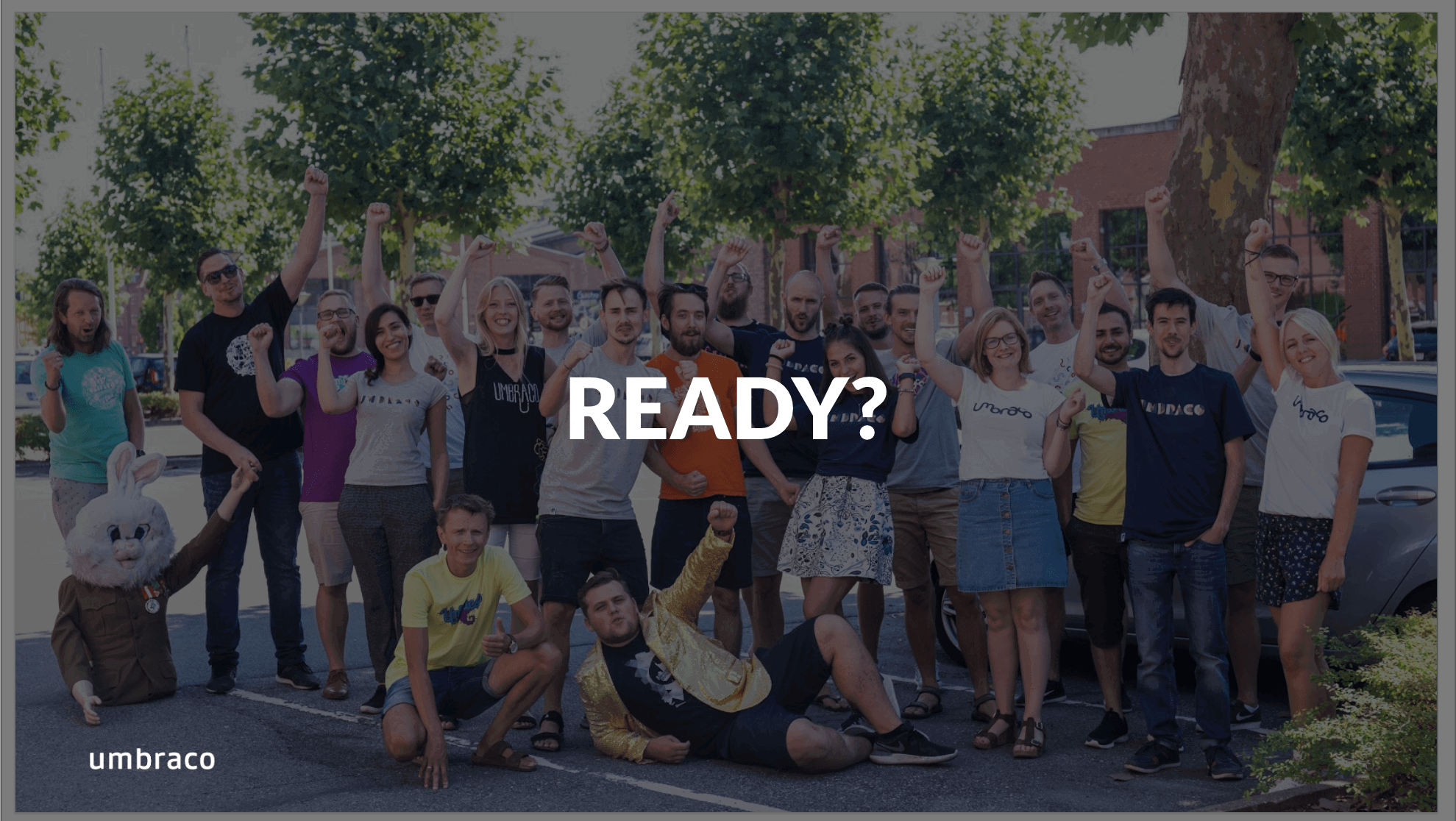 The training
To better suit the schedule of the students we chose to split the training over two mornings, each session lasting about three hours instead of everything in one day. Every course subject starts with some slides and explanation, followed by a demo and ends with an exercise.
During these exercises, I, the teacher, had time for questions, problem-solving, preparing for the next subject and the occasional small break. 
Using Umbraco Cloud for training purposes is fantastic.
Every student had their own environment without installing anything. All they needed was a browser, Zoom and, of course, snacks. They could easily log in, create some document types, create and publish a page and see the results.
Even more important: as a teacher, I could easily access all the Umbraco environments of the students to help them with issues. Crucial, especially when the training is online.
With the slides, exercises and Umbraco Cloud combined, the basis to do this kind of training is solid.
Combining it with a good video conference tool and you can really reach a wide audience.
...But there are also some drawbacks. As a teacher, it is harder for me to check up on people by walking around the room and asking each student how they are doing.
Also, as most people have noticed lately, doing presentations and meetings online is just a bit… weird.
We're used to feedback, be it verbal or non-verbal, and some small talk here and there, before, during or after the meeting. Especially when you want to get to know the students a bit better and get some feedback on how they are doing and how I am doing.
This is a little harder to accomplish online. 
Win-win
At the end of the second Wednesday morning of learning Umbraco, the students were allowed to take the exam. As a first-time teacher, I was proud (and a bit relieved) that all of the students passed! They left the Zoom meeting happy, wiser and with an updated CV.
And what are my ending remarks about this whole experience? 
It's not only the students who benefit from a free course such as this one.
Umbraco benefits by having more people with Umbraco experience, which in time will increase the size of the Umbraco community.
We at Perplex benefit by getting in touch with enthusiastic students with an interest in Umbraco and making a name for ourselves.
And, lastly, I benefit by doing something besides my day-to-day routine and improving my teaching skills.
So that makes it a… win-win-win-win situation?
___________________________________________
A big thank you to Perplex and Dennis for sharing their story with us, participating in the Umbraco Education Programme and helping more people gain valuable knowledge - #H5YR! 😎
If you want to follow in Dennis' footsteps, learn how you can become a part of the programme. 
Want to learn more about Perplex? Get to know them better.