Hi, and welcome to the bi-weekly Product Update from Umbraco. We know, we're a bit behind schedule on the updates, but we'll do our best to keep up with all that's happening so we can keep you updated regularly. 
And quite a lot is happening! So here we go:
Warming up to Umbraco 8.7
The next minor version for Umbraco 8 will be available soon, containing both new features and tons of improvements:


The new Block Editor will be available in this version, giving you an editing experience where it's easy to manipulate both structure and content. It includes flexibility in the editing experience and the ability to further customize the structures available and how you interact with them.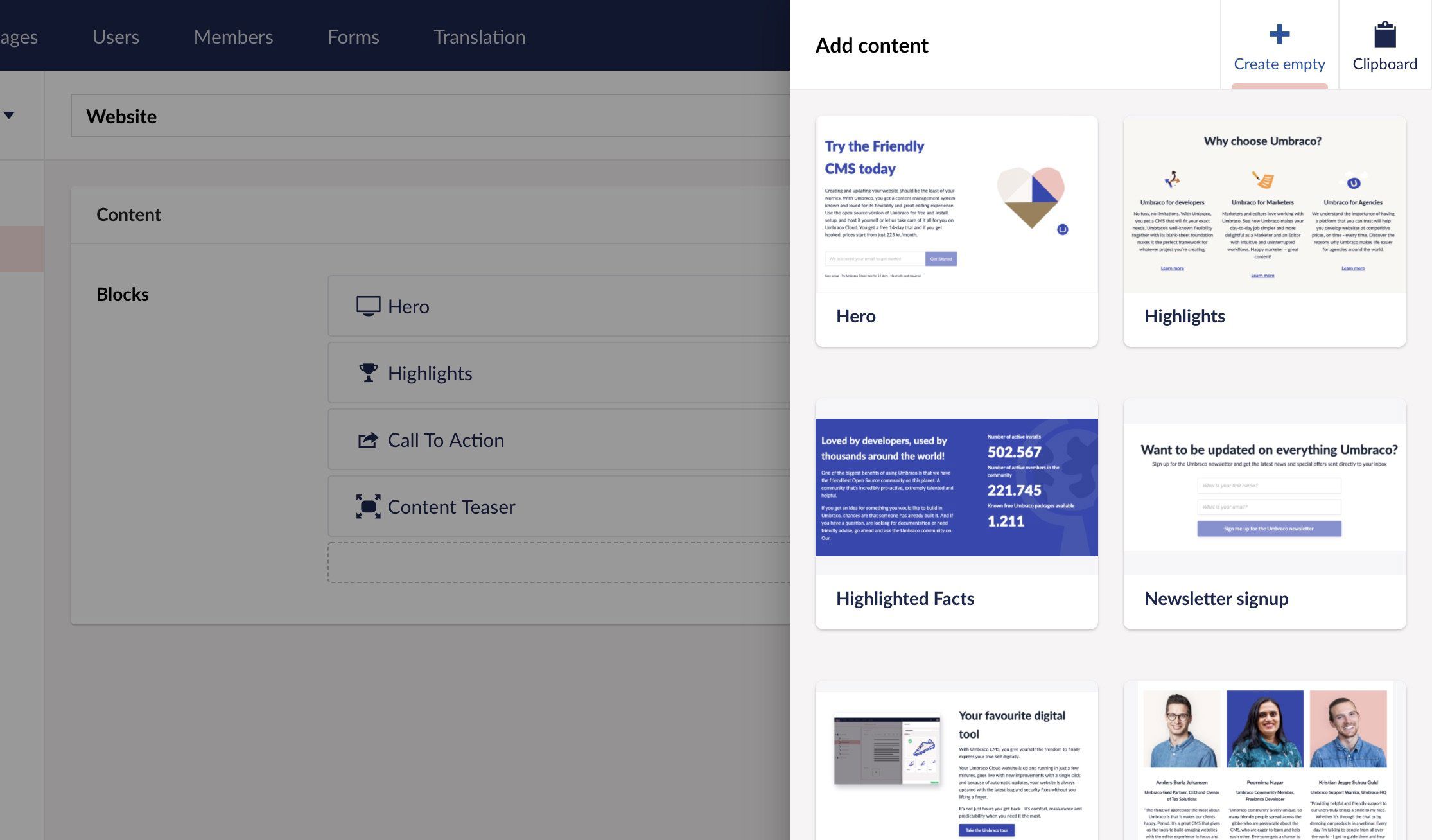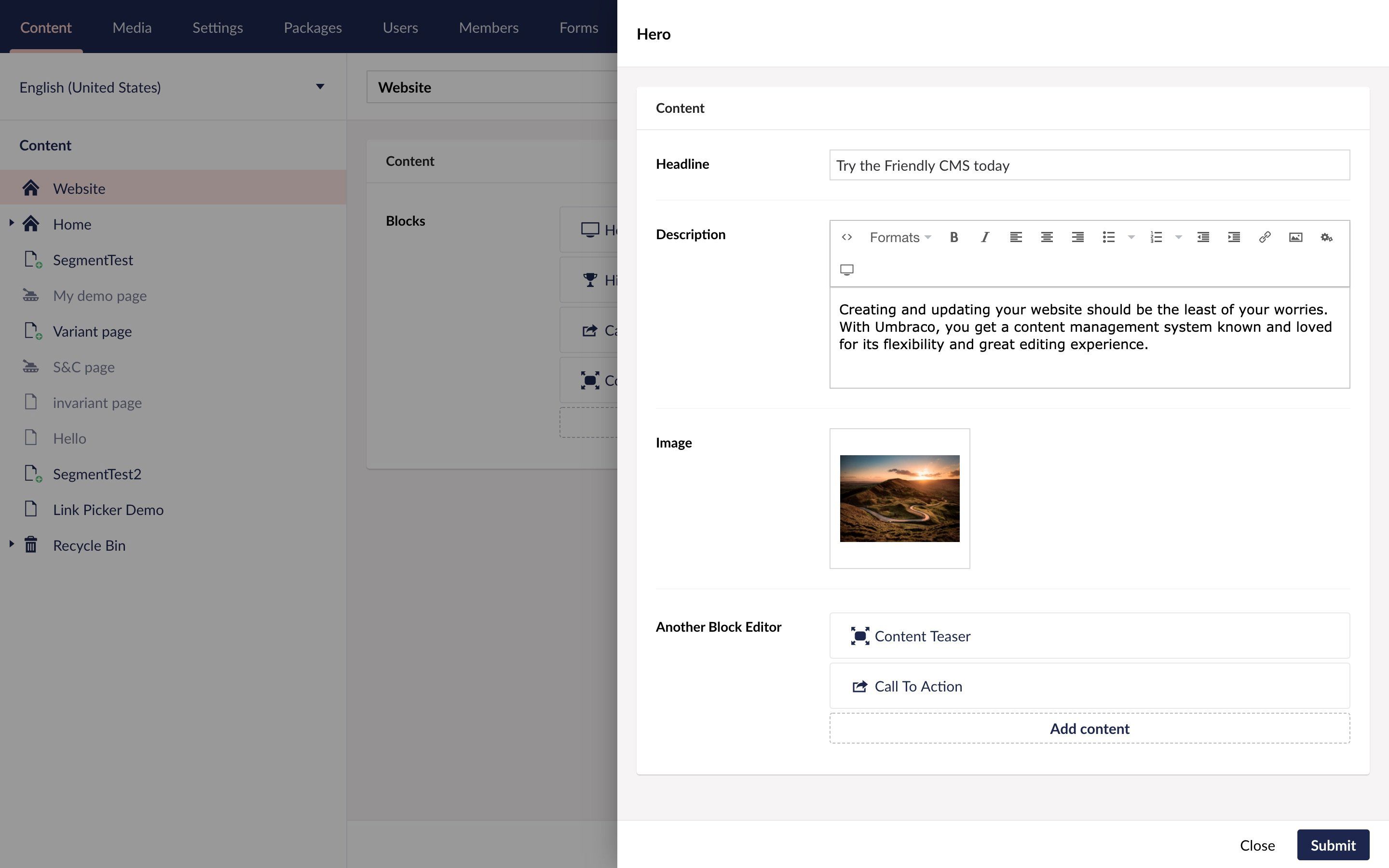 This version also includes a broad range of improvements to the technical support for segment type variants in Umbraco 8. Thanks to all the open source contributions from our Gold Partner Perplex, done as part of their newly released uMarketingSuite, it'll be possible for developers to dive into segments in a custom setup.


The list of improvements is long for Umbraco 8.7 and includes elements such as accessibility updates, backoffice UX improvements, improved multilingual experience, performance improvements etc. More details on that in the full release blog post, until then - check the release notes for 8.7 on Our Umbraco

Umbraco 8.7 will be available in a release candidate version two weeks before the final release. As soon as we have the estimated release date, we will let you know.
Improvements to Umbraco Forms
We continue to deliver improvements to Umbraco Forms and here are a few highlights of upcoming improvements:
Support for storing all components of Forms in the database. This will align Forms with the general practice for content on Umbraco Cloud and give you added benefits and simplicity in your Umbraco setup including better support for a load-balanced solution.


Removing dependencies on jQuery, allowing you to use Forms in a project without being forced to use jQuery or suffer from any complications that dependency was presenting.
"Forms in the database" has now been added as an upcoming feature on the Umbraco Roadmap.


Updates on Umbraco Cloud
We are working on several exciting improvements on Umbraco Cloud, here's one recent add and a recent released improvement:
Improvements to general authentication. It sounds boring :) But this is the first stage of an easier account handling for your Cloud projects and will open up possibilities for vastly improved integrations and best practice account features such as two-factor authentication. This feature has been added as an upcoming feature on our Roadmap.


We recently released updates to Umbraco Deploy, allowing for partial restore in both Umbraco 7 and 8 for both media and content. This makes it a lot easier to retrieve a subset of data which is a huge win for bigger projects where you need to restore a small portion of content in a separate environment to work on.
GraphQL for Umbraco Heartcore
We are getting very close to seeing native GraphQL support for Umbraco Heartcore, our headless Umbraco offering on Umbraco Cloud. With this feature, you will be able to query and filter your data server side with GraphQL making it very easy to get exactly the data output you need for your website, mobile app etc.
New tools for Package Developers
In an effort to make it easier to work with package development for Umbraco, the Umbraco Package Community Team has released a new open source tool called UmbPack. With this tool it's very easy to work packaging and deployment to Umbraco Our into your build pipeline. See more details on the UmbPack documentation and keep an eye out for the upcoming Package Team update where this new tool will be explained in more detail. 
That's it for this update. Many exciting releases are just around the corner - you can follow it all in the related updates here on the Umbraco Blog. As always, stay up to date with our Roadmap on our website.
If you have product feedback, questions or suggestions - feel free to reach out on product@umbraco.com
All the best
Jacob Midtgaard-Olesen, Umbraco CTO