Overview: 
New Releases:
Upcoming Releases:
New releases ✨
Dedicated Resources for Umbraco Cloud
All new self-service features on Umbraco Cloud let you control when to use shared vs dedicated resources. This makes it easier to plan and execute high-traffic events, identify issues in usage, or simply provide ample resources for business-critical sites or resource-intensive workflows.
Available as one-click up- and down-grade for Starter, Standard, Professional, and Enterprise plans, you can move from shared hosting to dedicated resources when needed. There are several options available depending on the project plan. For a full overview of configuration and pricing refer to the Dedicated Resources page or select the Dedicated Resources option under Settings in your Umbraco Cloud project.
Released on September 29, 2022



New Certificate Authority (CA) on Umbraco Cloud
As of September 26, 2022, the CA on Umbraco Cloud has been changed. This means the automatically generated certificates on Umbraco Cloud are now issued from Google Trust Services and the certificate validity has been updated from 1 year to 90 days.
For the vast majority of projects, this has no impact at all. The Certificates are renewed every 3 months as opposed to once per year but as this is automated it will not have any effect.
For projects that use Certificate Authority Authentication (CAA), the CAA records need to be updated with the new CA. You can read more about this in the CAA Record Migration documentation.
Released on September 26, 2022
Umbraco Deploy 10.1 (4.7/9.5)
This release is focused on providing new features, more control, and improved performance for transferring content. It will make content editors on Umbraco Cloud or using Deploy-on-premise happier with Scheduled Content Transfers, Persisted Transfer Queues, and improved performance for transferring large amounts of content.

The new release is available for upgrade and new projects on Umbraco Cloud and for Deploy-on-premise installations running Umbraco 8, 9, or 10. Get the full story in the release blog post.
Released on September 22, 2022



Umbraco 10.3
The improvements to Umbraco 10 keep rolling in. With the release of Umbraco 10.3, you get the ability to copy Data Types, especially handy for more complex configurations such as Grid Layouts or the Block List editor. You'll also find the Umbraco UI Library is now bundled with the release, which means you can start using the new components "out of the box". 
The release contains a whole lot more such as backoffice localization, updated dependencies, performance improvements, and more. There are even a few Hacktoberfest contributions that made it into to the release already. 
Read more about the new features and improvements in the Umbraco 10.3 release blog post.
Released on October 20, 2022
Upcoming Releases 🚀
Umbraco Forms 10.2
New release of Umbraco Forms is ready in just a couple of weeks and there are some really exciting features in this one. 
You can now render and submit forms via a new, built-in forms API. This adds improved capabilities for rendering and submitting forms client-side and can even be used as a headless API.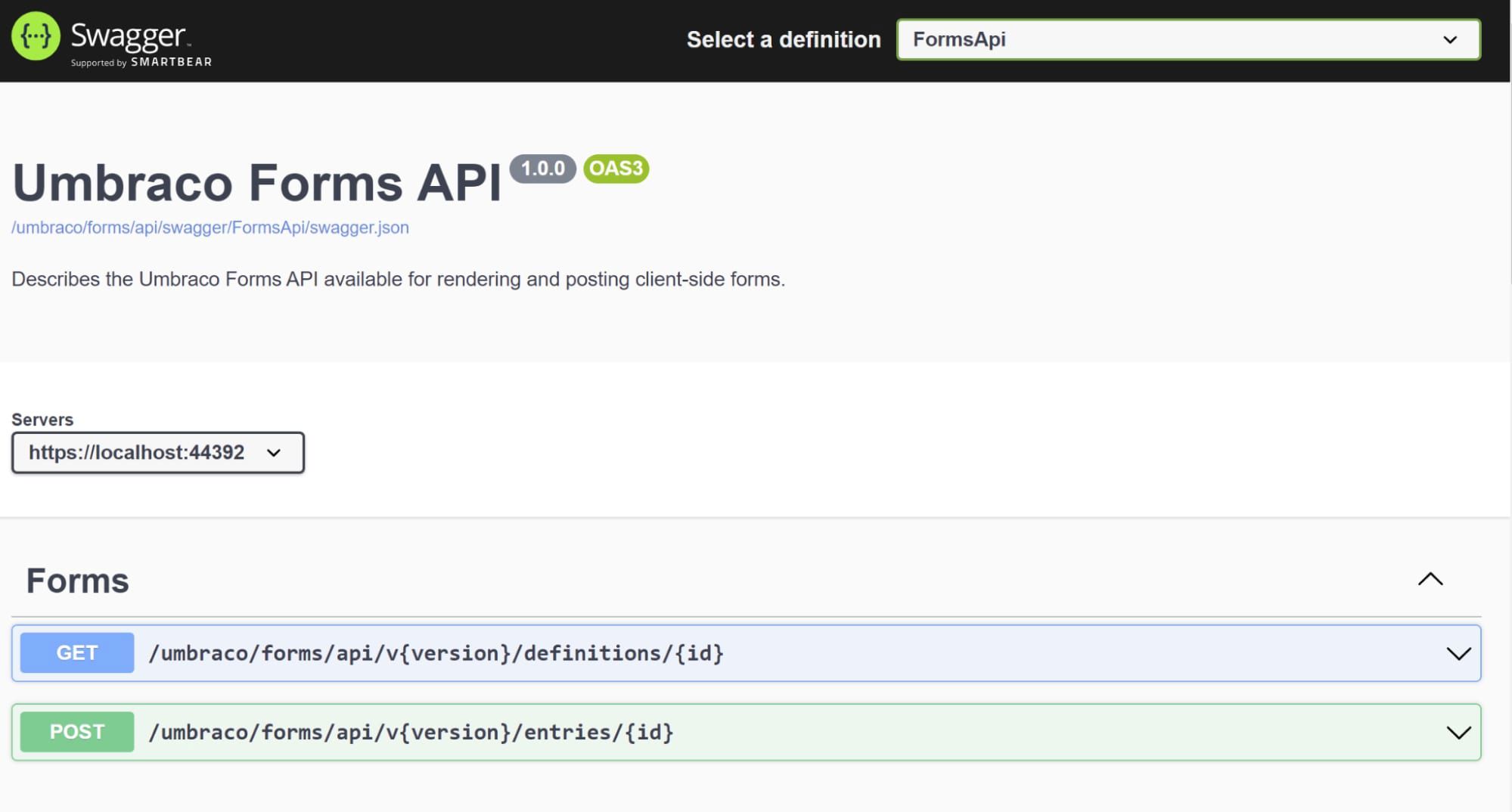 You'll also find multiple other new features such as the ability to set data retention policies and have automated cleanup of forms submissions, improved placeholders with new "magic string" formatting. So there's plenty to dive into. The release candidate is available now and you can read an extensive description of all the features in the release candidate blog post.
Scheduled for release on November 8, 2022
Umbraco 11
The next major release of Umbraco is also on the books with support for the latest version of .NET (ASP.NET Core 7) and cSharp 11, which in and of itself is worth the upgrade for a lot of people. But there's a whole lot more to the release…
TinyMCE, the Javascript framework responsible for rich text in the backoffice, has been updated to the latest version bringing both an updated UI and improved extendability.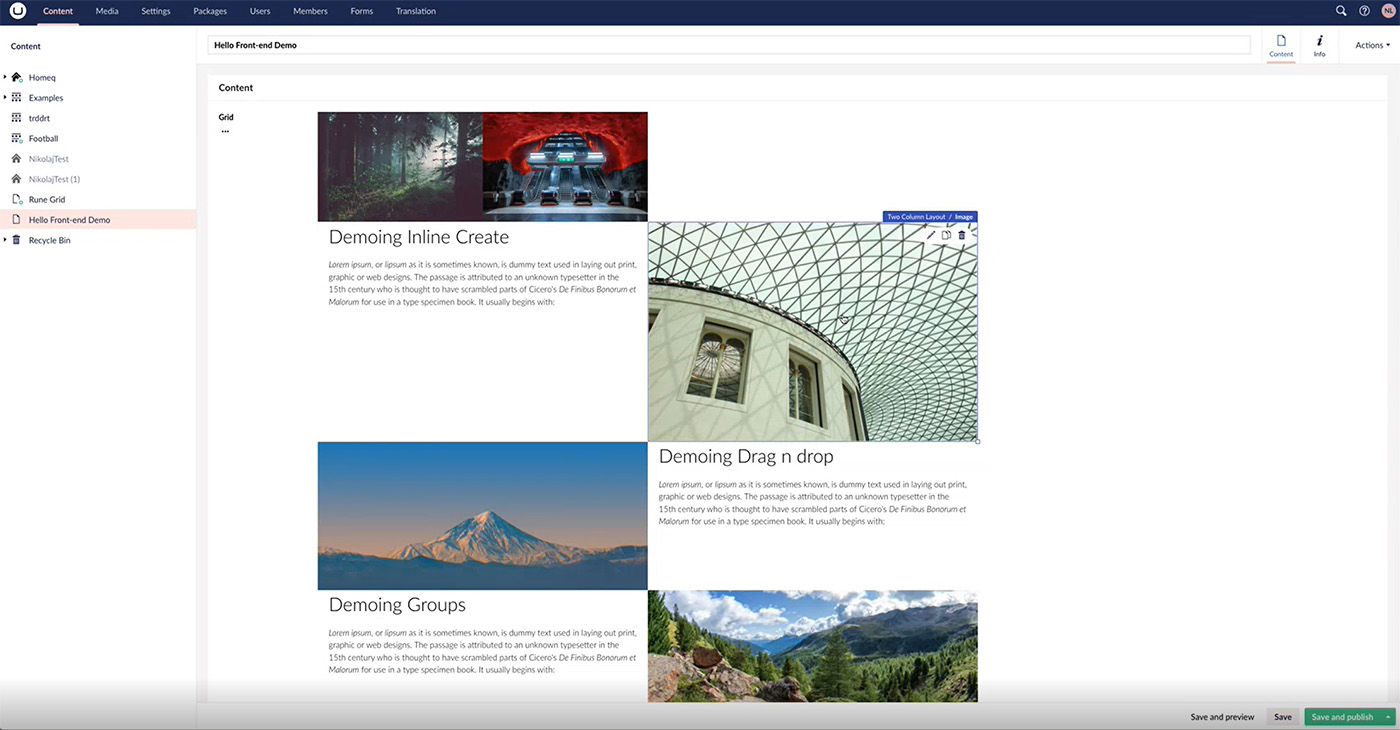 Not least of all the new Block Grid Editor is also included with Umbraco 11. This is a new Property Editor that provides layout capabilities combined with many of the features known from the Block List editor.
All of this and more can be tested out in the release candidate, and we hope to get a lot of feedback on the release Read up on all things 11 in the release candidate blog post and give it a spin.
Release candidates for Umbraco Forms and Deploy are also ready for testing. These are also major release, Forms 11 and Deploy 11, but solely focused on ensuring a good experience on the latest version of Umbraco and .NET.
Umbraco 11 is scheduled for release on December 1, 2022



Updates to the Roadmap
There hasn't been too much movement on the roadmap since the last Product Update, but there are a lot of things to look forward at the end of year. Not least with the release of Umbraco 11.
New in "Now"
Design and build of new marketplace solution (DXP)
Coinciding with Umbraco 11 we'll also be launching the new marketplace for Umbraco packages and integrations. This will mean a new site to replace the package section on our.umbraco.com (packages running on Umbraco 9+). There'll be a lot more information leading up to the launch, including information on how to get listed on the marketplace access to test it. The marketplace will also replace the package section in the Umbraco backoffice (on Umbraco 11+). 
The target release has been updated from Q4 to December 1, 2022
New Documentation Platform for Umbraco products
Packages are not the only ones getting a new home. The documentation for Umbraco products will also be moving. This is done to get better authoring tools for the team maintaining the docs on a daily basis, and to cater to the increase in Umbraco releases. The new platform will be replacing the old documentation section on our.umbraco.com which, with all its homebrewed quirkiness has served us well for many years - especially thanks to the Documentation Curators. 
This means that documentation for Umbraco 11 will be posted on the new platform along with documentation for Umbraco 10 (as it is LTS). This is where all updates will be added going forward - and don't worry, the Umbraco documentation will still be open-source and through GitHub. As with the new marketplace, there will be more information in the coming month, as well as the opportunity to test and provide feedback on the new documentation before launch. 
Target release:  December 1, 2022
Secrets Management for Umbraco Cloud 
Pushed ever slightly from an October to a November release target. Soon you will get new features to store and use secrets with your projects on Umbraco Cloud. 
Target release: November, 2022
Integration with ActiveCampaign for Umbraco CMS and Forms
Release of an extension for Umbraco CMS supporting the integration of ActiveCampaign forms on Umbraco  content pages. A package for Umbraco Forms will also be available, allowing for read and write of contact information held in the ActiveCampaign CRM.
Target release: Q4, 2022
… Until next time
A large part of the work we do is inspired by the feedback we get from you. If you find issues or have specific feature requests, you can find the issue trackers for our products on the Umbraco Github account.
If you have product feedback, you're welcome to reach out to us at product@umbraco.com.