As always, I'll start by giving you a quick little overview of what's happened on the Documentation Repository since my last blog post.
A bunch of typo and grammar fixes - Thanks for making sure the articles in the documentation is as easy a read as possible!


An official

 

Contribution guide

is now live on the Documentation as well - because we want to make it as easy as possible for you to contribute! 




Me and Jesper have given the Umbraco Cloud Troubleshooting section a needed makeover - I'll give you a bit more details about that a bit further down
Oh, and we also have something to celebrate!
A few weeks back we had our contribution no. 1000 😱
I can't tell y'all enough how cool it is to see all of you helping us keeping the Umbraco Documentation up to date. No matter how small or big a contribution you make, we appreciate it and you all deserve a BIG #H5YR!
Troubleshooting the troubleshooting guide
Since Jesper joined the Documentation Curators, we've been planning to look at the Troubleshooting guide for the Umbraco Cloud section in the documentation.
Well, I've already mentioned it, but this past month we finally did it!
We restructured the entire thing. First of all to make it easier for you to find the article you are looking for, and second of all, to give the section a better flow when you are browsing to find information about a specific issue.
Let's imagine you've run into an error on your Umbraco Cloud project. Heading over to the Troubleshooting section, you now have to choose a subsection based on where you ran into to the issue.
In each of these subsections, you'll find more links to articles explaining how to troubleshoot and fix the most common issues. There will also be some more information and notes about general troubleshooting in that particular area of Umbraco Cloud.
We've even collected a little FAQ on commonly asked question about Umbraco Cloud issues.



Numbers…
Now for some numbers: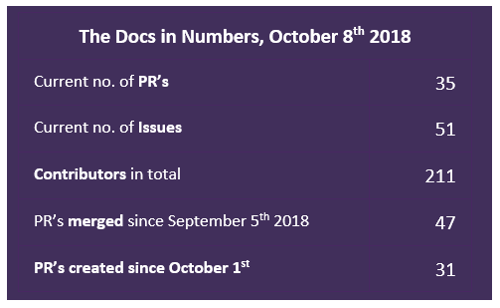 Wait, what's that? 31 PRs in just 5 days? That's right, and there's a very special reason for that - just keep reading! 
Hacktoberfest
October is in many ways a wonderful month. It's autumn, all the leaves turn a million beautiful shades of orange and red; The spooky ghosts and ghouls of Halloween is knocking on the door; and on top of all that, October is Hacktoberfest month!!
That's right: It's time to put on your favourite Umbraco tee and start contributing!
The Documentation Curators have teamed up with the Pull Request team, and together we are handing out amazing Umbraco Hacktoberfest swag to everybody who gets their contribution merged into either the Umbraco CMS or the Umbraco Documentation during October.
I mean, how cool is that? Read a lot more about how this is all put together in the Hacktoberfest dedicated blogpost from the beginning of the month.
That was all for me.
Happy Halloween!
Until next time!