Documentation, Umbraco 8 style
February 26th was a very exciting day for all Umbracians. Why? Well, we released the first new major version of Umbraco in 5 years 🎉.. Accompanied by this very big release was a bunch of new and updated documentation and videos. We also got to really test out the versioned documentation I've been talking so much about in my previous blog posts.
Dive into Umbraco 8 documentation today!
The list of new and updated documentation for Umbraco 8 is quite long by now, which is really, really cool! I also don't want to mention every article here so I've picked out a few highlights that I wanna share with you today:
Versioned documentation
In October last year, we introduced versioned documentation on the Umbraco Documentation on Our. With the launch of Umbraco 8 we now get to reap all the benefits of this feature!
As you might know, we've made some fundamental changes in Umbraco 8, which means a lot of the current documentation needs updating, while we still need to keep documentation for Umbraco 7 as well.
By default, the Umbraco Documentation will show you articles about Umbraco 8. Some of the articles have yet to be tested and updated for Umbraco 8 - we've added a little note to the top of each of those articles:

This little note means that the article you're currently viewing hasn't been tested against Umbraco 8, but is still very much relevant for Umbraco 7. It also includes a link to the Documentation Issue Tracker on GitHub where you can report missing or out-of-date documentation.
We are continuously working on getting all the articles up to date. As always, you're more than welcome to pitch in!

Much, much more…
Those were just some of the highlights! To get a full overview, I've added an article where you can keep track of updated, new and upcoming documentation for Umbraco 8. This article is updated regular basis, so it's a great place for you to go and get the full Umbraco 8 docs overview.
Updating the documentation for Umbraco 8 is not all that I've been involved in. Being part of the Umbraco TV Crew, I would also encourage you to check out the videos that Gabriel has made about Umbraco 8. There are a few videos to help you get an overview of all the new features, and he's also made a video about Language Variants - all of which are free. 


You can find his videos on Umbraco.TV or on our Umbraco HQ YouTube channel.

What else has been going on...
Since it has been quite a while since my last Docs Diary post, let's do a quick little run-through of some of the highlights pre-Umbraco 8 😉
1 million PRs 🤯
…okay, not quite, but listen to this: In January we had a very active contributor who made a whopping 193 (!!!!) Pull Requests to the documentation. I bet you're thinking that's a lot for 1 month, right? This contributor actually did them all within 4 days 😱
A huge H5YR to Jan Skovgaard (@TheRealBatJan), who put in an enormous effort in order to help prettify all the code snippets you can find throughout the Umbraco Documentation.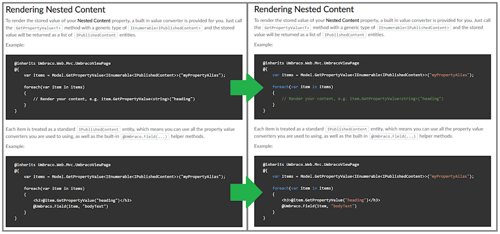 A restructure of the Umbraco Courier documentation 
I kicked off 2019 by diving into the Umbraco Courier section of the documentation. It was in need of some attention, so I did a thorough run-through, updating the articles where needed and also restructured the section a bit. Now, documentation about Courier should be easier to find and follow.
Configuration for Umbraco Deploy
When you have an Umbraco Cloud project that uses Umbraco Deploy there are a few settings you can configure. These settings are now explained in a brand new article made by my fellow Curator, Jesper.
Numbers…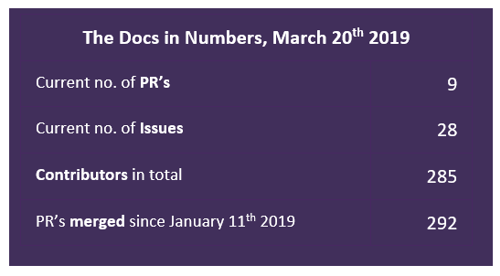 Yes, it's quite a low number of open PRs, but look at that number at the bottom. We really DID merge 292 Pull Requests since my last Docs Diary post. Thanks for continuing to keep is busy! 👏
Since I've been doing these blog posts for a bit more than a year now, I thought it'd be fun to compare the numbers I did in March last year:
Okay, maybe not that interesting, but look at how the number of contributors has grown. Just WOW! More than 100 people have joined in the past year 🎉That's really cool!
H5YR to everybody who's contributed to the Documentation!
Now I better get back to writing some more Umbraco 8 documentation.
Until next time.