Pull request progress
For a bit of perspective on the PR activity in this 10 month period, I thought it would be interesting to have a look at the same period the year before:
From November 2017 until September 2018 we had 443 new incoming pull requests and we closed 495. How does that add up? Well, this means that on top of processing the incoming PRs, we also closed a few from the backlog. 
Contrasted with the November 2018 until September 2019: a whopping 946 pull requests incoming and 962 of them closed.
That is more than a 100% increase of incoming PRs already in "normal" months, as in: not a Hacktoberfest month (more on that later). No wonder we've been busy!
From previous PR team chronicles posts, you might remember the graph below. In blue, we have the number of merged & closed PRs and in purple the number of created PRs. We like to see that the blue column is higher than the purple one, meaning we keep up with the amount of incoming contributions.

Compare that to the previous graph from the November 2018 blog post that looks back for a year and we can clearly see the difference in the activity that I talked about earlier. Look at how much higher the purple bars are in 2019!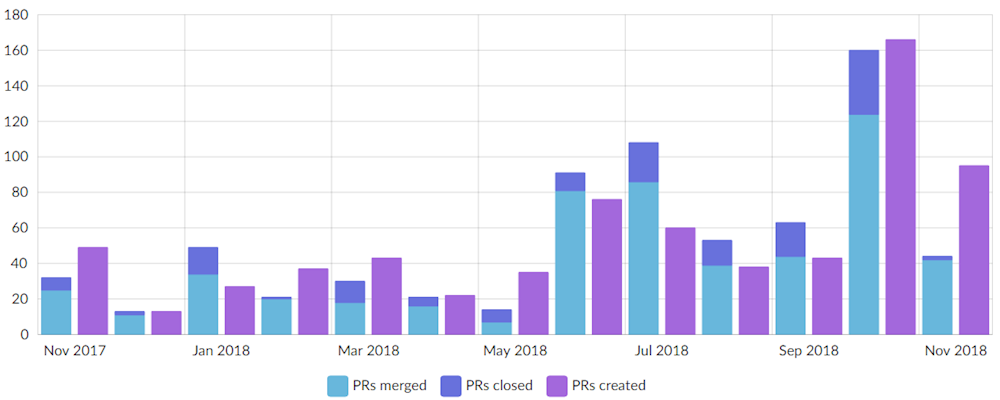 Alright, now back to the current situation. In the 2019 graph, we see quite a few peaks in the blue columns over the past few months, but also big drops in March and July due to holidays. We've improved our process so that there is coverage during the holiday periods. This means that we can make sure that all contributors have a good experience - because we can see that perhaps due to holidays, some of you contributors actually find the time to contribute, and that's great!
New contributors
We're also seeing a healthy number of people who have made their very first contribution over this time period. There were 72 wonderful people who have made their first-ever contribution to the Umbraco CMS repository. Thank you all so much! ⭐⭐⭐⭐⭐
Out of those 72, 28 have made at least two contributions and there's hopefully more to come from them. 
One new contributor stood out from the group with a total of 28 contributions: Steve Megson deserves a lot of extra gold stars!
Hacktoberfest
We hope to see many more faces in the "new contributor" list very soon because it is nearly time for Hacktoberfest, the yearly celebration of contributing to your favourite open source projects!
Like last year, we're joining many other companies with a little incentive of sending you some swag for your great pull requests during the month of October (a little swag sneak peek can be found below).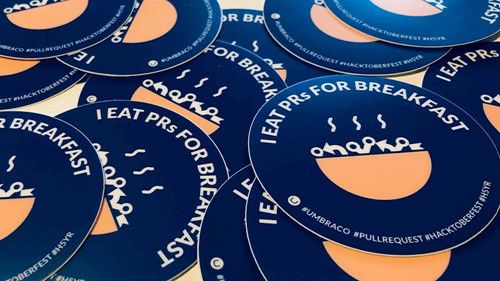 We'll write more about Hacktoberfest soon, but until then, why not join me and other Umbraco users IRL for the two upcoming Hackathons:
Tomorrow,

 

 September 26th, our friends at Kraftværk are hosting a Hackathon

 the evening before the Umbraco DK Festival

Even though it's not October yet, your contributions there will also qualify for Hacktoberfest swag 🤩

Our very own colleague and code-wizard-extraordinaire Shannon Deminick has flown all the way from Australia to join this celebration! 🎉 (okay, he happens to be in town, but let's just pretend he came over for Hacktoberfest, okay? 😉)
Whether this is your very first or 10th PR, this is a great Hackathon for anyone who wants to contribute - and get your hands on some exclusive Umbraco Hacktoberfest swag, of course ;) 
What else is new in the PR world?
Ten months is quite a long period to cover, but let's go over a few highlights:
The Friendly Umbraco Bot
During the summer we have started experimenting with our Friendly Umbraco bot 🤖 Whenever we add a "up for grabs" label to an issue, you'll get a friendly message letting you know we're looking for a community contribution.

How is this helpful to you?
Obviously the bot saves us time from having to keep typing the same information each time (and save us from making embarrassing typos ;)). This allows us to move on to the next issue quicker and you'll get a faster reply. Win-win!
We think this is working quite well and we'll introduce a few new bots in the next few weeks.
Accessibility contributions
We have seen the emergence of the accessibility team, a wonderful group of community members who are dedicating their time to help fix a list of accessibility issues in the backoffice of Umbraco. The 50+ fixes they have made so far will greatly help people with disabilities work with Umbraco. 
At the risk of forgetting someone (😨), we'd like to extend our huge huge thanks to the contributors to this project:
Keep up the awesome work!! 🥇 And remember, dear reader, you too, can help. Maybe that list is the inspiration you need to find something to work on during Hacktoberfest?
Regular contributors
We love to celebrate our regular contributors. Their amazing work helps us a lot to make Umbraco better every day. So without further ado, let's list the top 10 contributors for the last 10 months:
Thank you, thank you, thank you. Amazing work! 🙏 
And of course, if your name is not on this list, we still value your work just as much, all contributions, great and small, make us smile every day as it helps improve the CMS that thousands of people around the world use every day! 💪😊
Issue tracker status
Last, but not least, we've been working hard at getting a better process in place for incoming issues. 
We believe that, just like PRs, creating issues is a valuable contribution to make Umbraco better and your contributions deserve to get our attention and a good response in a timely manner. 
To this end, we are measuring our performance on this. The first results of those measurements are at least promising. We've set ourselves the goal to reply to new issues within 2 business days and September looks like it will be the month where we fully hit that target every time.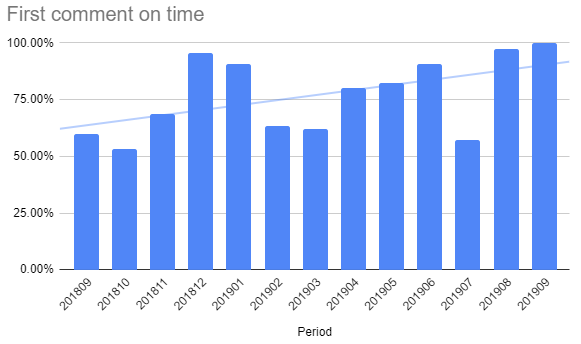 We have also seen an increase in the number of resolved issues going from 53% before we started this process to 58% now. While this is a good start, it shows that we need to be better at following up on issues that require more of our attention. 
We are currently developing new tools and measurements for that purpose and you'll soon see some new GitHub labels popping up specifically to track that progress. I'll make sure to update you on this in the next edition of the PR chronicles which will be posted in November.
All in all, in the last 10 months...
Contributions have more than doubled, and at the same time we've managed to improve our ability to keep up with all the great input. We feel happy to be able to keep up with most of them. The number of contributors is fantastic and we are happy to have quite a few regular ones who keep coming up with wonderful bug fixes and new features.
Additionally, we're being more responsive on the issue tracker in order to make sure that we respect each of your findings and feature requests. There's still work to do on that front, but we're making good progress.
Finally, the frequency of these chronicles will be higher again, so no more 10 months wait for the next edition! 😅 Going forward, the PR chronicles will be posted every other month, meaning you'll hear from me again in November (jep, that's post-Hacktoberfest month - I can't wait to see what I get to share!)
See you in November! 👋