November has good news and bad news.. The good news is that you've been very active again in sending us more wonderful contributions! 🎉 The bad news is that we've been having a tough time keeping up with them at HQ.
This means that from the 95 (!) incoming PRs, we've managed to go through almost half of them (44). 
Below we can have a look at the activity over the past year of pull request created (purple) and merged/closed (blue).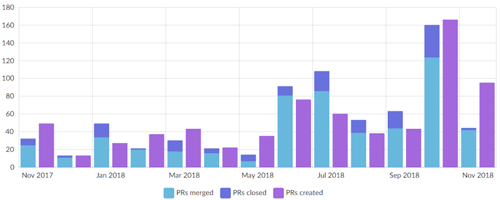 The reason for this slowdown is actually a positive one though! We've been focusing on refining our process for both incoming PRs and incoming issues. This has required quite a few chats internally and with the PR team / Docs curators team.
We hope to have a blog post about this process wrapped up for you soon and it will help set the expectations for incoming PRs and issue more clearly.
All this means that we're seeing another uptick in the number of still open PRs, going from 83 to 134 in November.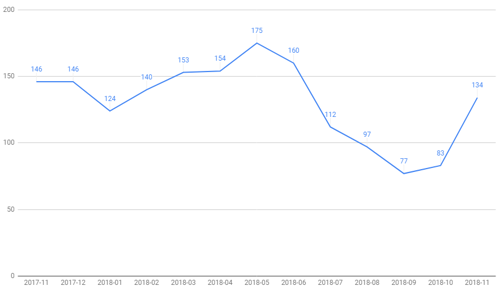 The good news is that this number is already going down in December and we expect to be back at a much nicer level by the end of the month.
So what's new?
In this month we don't have any really big pull requests merged but there has been a lot of small refinements, which is great. We all know that the devil is in the details, so whether it's making error message more clear, fixing some small but annoying UI bugs, updating translations, making the lives of package developers better or simplifying the codebase: it's all wonderful, we love it! 🤩
The executive summary for November-December: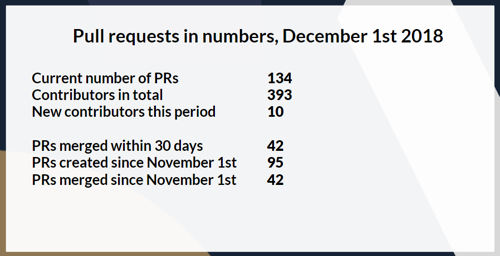 Thanks again to everyone for the wonderful contributions!
There were a few people this month who stood out in being very active: Once again Kenn Jacobsen has sent us a whole lot of nice stuff and a wonderful new contributor this month was Laura Weatherhead who completed her first ever pull request for Umbraco at the UK festival hackathon and has since been inspired to fix even more bugs, well done Laura! ⭐
P.S. where is my Hacktoberfest swag? 🤔
You might have been thinking that lately.  And don't worry - it's on its way! We definitely haven't forgotten or left you out. We are shipping stuff to all over the world to all the awesome Hacktoberfest contributors and on top of that, Christmas is just around the corner, so we expect the deliveries to be a bit delayed.  We know you just can't wait to receive your swag 😉 but please bear with us - we promise it will be worth the wait!