Overview: 
Upcoming releases: Forms 9.4 / 8.12 and Deploy 9.4 / 4.6 (Release candidates are out 🎉)
Another double release of Umbraco Forms and Deploy is just around the corner and there are both new features and valuable fixes to look forward to. Yesterday, the release candidates were made available for both, so you can try them out now.
Umbraco Forms 9.4 and 8.12, for Umbraco 9 and 8 respectively, you can look forward to a new import/export feature allowing you to add forms definition to source control, and adding Start Folders to User Group permissions.

Umbraco Deploy also receives a big update with some exciting new features benefiting both Umbraco Cloud users and those running Deploy on-premises. A couple of improvements and updates to recently added features include additional information when comparing Content between environments and more information and tools in the Deploy Settings dashboard.
You'll find more features as well as some bug fixes for both Umbraco 9 and 8 versions of Deploy (9.4/4.6).
Get all the details and information on how to try out the new features in the release candidate blog post.
Target release: April 26, 2022
Umbraco Heartcore Update
The headless version of Umbraco has been off to a flying start in 2022. New property editors and features, improved performance, and a whole lot more. 
Just last week single sign-on was released for Umbraco Heartcore, which now means you now have one centralized log-in across all your projects on Umbraco Cloud, both Cloud and Heartcore projects.

The Heartcore Team has also been looking at what's coming up next. No less than 11 new items have been added to the Product Roadmap including Custom Grid editors and a new version of the REST API based on OpenAPI. Read all about it in the Umbraco Heartcore Update - April 2022, blog post.
New release: Patches
Two new patches for Umbraco 9 and 8 have been released. Follow the links below for more details on the patches. 
All patches have been automagically rolled out to eligible Umbraco Cloud projects.
Umbraco Courier has entered End-of-life (EOL)
Umbraco Courier, the predecessor to Umbraco Deploy, has entered EOL. The last minor (Courier 3.1) was released in April 2017, and the last patch in March 2020. 
The extended security phase has come to end as of April 1, 2022, and Umbraco Courier will no longer be receiving updates. 

Updates to the Roadmap
There's been a lot of movement on the Product Roadmap since the last Product Update. In fact, so much that I'm not going to include it all 😅 For all the updates regarding Umbraco Heartcore, please see the Heartcore Update blog post - let's take a look at what's happened since then:
New in "Now"
Expanded CDN capabilities for Umbraco Cloud
We've had to push the target release date a little bit but new CDN capabilities on Umbraco for serving media and content are getting close! You'll be able to enable configurable caching options on a per hostname basis, as well as the ability to purge the CDN cache. This will allow you to control caching and deliver assets more efficiently.
Target release: Updated from March to April, 2022
Improvements to User 2FA for Umbraco CMS
Umbraco 9.5 is less than a month away and will include a better process of configuring and implementing two-factor authentication (2FA) providers for Umbraco backoffice users. Similar to the Member improvements in Umbraco 9.3.
Target release: Added May 5, 2022
Telemetry and consent options for Umbraco CMS
We're also happy to say that the new telemetry options will be part Umbraco 9.5 and the target release date has been updated to reflect this. With the new telemetry options, we will start collecting anonymized and non-personal system- and usage data to help make decisions on future functionality for Umbraco. This is of course based on consent and will be asked during installation but also available to view and configure in the Settings section.
Target release: May 5, 2022 along with Umbraco 9.5
Umbraco 10 is on the horizon
Umbraco 10 is approaching rapidly. You can look forward to trying it out in a release candidate within the next month and if you want more details, take a look at the new Umbraco 10 product page we're all the information about the new major is gathered.
With regards to the roadmap, the 2 items that will be included in Umbraco 10 have been moved to Now. This is ASP.NET Core 6 support and Cross-platform embedded database making it easier to spin up Umbraco CMS in different (read:non-windows) environments.
Target release: moved to now Q2, 2022, as part of Umbraco 10.
Custom Grid Editors for Umbraco Heartcore
With new features released for Umbraco Heartcore over the last couple of week's, we've started on the next item. Grid editors are simple additions to the Grid, which will be possible to create via the backoffice. A Grid Editor will be created using HTML/javascript/CSS and Web Components, which enables developers to tailor the editor experience of the Grid in Heartcore. Custom Grid Editors has been moved to now on the roadmap.
Target release: Q2, 2022
Media storage Top 10 for Umbraco Cloud
Currently, the user can see a bandwidth top 10 for paths and referrers on the project usage page. Soon the users will be able to see the largest media files in the blob storage and whether each of these files are currently used in the CMS project or not. You will also be able to see the sum of cached files in blob storage.
Target release: April 2022
New in "Next"
Two new items have been added in Next.
Project secrets and application settings for Umbraco Cloud
We want to enhance the developer experience by introducing a secure way of storing secrets. A secret can be a connection string, credentials for a service or some other sensitive information to be used by the Umbraco CMS. Also, we will exhibit a minor set of the app service settings that can be set to enable the Umbraco Cloud project to e.g. load client certificates from the file system.
Target release: Q2, 2022
Customizable Projects Overview page in Umbraco Cloud
The target release date for a new Projects Overview page on Umbraco Cloud has been updated from Q2 to Q3. We're currently working on modernizing the frontend layer of the Umbraco Cloud portal and want to include the new Overview as part of those updates. That's the reason for a little longer wait until the feature is out.
Target release: Updated from Q2 to Q3, 2022
Roadmap History
Two items, both for Umbraco Heartcore, have made it to the Roadmap History page. The Google Maps Property Editor for Umbraco Heartcore was released today (!) and lets you add google maps to the backoffice and retrieve coordinates and zoom level via the REST API. Last week, on April 6, Single Sign-on was enabled for all new Umbraco Heartcore projects and we're in the process of enabling it for existing projects as well.
Umbraco Speakers at Codegarden
If you're wondering if you should attend Codegarden this, my humble answer for you would be yes 😀 There are so many interesting talks already lined up and just as importantly, you'll get to meet and know a lot of people in the community and from HQ. Speaking of HQ, you can already check out the confirmed speakers in the Umbraco HQ sessions at Codegarden blog post.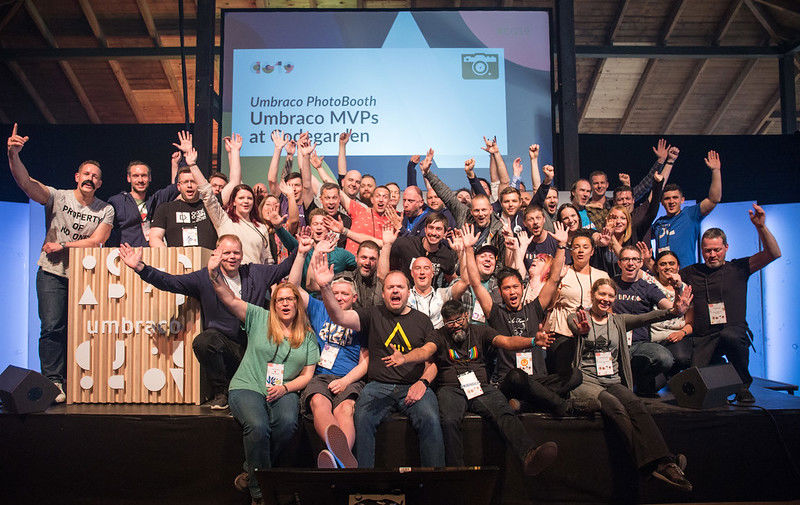 Just as exciting are the 4 new speakers that were just recently announced including Layla Porter, Scott Hunter, Mads Torgersen, and Scott Hanselman - that's an exciting list of speakers if I ever saw one!
Remember, this year's Codegarden is a hybrid event, so you can join virtually or come to Denmark and join us IRL. Early-bird tickets are on sale until April 22, 2022, so now is a good time to get those tickets 😉
You can always read up more about Codegarden on the official website codegarden.umbraco.com, where you can find information about the tickets, awards, travel & stay, and more!
… Until next time
A large part of the work we do is inspired by the feedback we get from you. For issues and specific feature requests, you can find the issue trackers for our products on the Umbraco Github account.
If you have product feedback, you're welcome to reach out to us at product@umbraco.com.