In this second edition of the bi-weekly product update, I'll be covering the following topics:


Recent Releases: Umbraco 7.15.1 and 8.1.1
How you ensure to get informed about Security Advisories
News on the Rich Text Editor
News from Umbraco Cloud
Updates on the Product Roadmap
Recent Releases: Umbraco 7.15.1 and 8.1.1
Since our last update, we've released two new Umbraco patch versions, Umbraco 7.15.1 and Umbraco 8.1.1 with a decent amount of bug-fixes and additional security improvements. Given the security improvements, which you can read more about in the Security Advisory of July 30th, we recommend all to upgrade to the latest version.
Some of the improvements in Umbraco 8.1.1 are:
Improvements to the ability to migrate content from Umbraco 7 to Umbraco 8.
An issue with dialogs in the back-office closing unexpectedly has been fixed.
An issue with the unpublish button in the back-office not being available has been fixed.
An issue with tags being saved as blanks has been fixed.
You can see the full list of improvements in 8.1.1 on our release page.
On top of that, we have another patch version, Umbraco 8.1.2, coming out tomorrow. Umbraco Cloud users on Umbraco 8.1.x will, as per usual, be automatically upgraded to the latest version. Have a look at the release notes to see what improvements the 8.1.2 patch release contains.
How you ensure to get informed about Security Advisories
At Umbraco, we take security matters seriously and do our best to provide the best possible amount of information with the right timing for any security-related matters. We have had some questions as to where and how we share security-related information, thus, I want to list them for you so you can be sure you're always up to speed.
When we have security-related announcements we believe you need to be explicitly aware of, we announce them in the following ways on the day we publish a patch or manual workaround:


On the Umbraco blog we will post a Security Advisory, guiding you how to fix the vulnerability and provide you other related information that we are able to share.

 




We share this Security Advisory post on Twitter

 

@umbracoproject. This is our dedicated Twitter account for tech/dev information - releases, security patches, RFCs etc.

 




A separate email will also go out linking to the Security Advisory post to all our subscribers of our main newsletter. You can subscribe to our newsletter at the bottom of this blog post. 
Going forward, we will also send emails to registered Technical Contacts of any Umbraco Cloud project. If you haven't updated your technical contact on your Umbraco Cloud projects you can do so in your project settings in the Cloud Portal under the menu "Edit team".
News on the Rich Text Editor
Our development team is currently working on improvements to the rich text editor with the purpose of making the editor experience and workflow for modern content pages smoother and faster for Umbraco 8. This includes:


Improvements to performance
Support for pasting images into the editor from external sources
Better support for copy/paste from Microsoft Word documents
We have used our new RFC (Request for Comments) approach to list the details of the changes we intend to make to the Rich Text Editor, and we welcome any input on the topic. You can read the RFC via GitHub here and comment on the RFC also via GitHub here. You are also welcome to write directly to product@umbraco.com. This RFC will be open for comments until August 16th.

If you are wondering how exactly the Umbraco RFC process work, you can read all about it right here. 
News from Umbraco Cloud
Umbraco Cloud is always on the move with new updates and improvements. Here are two quick updates for you - one that'll happen soon and another that's already there for you:
No more profile pictures
This is not our way to say you're not… photogenic 😉 but due to data privacy reasons, we've decided to remove our current support for profile pictures in the Umbraco Cloud Portal, which is currently using Gravatar as a service for importing profile pictures. 

You will still be able to get an overview of teams in the Portal by member names, and in some areas, your profile picture will be replaced by a rendering of your initials (e.g. In the Portal overview of recent changes on a project)
Improved user experience when upgrading Baseline projects 
When using the Umbraco Baseline feature on Umbraco Cloud it is now much easier to navigate your upgrade process - even if you have 100's or 1000's of projects. In a recent update, we introduced an easy overview of your upgrade flow that includes a progress bar and an overview over pending, completed and failed upgrades.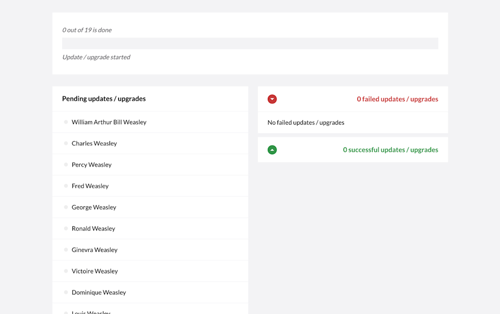 The list of projects is also much easier to navigate with the upgrade button being sticky and always available plus the ability to select all projects in one go for mass upgrading.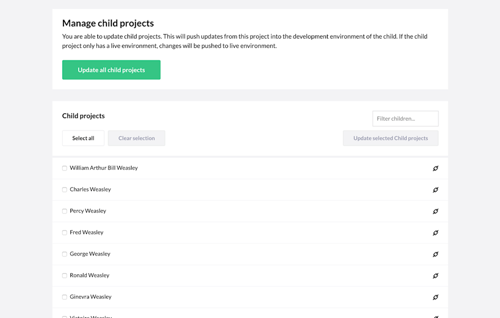 How do these Baseline changes work for you? We welcome your feedback on product@umbraco.com.
Updates on the Product Roadmap
As mentioned in our previous product update, we've made our public roadmap available on our website. This is where we keep you updated on product initiatives that are now in active development at Umbraco HQ, an item that we expect to pick up as one of our next initiatives or an important topic that we are not currently focused on but want to get to later.
Since our last update, we've also added a Roadmap History section. In this section, we list completed initiatives that were previously on the Roadmap in order to give you a full overview of what has been completed. 
For our current Roadmap I have the following updates:
Now: 
As described in this post, improvements to the

 

Rich Text Editor

 

has started. We welcome you to have a look at the RFC and give us feedback. The RFC will be closed an August 16th. 


Our work on completing our next SaaS offering;

 

Umbraco Headless, continues and we expect to launch the product in Q4.


Next:
We continue to work on the project details of

 

Deploy on Premise

 and we will update you as soon as we have any news. For now, we welcome any input on the topic directly on 

product@umbraco.com.


We are working on two additional RFCs for the upcoming improvements to the

 

Media Tracking

 

and

 

Block Editor

 projects. We'll let you know when they are ready. In the meantime, feel free to reach out with feedback on the current description on the roadmap directly to 

product@umbraco.com


Later:
Take a look at the current items on the Roadmap and make sure to send us any feedback on product@umbraco.com



That's it for this product update. I'll be back in two weeks with a fresh one.