New product release: Umbraco Commerce
New release: Umbraco 12 release
Umbraco Cloud updates: Sort projects, frontend upgrade, and support for Umbraco 12
New package release: Umbraco Authorized Services 
New release: Umbraco 10.6
New releases ✨
New product release: Umbraco Commerce
Starting out with with some big news, and a big release, that didn't technically happen in June 🙂 It did however get released since the last Product Update and it's worth shouting about!

Say hi to the new kid on the block - Umbraco Commerce. A new add-on, developed and supported by Umbraco, adds nicely to the line-up alongside Umbraco Forms, Deploy, and Workflow. Umbraco Commerce is a versatile ecommerce solution that allows you to create and manage online stores with ease. It offers fully-featured and highly flexible ecommerce capabilities, making it suitable for companies aiming to establish a strong online presence.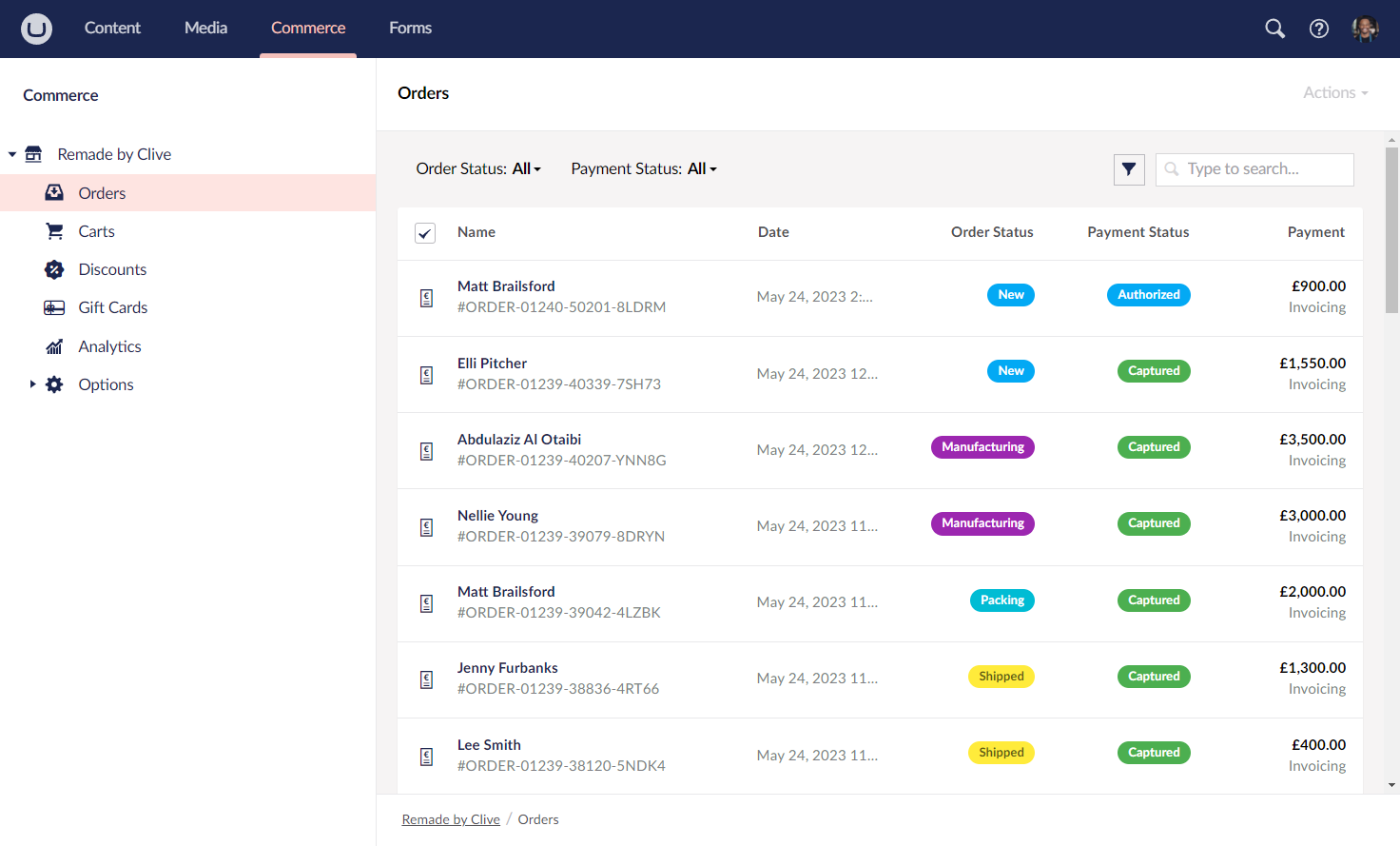 Umbraco Commerce seamlessly integrates with Umbraco and comes with key features such as order management, sales and campaign tools, built-in analytics, third-party payment provider integration, customizable checkout flow, multi-market support, and communication features. The new add-on is continuously updated, with upcoming improvements including headless capabilities, shipping provider integration, and localization support.
Get the full story in the Umbraco Commerce release blog post.
Released on July 5, 2023
Umbraco 12 release
Umbraco 12 is the latest major release and introduces several new features and improvements. Chief among them, and highly anticipated, is the Content Delivery API. It provides headless capabilities out-of-the-box, enabling omnichannel content delivery and flexibility to go both fully headless or use a hybrid approach.

Another feature that has been high on some people's wishlists for years is support for Entity Framework Core. There are many benefits from the feature, simplifying custom database table management, increasing productivity for .NET developers, and introducing a widely and well-documented framework. 



The release also includes an updated version of ImageSharp for enhanced image processing and many more updated dependencies. Add-ons like Umbraco Forms, Deploy, Workflow, and now also Umbraco Commerce, have been updated for full compatibility with Umbraco 12. 
Umbraco 12 can be easily installed on Umbraco Cloud or self-hosted - get all the details in the Umbraco 12 release blog post. 
Released on June 29, 2023
Umbraco Cloud update: Sort projects, frontend upgrade, and support for Umbraco 12
In June a new enhancement was added to the Projects Dashboard on Umbraco Cloud. You can now control environment ordering, which helps tailor the dashboard further to your needs. 
Also exciting is the fact that all project sub-pages have been migrated to a new frontend stack, using the Umbraco UI Library. This not only helps ensure a consistent experience across the portal but also paves the way for some exciting upcoming improvements to the UX and navigation.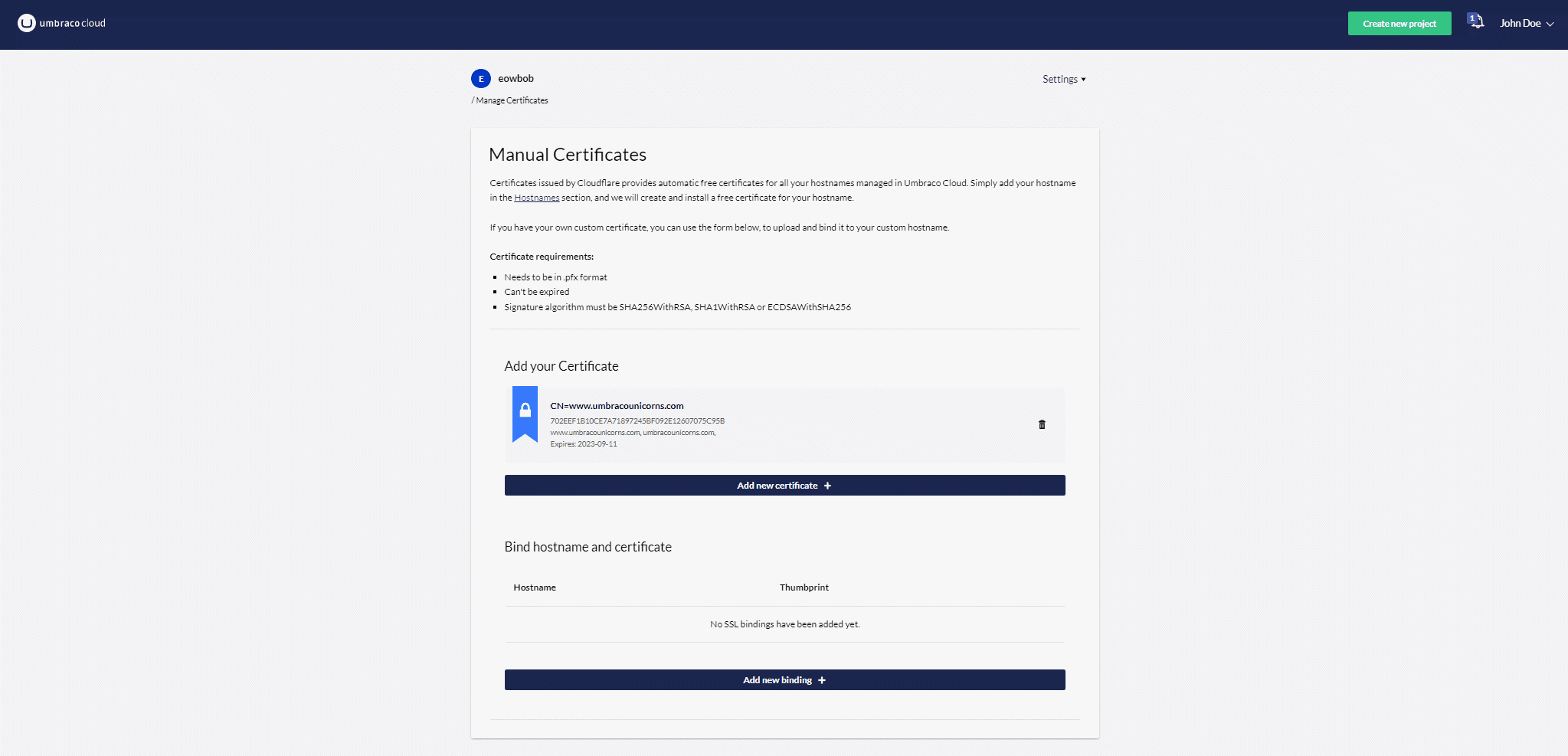 An example of one of the many revamped dialogues on Umbraco Cloud.
Lastly, Umbraco 12 is fully supported on Umbraco Cloud, so you can upgrade or start new projects on the latest and greatest version. As mentioned above Umbraco 12 introduces some fantastic new headless capabilities, support for Entity Framework Core integration, and updated dependencies. Get up-to-speed in the Umbraco Cloud release notes for June or try out Umbraco 12 on Umbraco Cloud now.
New package release: Umbraco Authorized Services 
A new open-source package for Umbraco CMS has been released. Umbraco Authorized Services helps simplify integration with external services by handling authentication and authorization processes, allowing developers to focus on implementing business functionality.

Custom configurations for different services can be easily set up, reducing the effort required. The package supports various OAuth flows and can be extended through community contributions. It is compatible with Umbraco CMS 10+ and offers documentation and support through the GitHub repository. 
As always, we encourage anyone finding this package useful to get involved, provide feedback, and contribute to expanding the package's capabilities. The Umbraco Authorized Services release blog post has all the information you need to get started. 
Released on June 15, 2023
New release: Umbraco 10.6
A little more stealthy than usual, we've released Umbraco 10.6, with a couple of handfuls of improvements and fixes for the LTS of Umbraco CMS. These are mainly backporting PRs from recent Umbraco 11 releases, and aligning with Umbraco 12. So, you get a very small minor, that's an easy upgrade, and a large part of them contributed by our lovely open-source community:
Of the 39 bug fixes and feature additions in Umbraco 10.6.0, a total of 26 of them have been contributed by the community, by 19 unique contributors.
We're welcoming 4 brand new contributors who have made their first pull request for Umbraco CMS; they're marked with a star below. Welcome to the contributor club Rob Nicolson, Landlogic IT, Karl Macklin and Michał Marianiuk 🏆
⭐ = First pull request to Umbraco CMS
And of course, as a thank you, we've made sure to plant some trees in our growing plot for the 10.6.0 release to celebrate your contributions! At the time of writing, we're at 23,177 trees and 38 projects funded 🌳🌲🌴
Released on July 6, 2023

Updates to the Roadmap 🛣️
June saw a lot of updates to the Product Roadmap, including 3 new items for Umbraco Commerce - let's see if we can keep up 🙂


New in "Now"
---
Headless API for Umbraco Commerce
We plan to introduce an API to Umbraco Commerce, allowing the package to be used more easily in scenarios other than traditional Umbraco rendering. Aligned behaviorally with the CMS Content Delivery API, this will allow for cart and order management via headless and client-side implementations.
Target release: Q3, 2023
Automated minor upgrades for Umbraco Cloud
Umbraco Cloud will offer automated upgrades to minor version updates, eliminating the need for manual intervention. This new support ensures that your Umbraco Cloud projects stay up-to-date with the latest minor versions for Umbraco CMS, Deploy and Forms without any hassle.
Target release: Q4, 2023
Removed "Pre-installed Packages for New Projects on Umbraco Cloud"
We had to remove this item from the roadmap for now. It will return, in a different form, once we have nailed the functionality and use case for how to add, or pre-install, packages on Umbraco Cloud.
New in "Next"
---
Block level variations for Umbraco CMS
We want to make variations available on the Block-level so that we e.g. have better support for multiple languages in blocks - whether it's in the Block List Editor or in the Block Grid Editor.
Shipping Providers for Umbraco Commerce
Just as Umbraco Commerce offers multiple payment providers, we also want to offer multiple shipping providers, support real-time shipping estimates and shipment tracking to your stores
Backoffice Localization for Umbraco Commerce
We want to offer multilingual backoffice support in Umbraco Commerce and make sure that wherever your store owners fra from the Umbraco Commerce UI is clear and familiar to everyone.
New in "Later"
---
Custom Identity Provider for Umbraco Cloud
Seamlessly connect your own Active Directory to the Umbraco Cloud Portal, enabling secure user authentication and centralized access control management for enhanced efficiency and convenience.
Load Balancing for Umbraco Cloud
Experience the power of load balancing in Umbraco Cloud, distributing website traffic across multiple servers to optimize performance, scalability, and user experience, effortlessly handling high volumes, and scaling with ease.
Moved to Roadmap History ✔️
Umbraco Commerce, Umbraco Authorized Services package, Support for Entity Framework, and Headless API for Umbraco CMS have all been released and moved to the Product Roadmap History page. 
Codegarden 2023 was a blast 💥
Codegarden this year was (once again) an amazing experience. It was great to see so many old and new faces for both the Business Summit and the conference itself and Umbraco HQ is brimming with feedback and new ideas. If you want to see what you missed, or get a better understanding of what you get out of attending, take a look at the Codegarden 2023 Aftermath blog post. Here you'll find a round-up of some of the blog post attendees have written since attending, the first publicly available talk, and a whole lot more. 
Of course, there were also updates on the product side of things at Codegarden, from the keynote to deep-dive sessions into specific products, and you can get an overview of what was announced and updated in the Codegarden 2023 Keynote Product Highlights blog post.
… Until next time
A large part of the work we do is inspired by the feedback we get from you. If you find issues or have specific feature requests, you can find the issue trackers for our products on the Umbraco Github account.
If you have product feedback, you're welcome to reach out to us at product@umbraco.com.