Overview: 
New releases ✨
Umbraco Heartcore Product Update
That's right; a product update in the Product Update 🙂 Umbraco Heartcore has received a number of new features and improvements over the past months. While I have covered them briefly in various Product Updates, we thought it was time to dive a little deeper. Who better to take a look at what's new, and what's on the horizon, than Morten and Rasmus from the Heartcore development team? 
Join us for an extensive look at Custom Grid Editors where we go through the feature that allows you to create custom editors with Web Components and the new Headless Backoffice Bridge. A powerful tool to create tailored editing experiences and integrations for the headless aversion of Umbraco.


We also take a look at Complex Querying with Graph QL, and discuss the other new features released since the Codegarden Conference earlier this year. Finally, we take a look at the immediate roadmap for Umbraco Heartcore, which among other things includes Custom Property Editors - expanding on the concepts introduced with Custom Grid Editors.
If you haven't tried Umbraco Hreatcore yet, you can get a completely free 14-day trial at try.umbraco.com/heartcore, or create a new Heartcore project from the Umbraco Cloud portal. For more information see the Umbraco Heartcore product page or dive straight into the documentation.
Umbraco Forms 10.2
A new release is out for Umbraco Forms with some highly requested features. 
This time the main focus has been on providing a headless API to render and submit forms. This means that forms are now an even better companion to a wider variety of Umbraco projects. It is based on the Open API specification and comes complete with Swagger UI documentation.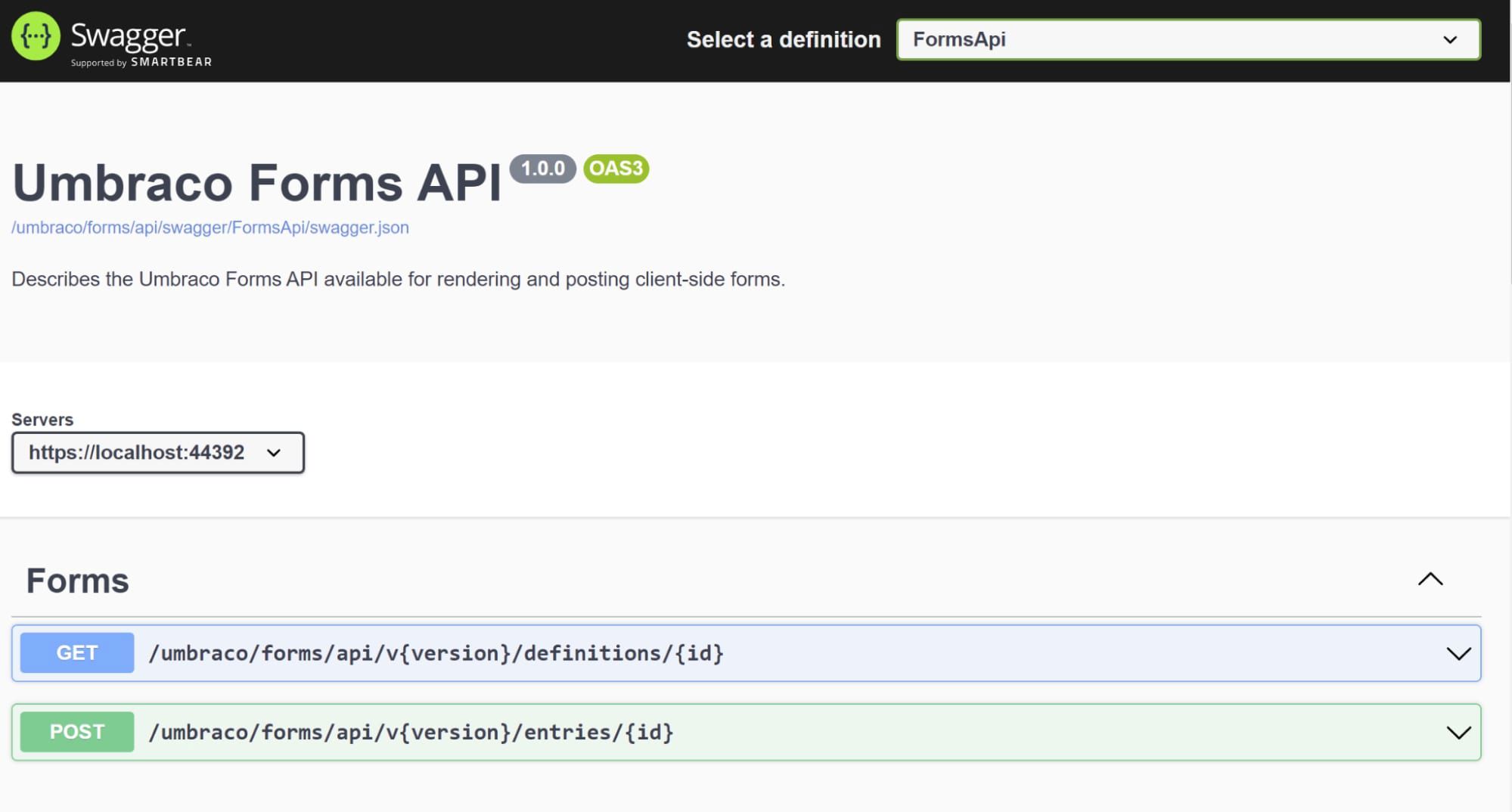 There are multiple additional features on top of that, such as Data Retention Settings to control how long submission data is stored in your project. It is now possible to make Workflow Settings read-only, or completely hide them, depending on the requirements. "Magic Strings" have also received some new options providing more control over formatting. 
That's just some of the great additions to Forms this time around. Read more about the new features, find links to documentation, and more in the Umbraco Forms 10.2 release blog post.
Released on November 8, 2022
ActiveCampaign Integrations for Umbraco CMS and Forms
There's even more new functionality for Umbraco Forms, and the CMS, with the release of 2 new packages.
ActiveCampaign Forms for Umbraco CMS allows you to utilize forms created and maintained in ActiveCampaign to collect information on leads and grow your marketing lists. This comes in the form of a form picker component that can be used by content editors to select and add ActiveCampaign forms. You also get customizable rendering functionality, to ensure the forms look and behave exactly as you designed them.
ActiveCampaign Contacts for Umbraco Forms allows you to populate contact information from Umbraco Forms submissions. You get a new workflow and the ability to map data from Umbraco Forms to both the default fields on contacts in ActiveCampaign as well as adding custom fields and enriching, and nurturing your contact lists.
See the Integrating Umbraco Forms and CMS with ActiveCampaign blog post for a full rundown of all the new functionality and how to get started.
Released on November 2, 2022
Payment Provider Integration with Umbraco Forms
And finally, another highly requested feature for Umbraco Forms has been released with the new emerchantPay integration. This package provides you with a new workflow that allows for easy single-payment transactions through a hosted payment page using emerchantPay.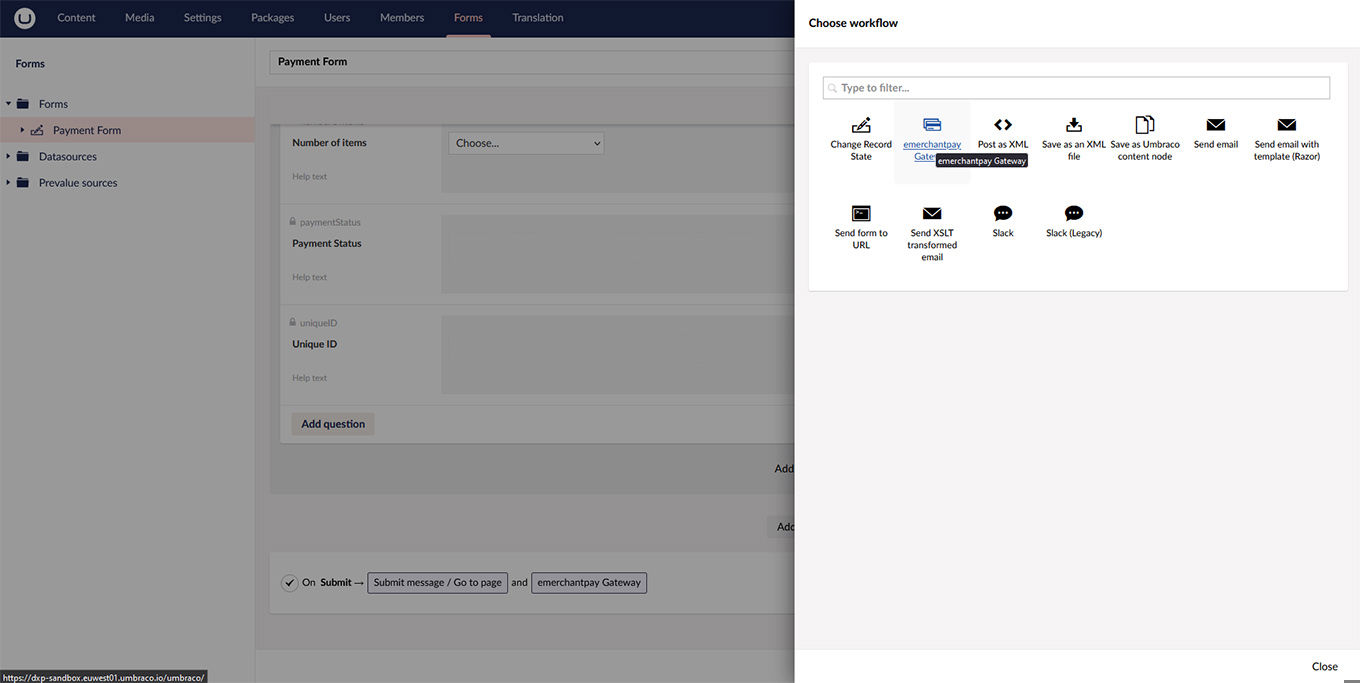 All you need is an emerchantPay account, a bit of configuration, and you're ready to set up payments through Umbraco Forms. You can find a full rundown of this works and all the available options in the Integrating Umbraco Forms with emerchantPay blog post.
Released on November 9, 2022
Upcoming Releases 🚀
Get ready for a December packed with great product releases and new homes for documentation and packages.
Umbraco 11
Not only are we looking at the easiest major upgrade for Umbraco CMS yet but also one that delivers some great and much-anticipated new features. You get access to the latest version of the .NET (and ASP.NET Core) framework, with all the performance enhancements, new features, and updates it brings. You also get a new Block Grid Property Editor, a bunch of updates to dependencies, including a major version upgrade of Tiny MCE, and much more.

The release candidate is available for testing, as we speak RC5 is out, and there have been significant updates to the Block Grid editor, the Package section (more on that below), and the RC is now running the final release of .NET 7. 
For more information, and how to get your hands on it, see the Umbraco 11 Release Candidate blog post.
Target release: December 1, 2022
New Umbraco Documentation Platform 
In the works for a long time, we're super-excited to launch the new Umbraco documentation platform. With a fresh UI, improved search and discoverability, as well as restructuring, the new documentation is easier for you to navigate, and easier for us to maintain. 
We're still sticking to our roots, and the documentation will continue to be open-source, just like the CMS - it just got a lot better!
You can already see it in action at its new home: docs.umbraco.com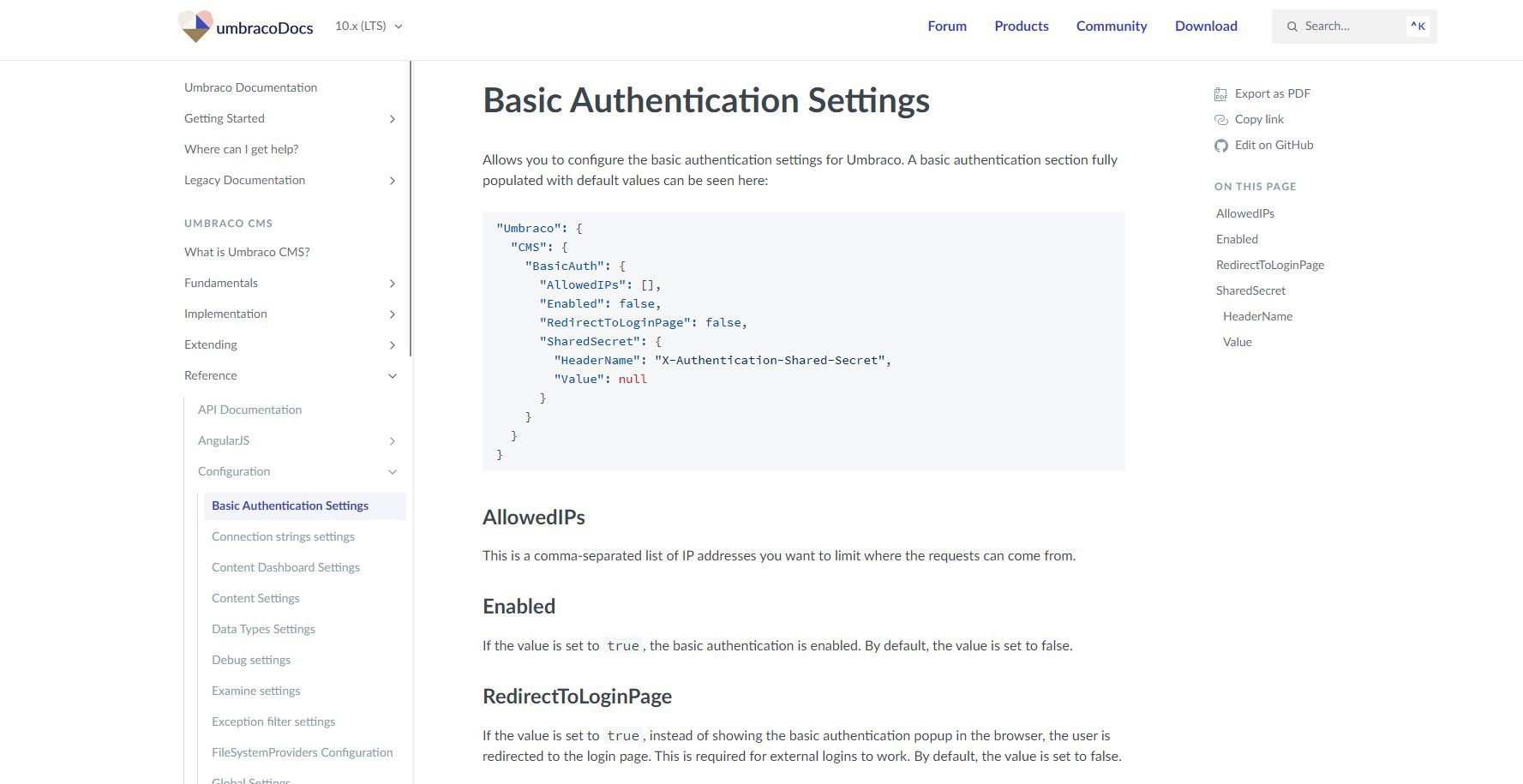 On December 1, this will be where all new documentation for Umbraco 10+, Cloud, and add-ons, will be published. Umbraco 7 and 8 documentation will continue to exist in the current place.
Target release: December 1, 2022
New Umbraco Marketplace
Umbraco 11 and a new documentation platform is not the only reason to mark December 1st in the calendar. This is also the day the new Umbraco Marketplace will be officially available as the package repository for Umbraco 8, 9, 10, and 11+. 
This new home for packages is using the NuGet listing.NET packages, which should hopefully mean a little less upkeep for package authors, and more up-to-date information for package consumers. If you want to make sure your package is there on day one, take a look at the Get Ready for the new Marketplace blog post. Here you'll find detailed information on how it all works, and how to get your package(s) listed.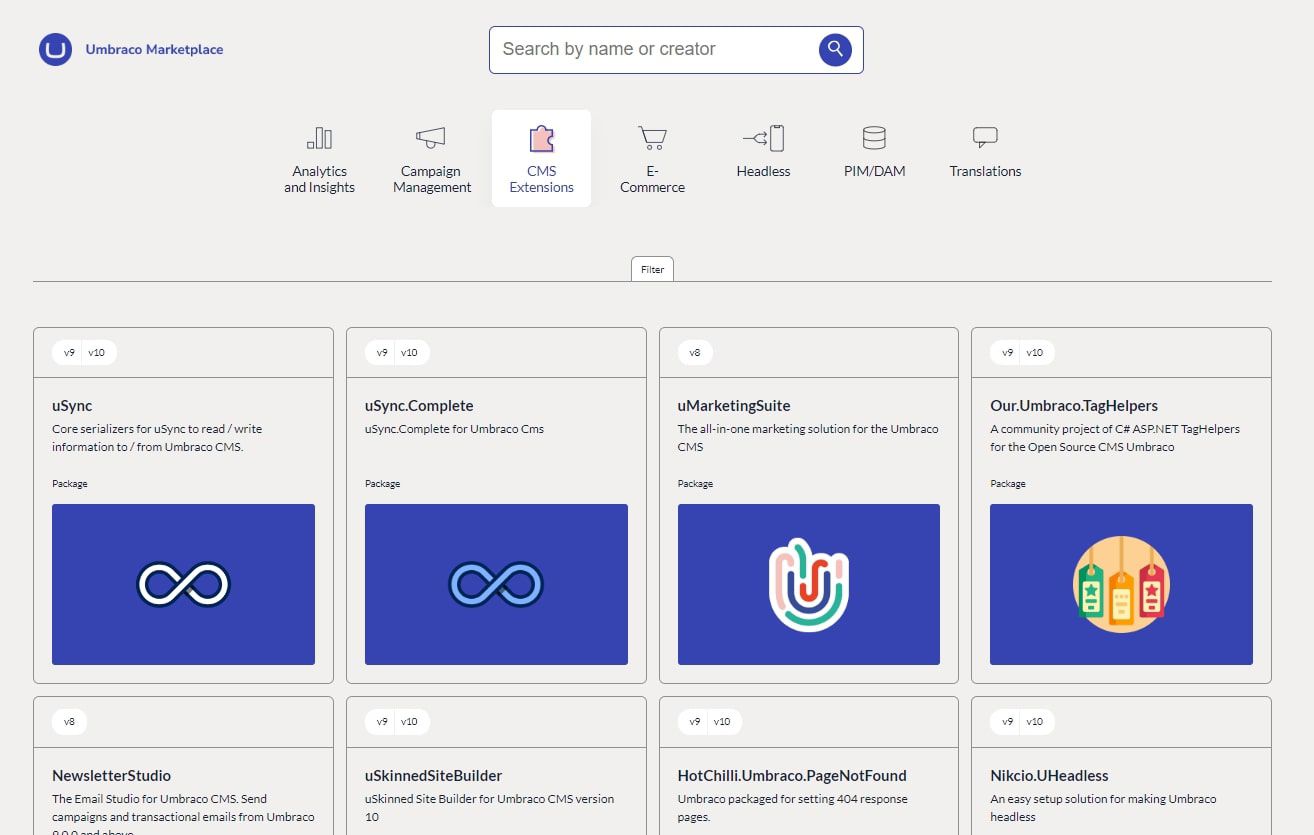 The new marketplace has a snazzy new design to make browsing it a breeze, it's fully integrated in Umbraco 11 (replacing the old package section), and will include Tech Partners from the current (read: old) umbraco.com/marketplace. This will help provide a better overview of all the options you have to expand the capabilities of Umbraco CMS, Forms, Deploy, and how to incorporate it all efficiently in your cDXP (composable Digital Experience Platform). 
Target release: December 1, 2022 (preview available)
Umbraco Workflow
That's not all we've got planned for the last month of the year! A week after Umbraco 11 is available, we are releasing a new add-on for the CMS: Umbraco Workflow.
As the name implies, workflows are the main attraction. Build entirely customizable approval workflows for reviewing, publishing, and scheduling content. They can be tailored to fit your organization with clever use of User Groups for setting granular permissions. All of this is presented with visual dashboards and intuitive configuration.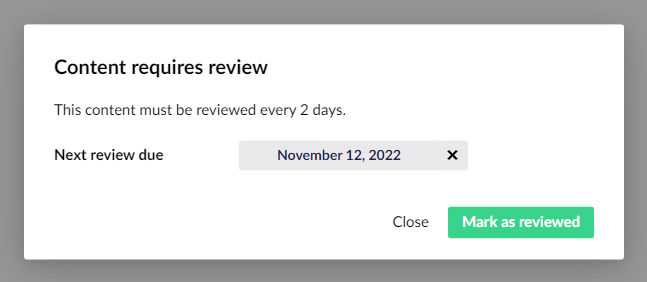 If some of the features sound familiar, you might have encountered the popular Plumber for Umbraco package before. This is the basis for Umbraco Workflow but there's more than just a new name in the release for Umbraco 11. Massive refactoring and code clean-up, full support for .NET 7, and new features to boot. You can try it all out today in the Umbraco Workflow release candidate. 
Target release: December 7, 2022
Updates to the Roadmap
To wrap it all up, here are the updates to the products to the Product Roadmap.
New in "Now"
Pre-installed Packages for New Projects on Umbraco Cloud
Selecting and installing packages during the creation process of a new Umbraco Cloud project. This item has been moved from "Next" to "Now" and updated with a new target release date.
Target release: Q1 2023
Integration with Algolia Search for Umbraco CMS
Release of an extension for Umbraco CMS supporting the indexing of Umbraco content into the Algolia search platform.
Target: December 2022
Content refresh reminders for Umbraco Workflow
Development of a new feature for the first release of Umbraco Workflow (previously Plumber) that will allow content editors to set reminders on content items for review at a time in the future.
Available for testing now in the first release candidate for Umbraco Workflow.
Target: December 7, 2022
New in "Next"
As we're finishing up and releasing a bunch of new features, we can start looking closer into some of the items in the roadmap. This time around there are 3 items that have been moved from "Later" to "Next", indicating that we are in the detailed planning and scoping phase and that you can expect to hear more in the not-too-distant future.
Entity Framework for Umbraco CMS
We'll introduce Entity Framework Core in the CMS so that developers can benefit from the broad usage of this framework, its support, and its alignment with .NET versions to introduce a more documented development process that also aligns better with best practices. In the longer term, we want to fully replace NPoco with Entity Framework as our Object Relational Mapper.
Headless API for Umbraco CMS
Out-of-the-box, headless functionality for Umbraco CMS. Aligned with conventions and approach from Umbraco Heartcore making it is easy to move from a standard installation of Umbraco to Umbraco Heartcore.
CI/CD Integration for Umbraco Cloud
Integrate your own repositories and build pipelines into the Umbraco Cloud processes.
New in "Later"
Integration with InRiver PIM for Umbraco CMS (DXP)
Release of an extension for Umbraco CMS supporting a product picker for the InRiver product information management (PIM) system. We've unfortunately had to postpone the work on the Integration and the item has been moved from "Next" back to "Later"
Moved to Roadmap History ✔️
With the latest round of releases, a few items have also been moved to the Roadmap History page. 
Payment Provider Integration with Umbraco Forms
AJAX Features for Umbraco Forms
Integration with ActiveCampaign for Umbraco CMS and Forms
… Until next time
That's all for now. Think it's safe to say we're building up to quite the end of an amazing year for Umbraco HQ, partners, and the community. There are still some really exciting things to look forward to this year - including the last Product Update of the year, which will be ready for the holidays - see ya in December 🙂
A large part of the work we do is inspired by the feedback we get from you. If you find issues or have specific feature requests, you can find the issue trackers for our products on the Umbraco Github account.
If you have product feedback, you're welcome to reach out to us at product@umbraco.com.