Overview:
What's new in Umbraco Workflow 11.1 and 10.1?
Features and fixes added to Workflow 11 will be made available in Workflow 10, ensuring your LTS Umbraco install doesn't miss out on any improvements. If you've installed Workflow 10 (released last month), this post is absolutely relevant, so read on!
Enough with the housekeeping, let's have a look at what you get with Umbraco Workflow 11.1 and 10.1.
History cleanup
Workflow 11.1/10.1 introduces history cleanup functionality similar to that already found in the CMS and Forms, allowing developers and site administrators to set policies defining which history records are kept and for how long. History cleanup does require a license - learn more about the Workflow licensing model.
Cleaning out unused information
Every new workflow stores multiple records in the database - one for the workflow instance, and one for each task in the workflow. In a language-variant site, depending on how you use Workflow, there may also be records generated for each culture variation. These records are used to build the various workflow history views in the Umbraco backoffice. 
Depending on your requirements, this history information may not be required, or may only be useful for a short period of time. Note too, the workflow history exists in addition to Umbraco's audit trail information, which will always show the identity of the user who completes the workflow (and therefore resulting in a node being published).
Cleanup is opt-in
As this is a destructive feature - we're deleting data - it is shipped as disabled by default. To opt-in, update the `Umbraco:Workflow:HistoryCleanupPolicy:EnableCleanup` setting to `true`.
This change alone is enough to enable the default cleanup policy, which will delete all workflow history after 28 days, for workflows where the status is Approved, Errored, Cancelled or CancelledByThirdParty (or, all non-active workflow history).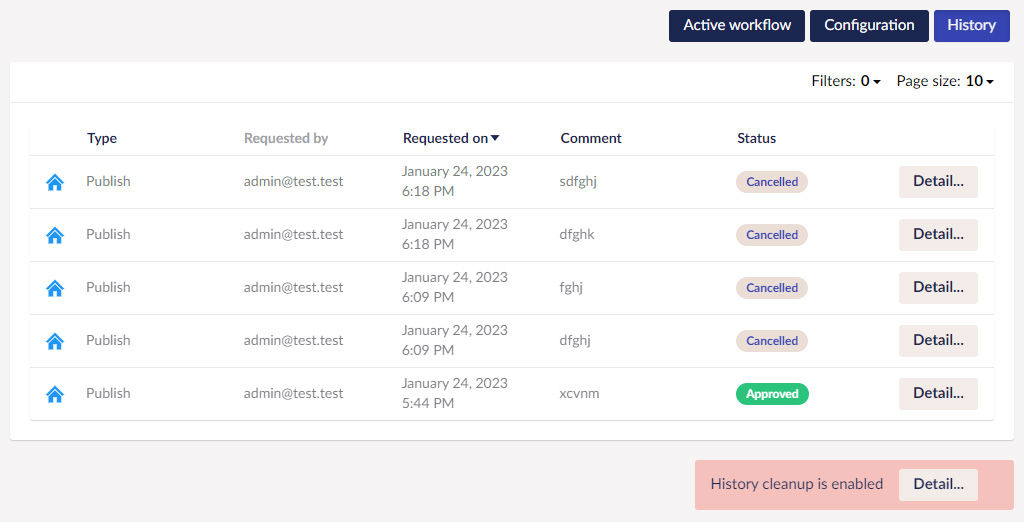 Fully configurable
The feature is fully configurable to set different policies for individual content nodes or all content using a particular Document Type. Refer to the documentation for examples of different customization patterns, and more information about the available options.
As well as configuration via `appSettings.json`, cleanup policies can be set from the Backoffice, from the Workflow content app. To prevent users setting undesirable policies, any rules set directly in app settings can not be modified from the Backoffice.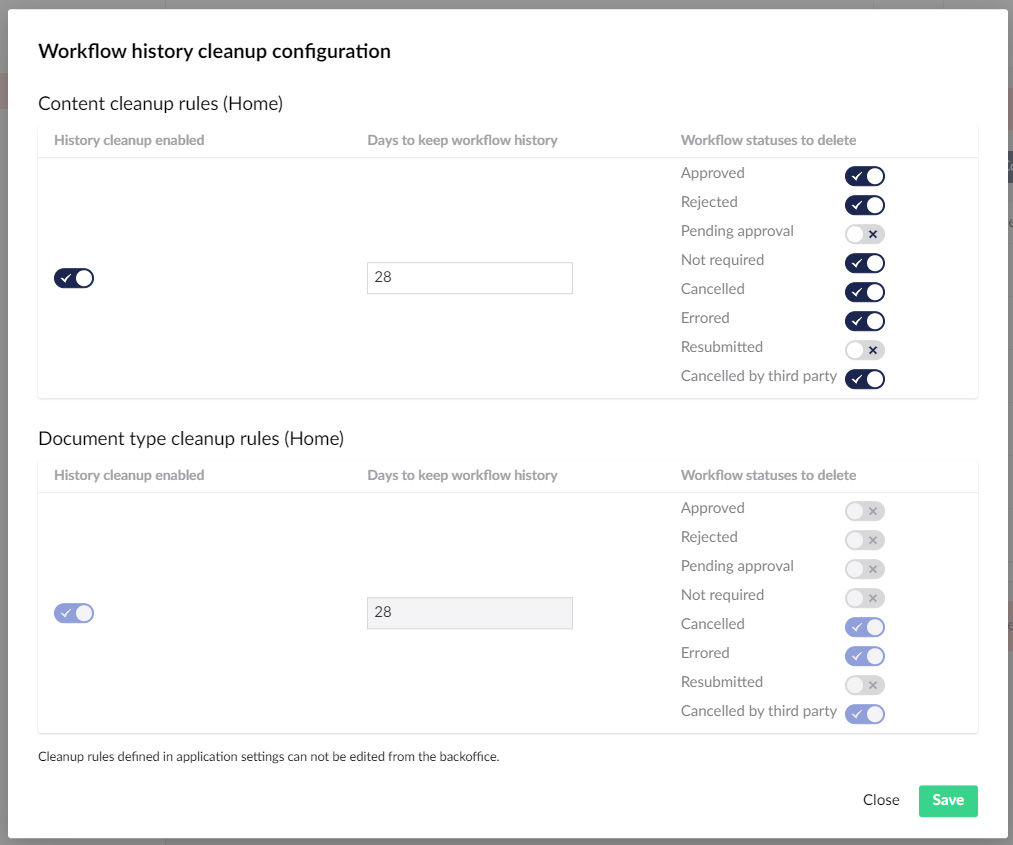 New documentation for the History Cleanup feature has been added as well.
Other updates
UI and notification improvements when attempting to submit a node for approval when no workflow configuration exists for that node or its ancestors.
UI and notification improvements when completing a workflow results in an unsuccessful publish attempt.
Fixes a bug where email notifications were not sent when a task was rejected.

How to get your hands on the latest release
You can either create a new installation using the package available from the link below or upgrade an existing Umbraco 11 or 10 project.
Workflow can be found on Umbraco Marketplace and the latest versions are on the usual Nuget feed.
If you're new to Workflow, the documentation site will help get you up and running, and you can read more about pricing and licensing on the product page. 
Should you come across anything that isn't working as expected, please provide feedback on the GitHub issue tracker for Umbraco Workflow.
Enjoy!