Maybe you are considering Umbraco and have a few questions about the whole "open source" part? For example, is it sustainable? What are the benefits of open source? And will Umbraco stay open-source?
Below, we have gathered a FAQs for you on this topic so you know exactly how we see, use and benefit from being an open-source CMS:
Why is Umbraco open-source?
This requires a brief trip down memory lane.
A lane that begins in 2005 where the first open-source version of Umbraco - Umbraco version 2.0 - was released. Umbraco was one of the early adopters and key players in the acceptance of open source in the Microsoft world. But why did Niels Hartvig, founder of Umbraco, dare to embark on this journey?

"I didn't have much experience in participating in open-source projects myself as there were close to none existing in the Microsoft world at that time, but my love for the potential and ideas behind Open Source way overshadowed any fears of how it was actually going to work in practice."
Making the choice clearly wasn't an easy one at the time. Yet with the fundamental belief that Open Source would be the key element in an Umbraco culture that encourages participation and fosters continued growth and development of the software, Niels stuck to his guns. 
And we're glad he did.
What does it mean to be "open-source"?
The Umbraco CMS is open-source under the MIT license, which basically means that the Umbraco source code is available for everyone to use. 
This allows users, e.g. web agencies, freelancers, students, your cousin, etc. to review and modify the source code for their own customization, curiosity, business, or troubleshooting needs. It also allows users to suggest improvements, bug fixes, and brand new features to the CMS as well as help Umbraco HQ build features and functionalities planned for implementation. 
The open-source foundation also means there's no payment barrier to the CMS. Yes: It's open for anyone to use it and contribute, and that's a huge benefit for you, us, and all our users around the world. By opening up the possibility to contribute, we ensure that the CMS keeps evolving, and perhaps most importantly, is evolving with the help of the people who actually use the CMS every day!
Is it all open, wild and free?
If you're imagining a bunch of hippies dancing around in a flowery field by now, we don't blame you - but it's not quite the case. 
Umbraco CMS is open-source, yes - but fully backed by Umbraco HQ, a commercial company with more than 15 years of experience and made up of a selected bunch of friendly, highly talented people.
Rest assured knowing that the Umbraco software and services you've based your projects on are all fully supported, organized, and kept up-to-date by eminent professionals.
Umbraco HQ keeps track and has the final say when it comes to where the CMS is going. So even though we welcome and encourage improvements and feature suggestions to the CMS from the Community, we don't automatically accept everything. But if it makes sense and makes things simpler for the vast majority of our users, then, of course!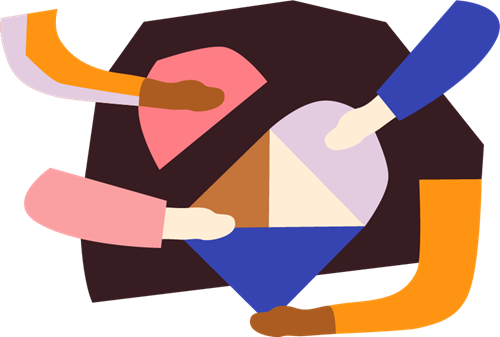 Open source is not about democracy - it's about transparency 
And don't worry - it's far from a dictatorship. We really value feedback and contributions from our community. In fact, we believe it's essential in order to keep offering relevant and thriving software. 
Open source is, in our minds, about transparency. We reserve the right to do as we think is right, but we do it in full openness and transparency as a key value. You can always follow our product communications on our blog and keep up with the plan and status for future features on the Product Roadmap. On GitHub you can find our issue tracker and see what we're working on. 
And with all that being said, if you don't like the way the software is evolving, you are free to make a copy of the source code and modify it any way you like. Again, that's the beauty of Open Source!
How does Umbraco HQ make money when it's open-source?
Can Umbraco HQ employees live on good karma and high-fives alone? Imagine that, but no, unfortunately not. We're probably just like you, and just like you, we need a job that pays us money so we can afford to pay rent/mortgage, food, Netflix, etc. 
But as you've guessed by now, there's not much money to be earned when you give away your product for free. Then creativity is required in order to generate revenue to uphold a sustainable business and a sustainable product.
Currently, we have these revenue streams:
Products
Umbraco Cloud. Our SaaS offering for Umbraco websites, packed with time-saving, Cloud-only features that takes care of hosting. Also comes with our add-on Umbraco Forms as part of the package.


Umbraco Heartcore. Our headless CMS SaaS offering that enables you to connect the friendly Umbraco backoffice to any frontend: apps, screens, smartwatches, and more.
Services
Support agreements that provide users with direct and timely access to our talented Umbraco CMS and Cloud support team.

Official Partnership, where Gold Partners and Certified Partners pay to be partners and thereby gain certain benefits and the official stamp of approval from Umbraco HQ.
 
And further to the point of full transparency, you can find our annual financial reports (as of Q2 2019 our reports can be found in English) and other facts under our "Open Books" section. 
How do we run a sustainable open-source project? 
We earn money through our supportive services, products, partnerships, and add-ons. That's not only how we pay the HQ employees but also how we ensure a sustainable open-source project today - and in the future.
We invest everything we earn right back into the company. And because all our paid offerings are connected to the open-source CMS, this automatically means the CMS won't ever get neglected. We believe we've built a strong and sustainable business model that supports both the open-source project and the commercial part of the business, all to ensure that our users feel reassured and confident when using Umbraco today and tomorrow.
Will Umbraco CMS continue to be open-source? 
Yes. 
It just makes sense. 
You see, being open-source means we get valuable feedback, help, and improvement directly from the people who use our software every day. And we're talking thousands of developers (225,000 to be precise)! It's a great help, keeps us and the CMS on its toes, and goes with our belief in synergy, i.e. 1+1 = 3. 
The mission of the CMS has been, from the beginning, to empower tech talent by putting the power and control into their hands, so they have the freedom and flexibility to create amazing work without being limited by the software they're using. We believe that by remaining open-source and welcoming feedback and contributions to real-life problems, we are able to keep providing a CMS that offers real-life solutions.

In order to truly empower these tech talents, encourage contribution, and fulfill our values, we need to be transparent - namely, open. And we need to invest in efforts to make it easy, fun, and worthwhile to contribute. So far, this has made Umbraco the preferred CMS by hundreds of thousands of developers, editors, project managers alike. 
And we want this to continue.
That's why, since 2018, we have decided to invest even more in our open-source community efforts to foster a growing and sustainable CMS community; for example, by structuring the contribution process through dedicated and specialized teams like the Pull Request team, the Documentation team, the Package team, and the Unicore Team. Each team works exclusively within certain areas of Umbraco to involve and engage contributors around the world in order to ensure more real-life solutions than laboratory solutions. And this is only the beginning!
Open source is a brave choice. Making open source sustainable is hard work. Luckily, we like hard work and we think we've found the most beneficial and future-proof path for the software, the Community, and the company.