Progress for October 2018
Last week we blogged about the overall results of the great Hacktoberfest 2018 mayhem so some of the following may not come as a surprise to you 😉
As hinted at in our previous chronicles update, the number of contributions for Hacktoberfest has gone through the roof! For Umbraco CMS we've received 166 new PRs and managed to process 161 during that same time.

Below we can have a look at the activity over the past year of pull request created (purple) and merged/closed (blue).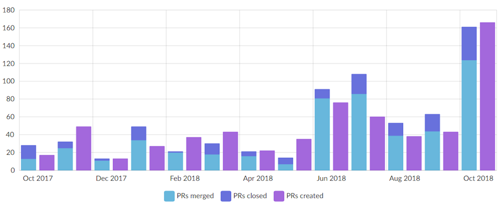 This means we've had a tiny setback in the overall total number of  PRs still open but we are confident that we'll get into the good downward trend soon again! We concluded October with 82 PRs still open, which is still the second lowest amount in the last 12 months, not too shabby.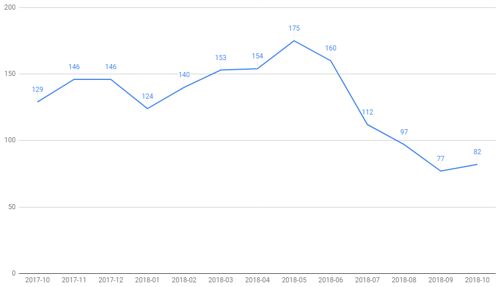 Notable pull requests
First of all, there's 1 person who's been an absolute powerhouse in pumping out high-quality code contributions this month. Our (now very dear) friend Kenn Jacobsen managed to create 36 (!!!) out of those 166 pull requests in just the month of October (remember that the total number of PRs in September was 43) 😮🙌🎉🏅👍👍👍
And he's already been hard at work at creating more great stuff for us, which we appreciate so so much. Thank you Kenn, you're a star, #H5YR times 36+!
While we appreciate all contributions we receive, it's fun to highlight some of them:
More color picker goodness! This time Bjarne Fyrstenborg made it possible to add a color picker asa prevalue editor to the grid: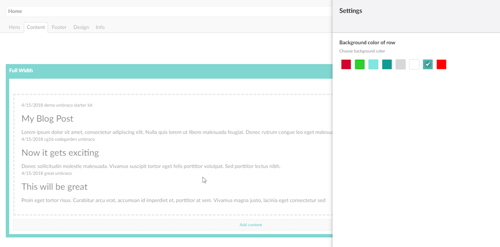 Ever created a document type without a template and 2 weeks later realized you wanted to have a template after all? Søren Kottal has added a handy button to all document types that don't yet have a template.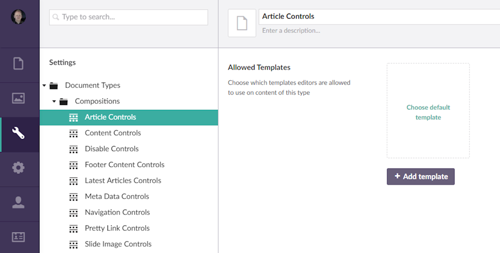 In summary
The executive summary for October-November: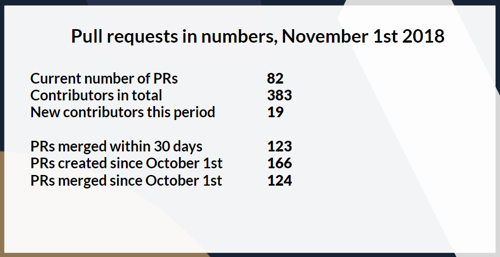 Thanks again to everyone for the wonderful contributions!
There were a few people this month who stood out in being very active: Yes, of course Kenn Jacobsen, but Jan Skovgaard with 16 PRs is also no slouch! Anders Bjerner is in a very solid 3rd slot with 12 contributions. ⭐ After that, we have Kim Holzmann, Dave Woestenborghs, Søren Kottal, Bjarne Fyrstenborg and Poornima Nayar.  💪🏅
Why don't you give these lovely people a #H5YR on Twitter, I'm sure they'd appreciate it a lot!