Overview: 
New release: Umbraco Forms 8.12/9.4 & Deploy 4.6/9.4
Umbraco Forms and Deploy have been bestowed with another round of features and improvements for both Umbraco 8 and 9. Much of the new functionality is based on feedback from users and the community.
For Umbraco Forms, you get the ability to export and import forms directly from the backoffice which can be helpful if you're not relying on Umbraco Deploy/Cloud, or other packages, to handle this. You can also set default email templates for workflows, set Forms start folders on User Groups, and much more.

Speaking of forms, the latest release of Umbraco Deploy allows you to restore a single form or folder to your development or local environment. You'll also see new additions to the Deploy dashboard in the Settings section, further improvements to the recently released Content Comparison, deployment of culture and hostname details, and many more fixes and improvements. 
This is great news for anyone on Umbraco Cloud as all the features are available simply by upgrading to the latest version of your Umbraco 8 or 9 projects. For everyone else, you can find release notes on the Umbraco Forms and Umbraco Deploy download pages and get all the details in the release blog post. 
Released on April 26, 2022
New release: Patches
A couple of new patches have been released for download and rolled out to Umbraco Cloud projects on April 26th, 2022. Release notes can be found by following the links below:
Upcoming release: Umbraco 9.5
Next week Umbraco 9.5 will be released with improvements to implementing 2-factor authentication (2FA) for backoffice users, copy Member Types, the ability to move Dictionary items, and a whole lot more. Included is also the new telemetry feature with a consent dashboard in the Settings section.
If you're curious, Umbraco 9.5 is out as a release candidate, so you can try out all the new bells and whistles today. While there isn't a full release candidate blog post this time around, you can find extensive release notes on the download page, and rest assured, a release blog post will be available next week.
Target release: May 5, 2022
Upcoming release: Umbraco 10
Umbraco 9.5 is not the only thing to look forward to next week though 😏 The next major version of Umbraco is well underway and the release candidate is almost ready. In an effort to be more predictable, and more in line with semantic versioning, we're releasing 2 majors every year going forward. This allows Umbraco to stay up-to-date with .NET and ASP.NET Core and provides more predictable releases for everyone using Umbraco.
What does that mean for Umbraco 10? Well, it means it's running .NET 6 (and ASP.NET Core 6) with the latest version of C#. This allows Umbraco (and you) to reap the benefits of all the latest performance benefits and functionality that ships with the latest version of the framework. 
There is also support for a new cross-platform embedded database, SQLite, which means it will be easy to spin up a new Umbraco installation on Windows, macOS, and Linux. With that in place, we can also finally say goodbye to our old friend SQL CE - it has served the CMS and many users for many years but it is no longer supported and cannot run on .NET 6.

See the Umbraco 10 product page for more information. Remember, if you want a sneak peek, the nightly builds are available so you can try out Umbraco 10 today and next week, the release candidate will be ready for testing.
Target release: RC on May 4 and public release on June 16, 2022

Umbraco Cloud Update
A new Cloud Update is out, going over what's been released in the last 2 months as well as taking a look at the roadmap. There are some really great features to look at such as adding Backoffice User Groups when inviting new people to the project, more statistics on project bandwidth usage, static outbound IP addresses, managing transport security, and more. 
It's safe to say the Cloud platform is constantly evolving and getting even better every day. Head over to the blog and read the full story in the Umbraco Cloud Update for April 2022.
CMS Community Team 
A new community team centered around the core CMS is being formed. The aim is to gain insights into how it is currently used as well as feedback on new roadmap items, features, and overall strategy. 
We hope to see a diverse mix of people with different backgrounds to ensure we cover the topics from different angles. It will be a little different than the other community teams as the focus will not be on you contributing via code or technical solutions but rather through your knowledge and insights.
The community team will be an additional source of feedback that can be used in combination with all the other fantastic work being done in the community through the issue tracker, forums, RFCs, etc. You can read more about the team and how to apply in the Join the new CMS Community Team blog post.
The application closes on May 10, 2022 (at 4 pm CEST)

Updates to the Roadmap
The product roadmap has been updated with both new items and release dates.
New in "Now"
Release dates for the roadmap items connected to Umbraco 10 have been updated with the June 16, 2022, target release date. The items in question are ASP.NET Core 6 Support and Cross-platform Embedded Database for Umbraco CMS.
New in "Later"
Two new items for Umbraco CMS have been added to the "Later" section of the roadmap: 
Block-based Grid editor for Umbraco CMS
The existing Grid Layout property editor is a popular tool for content editors to create and layout content in the backoffice. While it has been updated a few times over the years the time has come to look at a deeper overhaul of the concept. A new property editor will be created to offer similar functionality and will be based on the Block Editor functionality introduced with the Block List editor.
Variant Permissions for Umbraco CMS
Support for setting permissions on a group level for sites that use content variants. This means you can assign specific languages to a user group and in this way have more granular permissions in a multilingual setup.
Moved to Roadmap History
As mentioned above the new releases for Umbraco Forms and Deploy are packed with new features. This also means that quite a few items have been moed to the Product Roadmap History page:
Schema comparison and configuration surfacing for Umbraco Deploy
Deployment of culture & hostnames for Umbraco Deploy
Partial restore of forms for Umbraco Deploy
Import/export of forms for Umbraco Forms
Have you submitted your project to the 2022 Umbraco Awards yet?
Best Editing Experience, Best Custom Solution, Best Cloud Solution…and 8 other categories to win!
The deadline to submit your solution to the Umbraco Awards is coming up soon on May 15th 2022. So if you've created an impressive Umbraco solution since June 2021, make sure you submit in time.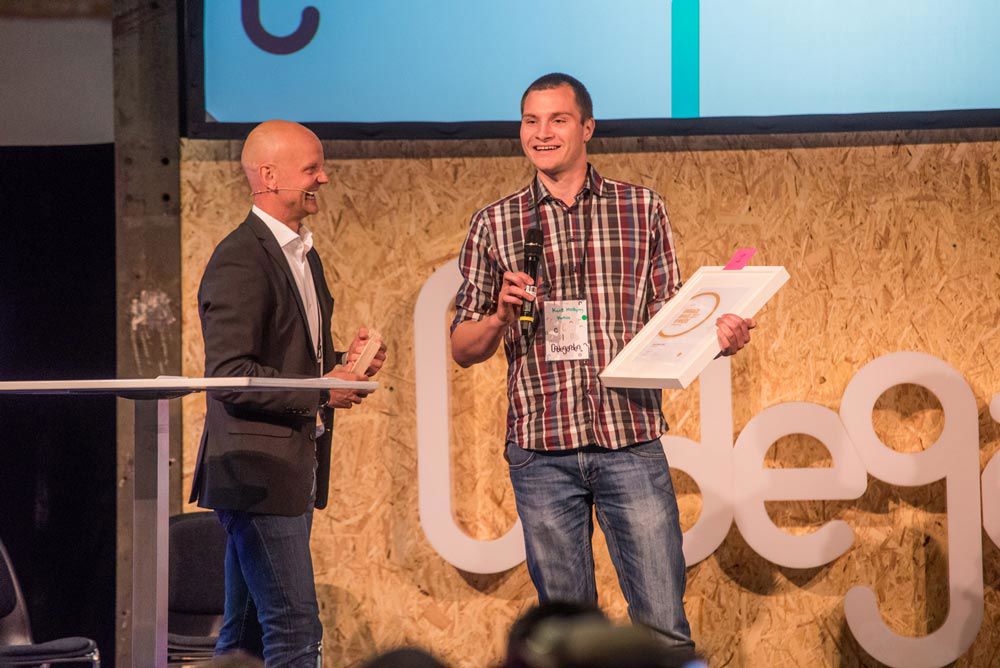 … Until next time
A large part of the work we do is inspired by the feedback we get from you. For issues and specific feature requests, you can find the issue trackers for our products on the Umbraco Github account.
If you have product feedback, you're welcome to reach out to us at product@umbraco.com.