Overview: 
New release: Umbraco 10

Including Umbraco Forms and Deploy 10
Long-term support (LTS) and Umbraco 9 end-of-life (EOL)

Umbraco Heartcore: GraphQL for everyone
Upcoming release: Umbraco 10.1 postponed 🏖️
Request for Comments (RFC): New Backoffice Implementation
Mini-RFC for Block Grid Editor
Roadmap updates
New release: Umbraco 10
A brand new major version of Umbraco CMS is out with support for true cross-platform development. Umbraco 10 is the first version of Umbraco to have full cross-platform support, meaning you can install it on both Windows, Linux, and macOS, and the process is exactly the same.
Additional features are available from updated dependencies such as ImageSharp 2.0 with webP support, and .NET 6 and C#10 improving developer experience drastically.
Including Umbraco Forms 10 and Umbraco Deploy 10
Along with Umbraco 10, new major versions for both Umbraco Forms and Deploy have been released and updated to run on .NET 6 as well. These releases do not contain new features but there are a few breaking changes as a consequence of moving to the new .NET version. You can read the details in the version-specific upgrade notes for Umbraco Forms and Deploy
Long-term support (LTS) and Umbraco 9 end-of-life (EOL)
Umbraco 10 is the first Umbraco major to follow the .NET LTS policy. This essentially means Umbraco 10 will be supported for 24 months and subsequently receive security- and other important patches for an additional 12 months.
Furthermore, the support phase for Umbraco 9 has been extended to provide better overlap with Umbraco 10. 
More details on Umbraco 10 can be found in the release blog post.
Umbraco 10 was released on June 16, 2022
Umbraco Heartcore: GraphQL for everyone
In case you missed the keynote at last week's Codegarden, it was announced that Graph QL is now available on all Umbraco Heartcore plans. This decision was based on user feedback and GraphQL being a key feature for headless projects.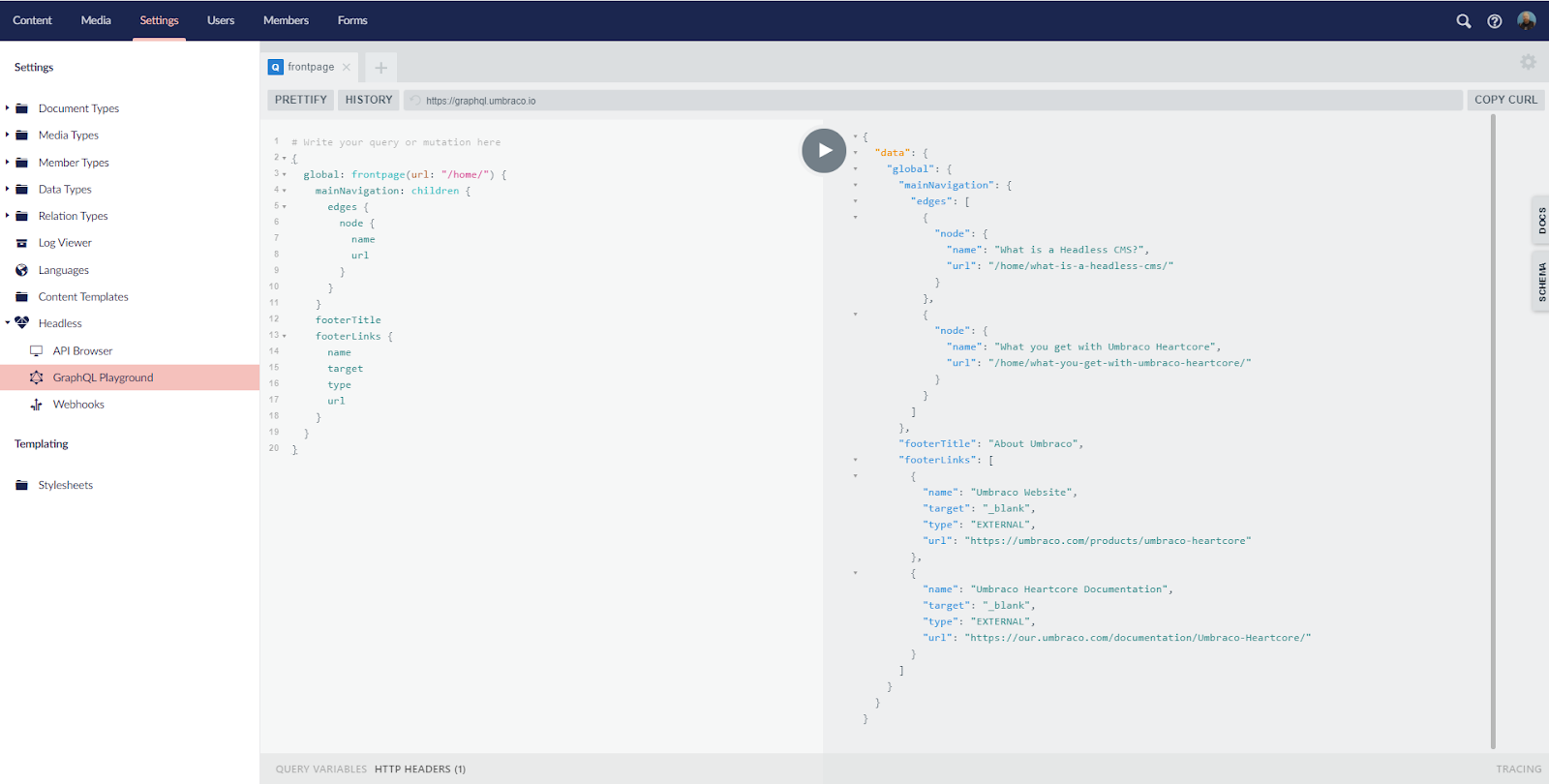 We're excited to see what fantastic things you build on Umbraco Heartcore, and with the feature available there is even more flexibility in how you set up your projects. You can read more about Umbraco Heartcore here, and if you want to know more about the product-related announcements in the keynote check out the Codegarden 2022 Keynote Highlights blog post.
Upcoming release: Umbraco 10.1 postponed 🏖️
The first minor release for Umbraco 10 has been postponed by a week to avoid conflicting with a "busy" vacation schedule. The release candidate will not be postponed, scheduled to be available on July 14, 2022, giving an extra week for testing.
New target release for Umbraco 10.1: August 4, 2022

Request for Comments (RFC): New Backoffice Implementation
The third phase of Future-proofing the Umbraco backoffice has begun with the publication of an RFC for the New Backoffice Implementation. Here you will find a detailed description of how all the work that has been done so far will be tied together in a new backoffice implementation.
Along with the RFC, a proof-of-concept of the new backoffice implementation has also been made available. Head over to the Umbraco.Backoffice.POC repository where you will find instructions on how to get it up and running and what you can try out.
We accept feedback on the RFC until Friday 29, July 2022, after which it will be evaluated. Thanks for all the comments and suggestions so far - keep 'em coming!
Mini RFC for Block Grid Editor
You might have also heard that a replacement for the popular Grid Layout Property Editor is in the works. A GitHub discussion has been opened in order to gather feedback and validate the approach before we start proper implementation. You find a description of how the new Block Grid Editor aims to provide similar features but with an updated interface, and, most importantly, based on the Block Editor technology also used for the Block List Editor.
This means "the new Grid" will be based on modern Umbraco conventions, use Element Types to configure the editing experience, and have increased flexibility and an improved developer experience. 
We want to ensure that the Block Grid Editor is a solid replacement for Grid Layouts now, and a good base for further improvements and features down the line, so please share your knowledge and experience in the Feedback on Block Grid Editor Proposal discussion.

Updates to the Roadmap
There are quite a few updates to the Product Roadmap this week, both coming from announcements at Codegarden, and through progress on existing items. Let's take a look


New in "Now"
Custom Grid Editors for Umbraco Heartcore
This feature will make it possible to add custom Grid Editors via the Heartcore backoffice. It has been moved from "Next" to "Now" and received a target release date.
Target release: July 29, 2022

Updated targets: 
Zapier integration and Google search console API for Umbraco CMS have received an updated target release for June 2022

2-Factor Authentication for Umbraco Cloud and Heartcore
Adding the option to enable 2-factor authentication for users in the portal, as well as for Umbraco Cloud and Heartcore projects. This item has been moved from "Next" to "Now".
Target release: Q3, 2022

Payment provider integration with Umbraco Forms
A new item has been added for a Umbraco Forms integration that will allow adding simple payment workflows.
Target release: July 2022
New in "Next"
Custom Property Editors for Umbraco Heartcore
The ability to add custom Property Editors to your Umbraco Heartcore projects has been moved from "Later" to "Next".

Redirects API for Umbraco Heartcore
A new item has been added for Umbraco Heartcore. This feature will enable you to retrieve changed URLs via a REST API endpoint.
Target release: Q4, 2022
New in "Later"
At the Codegarden keynote last week, a number of new features were announced and they have now been added to the roadmap:
Entity Framework for Umbraco CMS
Headless API for Umbraco CMS
New backoffice for Umbraco CMS
Block-level variations for Umbraco CMS
Webhooks for Umbraco CMS
You can see all the items and descriptions on the Product Roadmap, or dive a little deeper in the "Umbraco CMS Roadmap - something to look forward to" blog post.
Added to "Roadmap History" ✔️
Finally, a big checkbox was checked last week with the release of Umbraco 10. This means two items have now been moved to the Roadmap History page:
ASP.NET Core 6 support for Umbraco CMS
Cross-platform embedded database for Umbraco CMS
As mentioned earlier, you can find more details in the Umbraco 10 release blog post.
… Until next time
A large part of the work we do is inspired by the feedback we get from you. If you find issues or have specific feature requests, you can find the issue trackers for our products on the Umbraco Github account.
If you have product feedback, you're welcome to reach out to us at product@umbraco.com.