Overview: 
New release: Umbraco 9.4(.1)
A brand new release of Umbraco CMS improvements that'll make life (or at least working with Umbraco) easier for developers and editors alike. You'll now be notified about dependencies and references when trying to delete or unpublish Content, similar to what you already know from the Media Library. This allows you to clean up your Umbraco installations with confidence and gives a much better overview of how and where everything is used.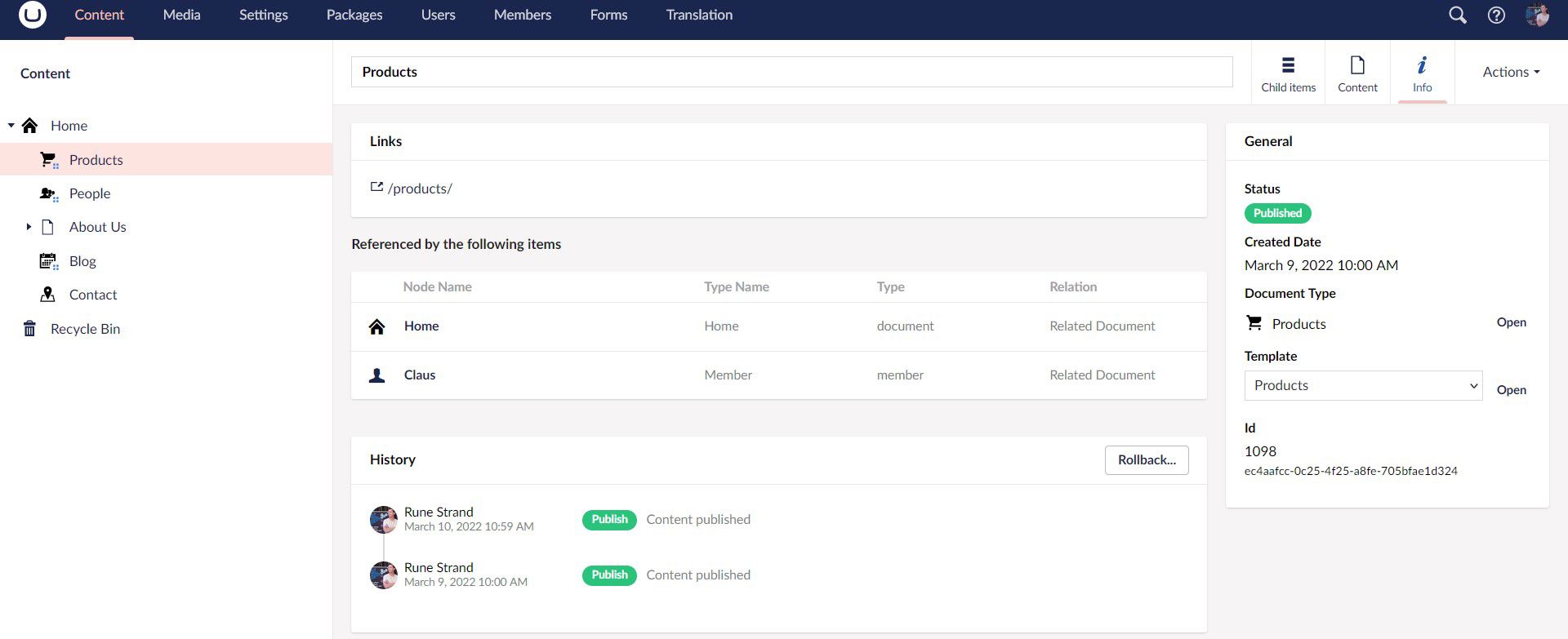 You'll also find support for Content Apps in the Translation section, a bunch of smaller tweaks and improvements to UX and developer experience, and of course plenty of fixes.
Note that an unforeseen breaking change was discovered post-release and resulted in a patch release immediately thereafter. This means there is no longer a 9.4.0; everyone should upgrade to and use 9.4.1+ 
You can read more about this great release in the Umbraco 9.4 release blog post.
Released on March 24, 2022
New release: Patches
Over the last couple of weeks, several patches have been released for Umbraco CMS as well as Umbraco Deploy. Follow the links below for more details on the patches. 
All patches, except for Umbraco 8.18.2, have been automagically rolled to eligible Umbraco Cloud projects. Umbraco 8.18.2 will be rolled out Cloud projects on April 5, 2022.
New features for Umbraco Heartcore, and a new Top 10 for Umbraco Cloud projects
New features are out for Umbraco Heartcore, the headless Umbraco option is only available on Cloud, and for Umbraco Cloud projects.
New Data Property Editor
All Umbraco Heartcore projects have a  new property editor which lets you add JSON or XML feeds and manage them as content. 

The new property editor also works with CSV files and you can even enter list items manually. Once a feed (or source) is added you can then select how to interact with them in the Content section such as a radio button list or checklist. 
We've started adding Property Editors that fit well and are in demand for Umbraco Heartcore. The Data Property Editor is from the popular Contentment package for Umbraco CMS by Lee Kelleher. While we are supporting the bits that have been added to Heartcore we hope to contribute back to the open-source version where we can. Kudos and thanks to Lee for making it possible to add this great functionality to Umbraco Heartcore 🙌
Content Notifications
Umbraco Heartcore users can now configure Content Notifications. You can select from a variety of triggers such as Publish, Move, Copy, and many more. Simply right-click on any node in the Content Tree to set up notifications.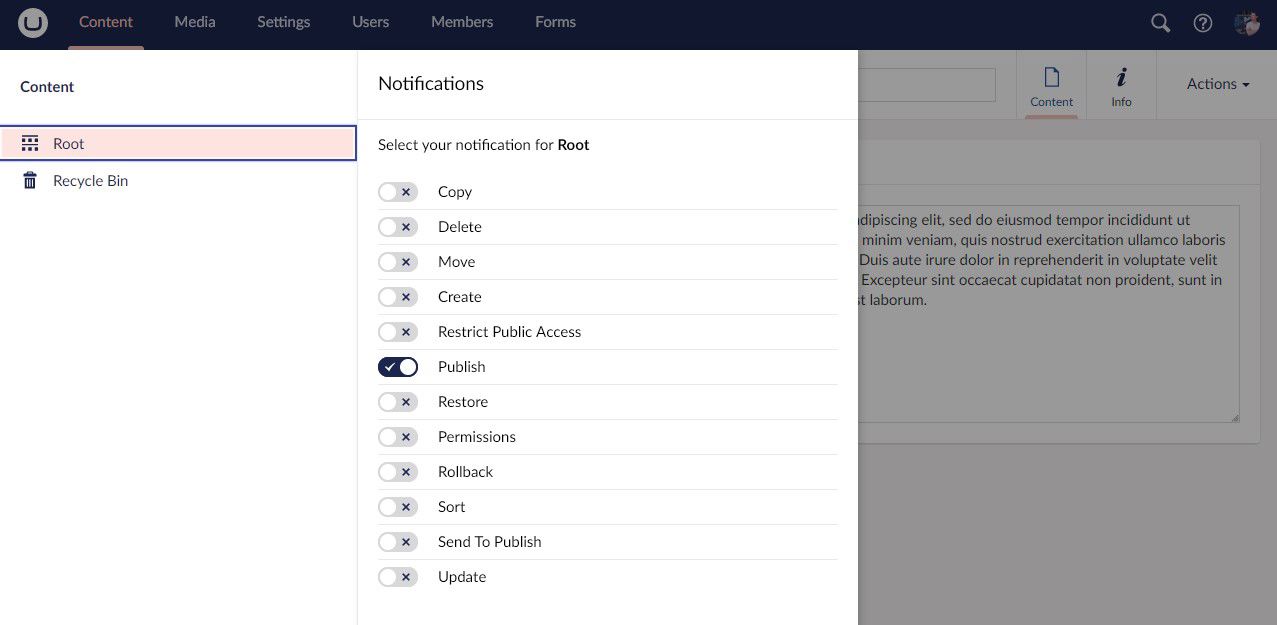 When a selected action is triggered you receive an email notifying you that the action has been performed.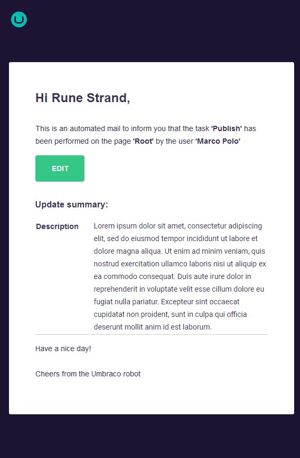 This can be used for e.g. setting up review workflows.
Bandwidth Usage Top 10
You can now find more information about how your Umbraco Cloud projects are performing with a new Top 10 over bandwidth usage.

A really helpful tool in making sure your sites are running as expected.
Read more about the new feature in the latest Umbraco Cloud release notes.

Umbraco Uno has been retired
We have retired Umbraco Uno as a product. We have done this because we want to focus on our three main offerings in the coming years: Umbraco CMS, Umbraco Cloud, and Umbraco Heartcore, as we believe these products serve the true power of Umbraco - the great editing experience and full developer flexibility. 
Existing Uno customers have been informed directly via email, and we've made sure that all Uno websites continue to run and continue to be safe and up to date until EOL for Umbraco 8 in 2025. 
Umbraco Uno has served two purposes - as a site-builder and as an example site.
Uno as a site builder has not been in high demand. The vast majority of customers have continued to build websites from scratch often through skilled Umbraco partners or aided by community or custom-built starter kits. Instead of maintaining something that is already catered for in the Umbraco community, we will work towards making it easier and faster to get up and running with a new website in Umbraco Cloud.
As a demo site, Uno was excellent. It really showed the great editing experience that Umbraco can provide and showed a great example of something you could build with Umbraco. We want to make sure that there is still a great way to demonstrate this to potential customers, and we will be building a new example site to demo current features and upcoming ones as they are developed. 
The Product Roadmap has been updated to reflect the retirement of Umbraco Uno and the two remaining items for Uno have been removed. Below you'll see that a new demo site has been added to fill the void of Umbraco Uno for demoing purposes.

Updates to the Roadmap
The roadmap is busy this time around 🚀 Both with the retirement of Uno, as mentioned above, and an exciting number of new and updated items.
New in "Now"
Deployment of culture & hostnames for Umbraco Deploy
Adding support for the deployment of the culture and hostname information associated with content between environments.
Target release: April 2022
Import/export of forms for Umbraco Forms
A new feature for Umbraco 9 version of Forms that allows for the import and export of forms, providing further options for developers wanting to include form definitions in source control and transfer them between environments.
Target release: April 2022
Shopify integration for Umbraco CMS (DXP)
Release of an extension for Umbraco CMS supporting a product picker for the Shopify commerce platform. This is part of our Composable DXP (Digital Experience Platform) strategy. This item has been moved from "Next" to "Now".
Single sign-on for Umbraco Heartcore
Umbraco Id is a centralized (single sign-on) login for Umbraco Cloud and regular Umbraco CMS projects on Umbraco Cloud. This centralized login flow will be added to Umbraco Heartcore projects (both new and existing projects), so editors only need one login when working with multiple environments or across multiple projects. This also enables the future addition of 2 Factor Authentication for Heartcore users.
Existing projects will be notified about when and how Umbraco Id is added to their Project.
Target release Q2, 2022
New in "Next"
Telemetry and Consent Options for Umbraco CMS
In order to make Umbraco better, we'll start collecting anonymized and non-personal system- and usage data.. Consent should be given and will be asked for during installation but also available in Settings.
Target release: May 5, 2022
New demo site for Umbraco CMS
A new Umbraco demo site that showcases the backoffice and gives an introduction to what can be built with Umbraco out of the box. Our goal is to open-source the project so that it can be used as an easy start for experiments and learning.
Added to Roadmap History
Improvements to item relations/tracking
All your links and references are tracked in Umbraco. This way a content editor can see where Content and Media items are used and be warned when trying to delete or unpublish content that would result in broken links.
Functionality inspired and incorporated from the Nexu package by Dave Woestenborghs.
Released as part of Umbraco 9.4. You can find more details in the release blog post.
Static outgoing IPs on Umbraco Cloud
Standard and Professional projects on Umbraco Cloud can now enable static outbound IP addresses for Umbraco Cloud environments. 
Custom hostname security options for Umbraco Cloud
Security settings like HTTP/2, HTTP/3, TLS, and more have been enabled and can be turned on/off on a per hostname basis for your Umbraco Cloud Projects.
Data Property Editors in Umbraco Heartcore
You can make use of a new Data Property Editor in Umbraco Heartcore. It comes from the popular Contentment package for Umbraco CMS. The new editor makes it possible to select values from a JSON or XML feed and save that together with your content. This includes REST API and GraphQL support.
Released on March 29, 2022
Support for Content Notifications in Umbraco Heartcore
In the Umbraco backoffice, it is possible to subscribe to Content Notifications as a way to set up a workflow around Content and approving Draft/Published Content. This feature will be enabled in Umbraco Heartcore, so all backoffice users can subscribe to Content notifications.
Released on March 29, 2022
Final call for Umbraco MVP voting and Backoffice Community team applications
A couple of important deadlines are just around the corner. 
2022 Umbraco MVPs
First of all, if you know a member of the Umbraco Community and value their contributions, a great way of showing appreciation is to nominate them for an MVP award. You can find more details on the MVP program and how to submit your nominations in the 2022 Umbraco MVP nominations blog post. The deadline for nominations is today, March 30, so add your nominees now! The Umbraco MVPs for 2022 will be announced at Codegarden - remember tickets are available for the conference attending both in-person and via streaming.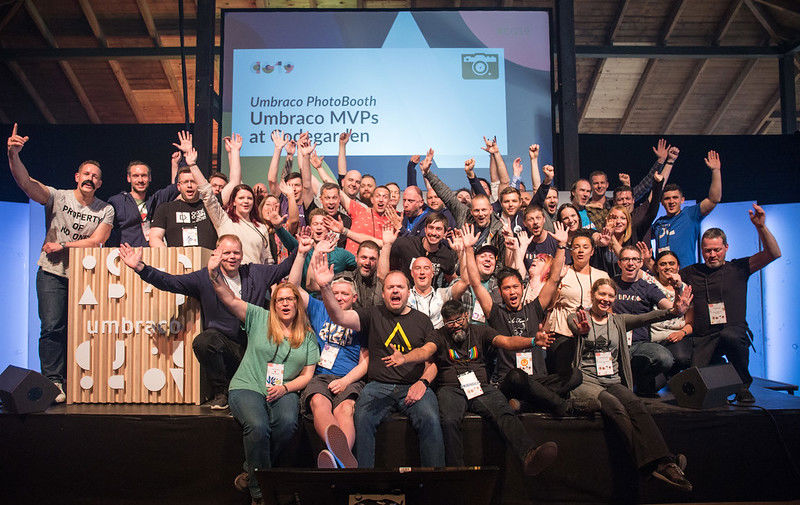 Backoffice Community Team 2.0
The second deadline this week is for the new Backoffice Community team. The team will be formed to help out preparing an RFC for implementing a new backoffice and to provide feedback and help on the project going forward. Check out the blog post by frontend team lead Jacob Overgaard to find out more about what the new team will be up to. The deadline for applications is on Friday, April 1 (no, that's not a joke 🙈), so get your application in or ping your favorite frontend and/or Umbraco developer and let them know there's a great opportunity to help shape the future of Umbraco CMS. The application form can be found in the blog post linked above.
… Until next time
A large part of the work we do is inspired by the feedback we get from you. For issues and specific feature requests, you can find the issue trackers for our products on the Umbraco Github account.
If you have product feedback, you're welcome to reach out to us at product@umbraco.com.