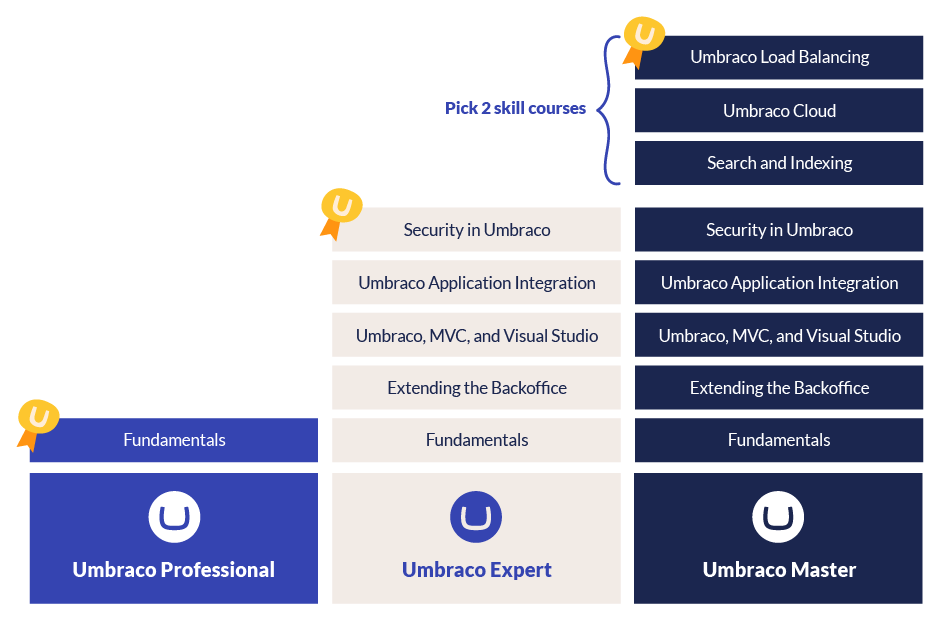 Which level are you going for? 
We offer three official levels of Umbraco Certification statuses.
With each level, you step up your Umbraco game by learning how to use Umbraco and its features the way they're intended - which is also the most efficient, fastest, and fail-safe way.
Additionally, each certification status also works as an official guarantee of your skills-set for your current and future clients and employee. 
Learn more about each level below 👇 
Umbraco Certified Professional
This first level of certification.
Umbraco Certified Expert
The second-highest level of certification. 
Umbraco Certified Master
The top-level of certification. 
What training participants have to say 


The course was well-structured. Materials were organized. Each topic was clearly explained The instructor was knowledgeable, helpful, and very pleasant and accommodating.
- Francis

The course material, trainer, and experience definitely met my expectations and more. Rheannon had a really friendly and calm approach to the training - even through some technical blips and a range of questions. I will be recommending a few more of us teams go for this training in the future.
- Danny 

Very well prepared and set up. The instructions were very clear. The workbook was also very informative and well written and had enough time for the exercises. Well done! 
- Luuk
Need help?
Do you have more questions about the training we offer? 
Fill out the form below with the questions you have and we will get back to you.