We gave out a lot of awards
At Codegarden it's tradition to announce the new MVPs and the ones who got their titles renewed, and this year was, of course, no exception!
7 members of our amazing Community became new MVPs during this year's Codegarden, and 59 (!) people got their MVP title renewed 💪 You can see the winners here.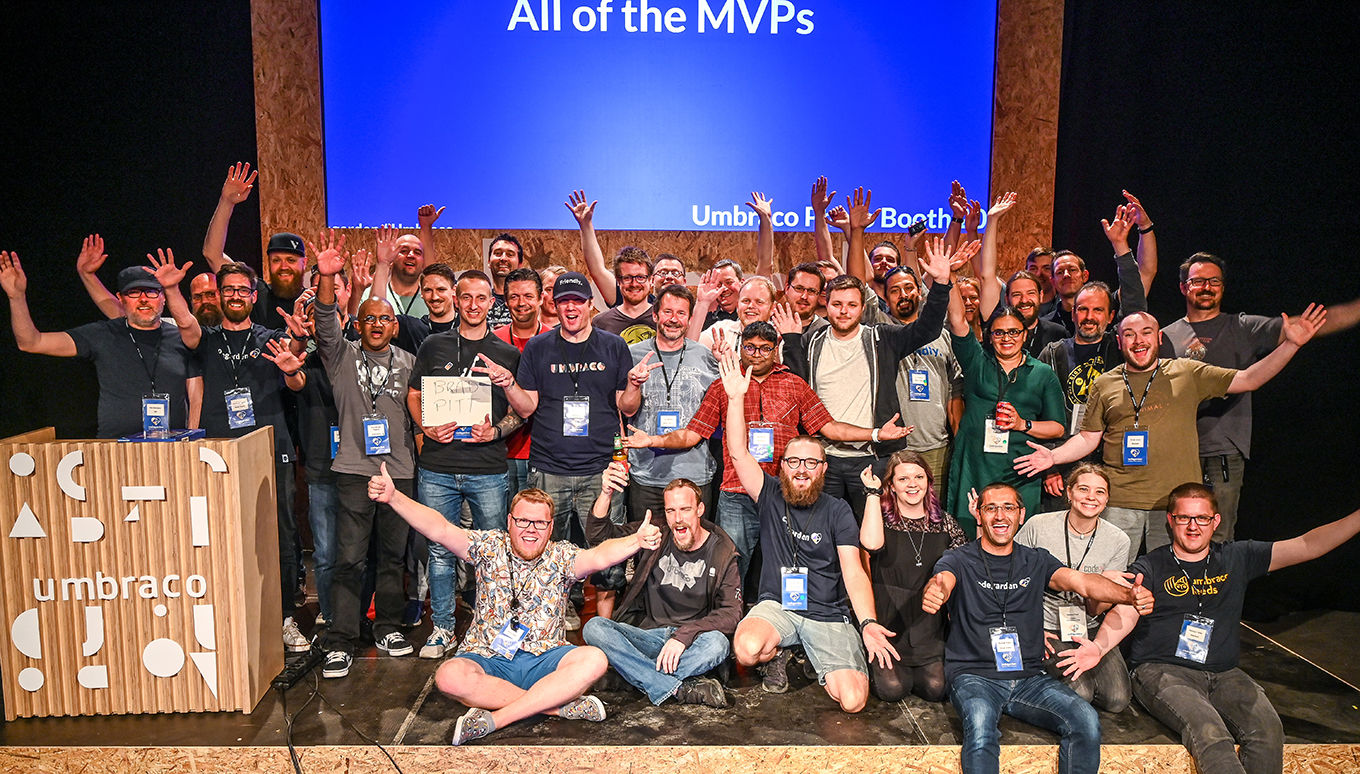 We also gave a total of 11 Umbraco Awards to people who have made some truly awesome solutions using Umbraco. A few examples are True who has built a website for the renowned animation company Aardman which won them the "jury's choice"-award, and Dwarf won Best Education Sector Solution for Lego's "Learning Through Play" web initiative. You can see all of the winners here. 
In addition, 8 Package Awards were given to celebrate the people who have made some really exceptional packages. We won't recount all of the packages here, but we saw, for example, uSkinned Site Builder by uSkinned which removes the need to write a single line of code when working with Umbraco, and Editor Notes by Marc Goodson which makes it possible to add Rich Text notes to your content pages. We also gave out an award for Package Contributor of the Year! Read more about the winners and the packages here.
Codegarden in numbers
So many people joined us at Codegarden - in fact, we saw an impressive 1458 ticketholders! This includes both the people who joined us in person and those who watched online.
We had a jam-packed schedule for Codegarden this year with a bunch of interesting sessions and super passionate speakers 🎉
In total, 51 speakers shared their knowledge across a total of 67 sessions, so it's no wonder if you feel like there were a lot to choose between!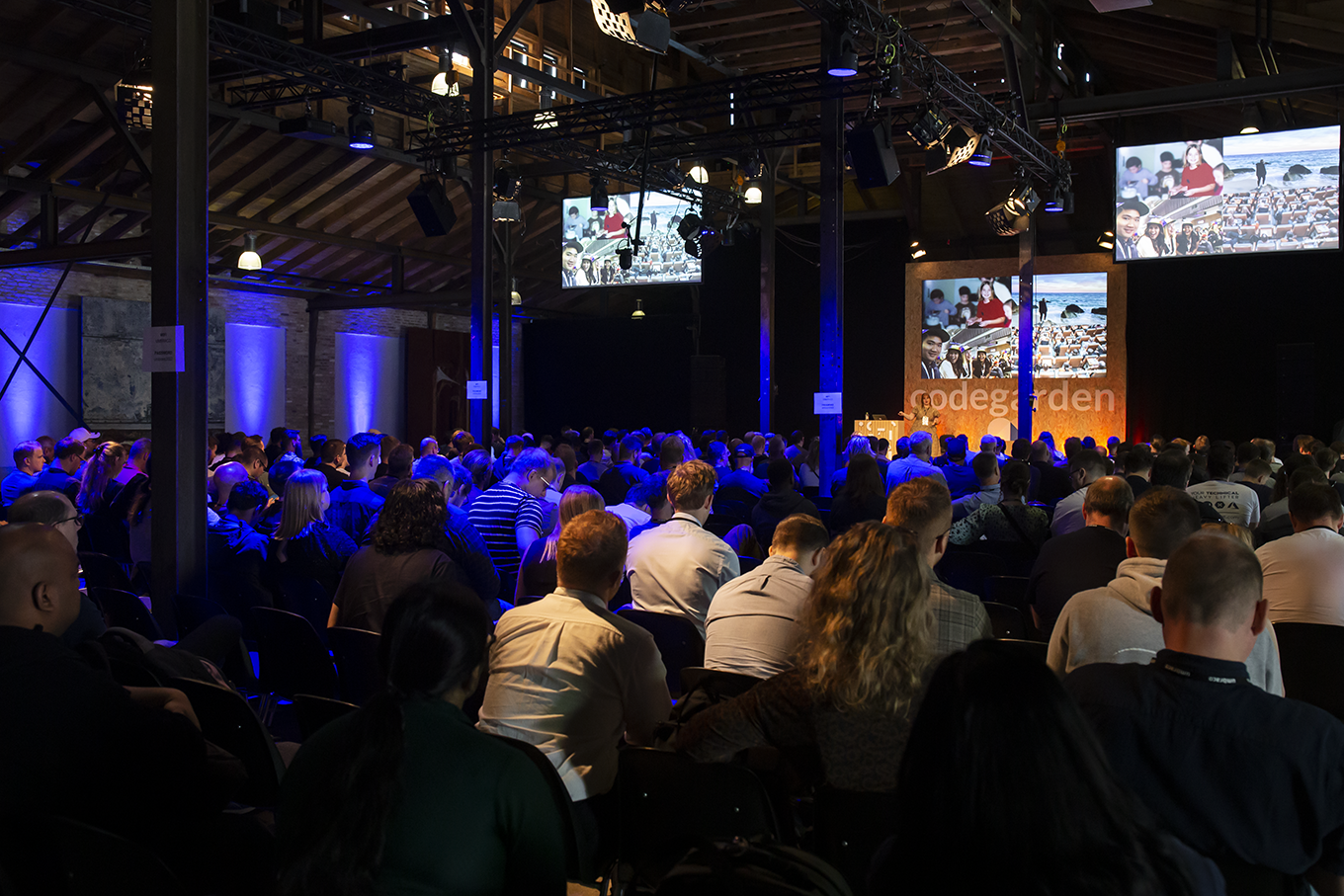 What did the community think?
It is no secret that Codegarden wouldn't even exist without our amazing Community, and it most definitely wouldn't be as fantastic an experience without everyone who joined us both in-person and online. It's one thing for us to claim that people had a good time during Codegarden, so let us show you just a little bit of what people are saying on Twitter after Codegarden's over.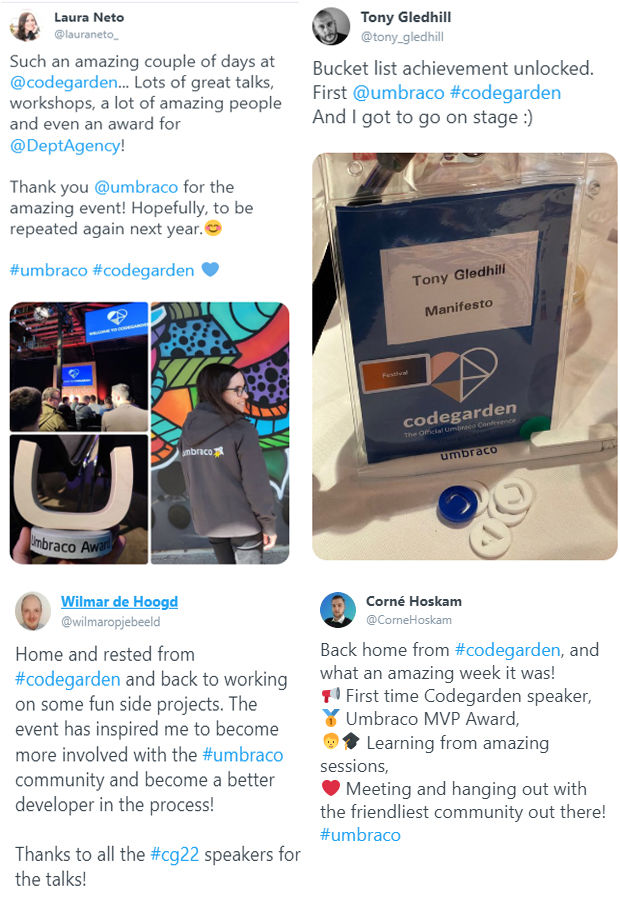 Did you miss some sessions?
Were there any sessions that you really wanted to watch but couldn't or are you just missing some of that Codegarden atmosphere? The recordings of all the sessions are available in SpotMe (desktop platform) and the Umbraco Events App (mobile), so that's where you can watch them by navigating to "Replays" if you have a Codegarden ticket.
What if you don't have a Codegarden ticket but still want to watch the sessions? For now, the sessions are only available in SpotMe, but they will be available on Youtube in the future.
From all of us at Umbraco HQ..
.. A huge THANK YOU to everyone who attended! We truly couldn't do it without you - H5YR!
There's a year until we can celebrate Codegarden yet again, but that year will pass quickly! Make sure you don't miss out on the ticket launch for Codegarden 2023 and sign up for the mailing list right here!