The Contributing Gold Partner status is like an MVP badge, but for agencies. We've got some Gold Partners this year whose employees give valuable time, expertise, and hard work to the Umbraco open-source project, and who have done fantastic work contributing to the Umbraco community.
As a reminder, Contributing Partners get this shiny badge for, for example, encouraging staff to contribute through documentation, core CMS PRs, package work, organizing events, and more - all during work hours. 
One shining example of this is new Contributing Partner Spindogs in the UK. Spindogs Marketing Manager Emily Harris shared the agency's philosophy on contributions and what they do to make the time count:
"We encourage our teams to be actively involved in projects and allow dedicated time during their work day to help them upskill and contribute to the community.
Our team members are part of the Umbraco Backoffice, Core Collaborators, and Packages teams. They respond to questions on the Umbraco forum, Slack, and Discord, and both contribute and merge PRs into the Umbraco open-source core. In addition, 'The Spindogs Umbraco Initiative' is a collaborative effort we support for our team to write articles, develop packages (both internal and open-source), and test Umbraco features."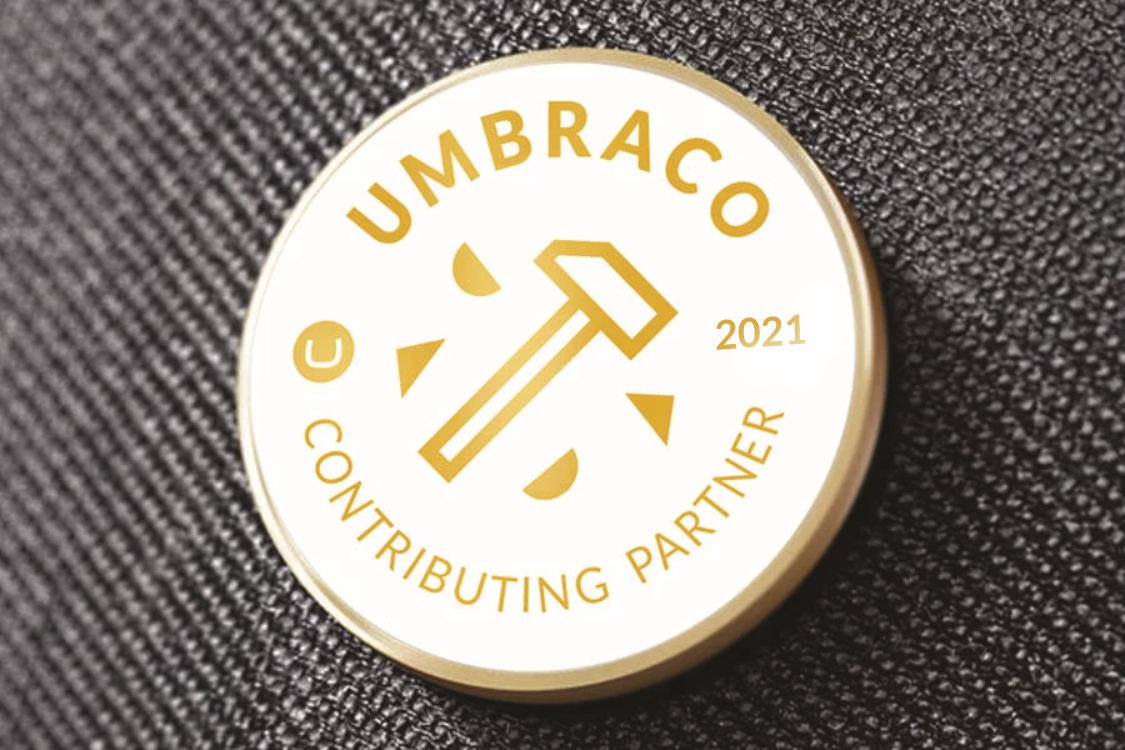 Pretty great, wouldn't you agree?
Before designating a Contributing Partner, we evaluate the nominated partners' contributions over the last two years. Those awarded the badge also keep it for two years. Learn more about our evaluation process here.
Let's introduce the full list of Contributing Partners, new and old(er!).
2021 Contributing Partners
This year, we're pleased to announce that 36 Gold Partners have received this special recognition, including 23 renewed partners and 13 new ones. A massive H5YR and congratulations to the following Gold Partners on their well-deserved new title as a Contributing Partner 🙌🎉
Renewed partners
There are 23 renewed partners in 2021.
These partners hail from Australia, Denmark, the Netherlands, Norway, Sweden, the UK, and the United States.
New partners
There are 13 new partners in 2021.
These partners hail from Denmark, the Netherlands, Sweden, the UK, and the United States.
Remember, we do not know everything that is going on in the community. If you don't see your name on the list or you think we have missed a partner that meets the criteria listed above, please reach out to your partner manager.
Want to see your name on next year's list?
It's absolutely possible! Danish Gold Partner IMPACT understands the phrase, "If at first you don't succeed, try try again!" firsthand.
Here's what Sarah Mørch Svendsen, IMPACT's Head of Technology Alliances, had to say: "Our goal in becoming a Contributing Gold Partner is part of our desire to become more active in the Umbraco community. This year, we appointed a Technology Lead who has weekly dedicated time for community work. We also held a two-day Code Camp for 10+ of our developers with the participation of Umbraco HQ, so all our Umbraco developers now know how to contribute. In addition, we invested full work days in October towards Hacktoberfest.
"We aimed for but didn't get the title last year, and are glad our recent investments have helped us stand out!"
Harris also shared her thoughts on the selection of Spindogs. "We're honoured to be awarded the Contributing Gold Partner badge. Beyond the work we do at Spindogs, we're committed to helping our team to learn, grow and develop."
As for next year...
🚨 Want to get the shiny Contributing Partner badge to show off on your site, email footer, and Linkedin? Learn about the criteria here.
We can't wait to see what you're capable of!