Overview: 
New release: Umbraco 9 RC2 and final release date 🚀
We're so incredibly thankful for all the feedback we've received for Umbraco 9 so far. The team is working hard to implement all the changes and fixes necessary and keeping up with the new things added to Umbraco 8 as well.

This has resulted in a second release candidate for Umbraco 9, which has been released today!
New Features in RC2
 Pack the physical files into packages when picking media
Changes all collections from collection builders to resolve the concrete instances lazily
Updated public IUmbracoBuilder extension methods to allow chaining
Adds bundle options to the package manifest
Added more common namespaces to _ViewImports.cshtml
Updated nuget dependencies
Added basic authentication middleware
Umbraco 8.16RC merged in
Breaking changes in RC2
Fixes issues after ImageProcessor or ImageSharp migrations related to querystrings
Removed VariationContextAccessor from IUmbracoContext
Removed things that was obsolete in latest v8
These are just some of the highlights there's more in RC2 including a long list of bug fixes. You can see the full list over on the issue tracker. If you want to get in on the action and start using Umbraco 9 you find instructions in the Umbraco 9 Release Candidate blog post and in the Umbraco on .NET 5+ documentation.
RC2 was released today, August 19th, 2021
The public release date for Umbraco 9 🤩
We set out sights on a final and public release date for Umbraco 9: September 28th, 2021 🎉 This is a little later than we have teased before but there are still a few things that need to be polished and added before the final release.
There are still a couple more RCs planned and we want to give them time to be properly tested. The same goes for making Umbraco 9 available on Cloud, there are still a few outstanding tasks and some have taken a little longer than initially expected. Again, these also need to be thoroughly tested. 
Finally, it provides a wonderful opportunity to get tabs for Umbraco CMS in the 9.0 release. This is a long-awaited addition to Umbraco 8 and a feature that really belongs in the first public release of Umbraco 9. Once it's ready, there will be a new RC with tabs for Umbraco 9 for you to try out.
Target release date: Tuesday, September 28th, 2021
If you are developing packages for Umbraco 9, or just interested in learning about what it takes to upgrade a package and make it maintainable across both Umbraco 8 and 9, you're in for a treat.  The Package Team has put together a wonderful blog post and video detailing their efforts to make the UI Examples package work.
New Release: Friendly Git URLs on Umbraco Cloud
One of the new features that has been enabled by the new infrastructure on Umbraco Cloud is vanity URLs for GIT repositories. We're moving away from the rather verbose GUID-based URLs that have been used on Cloud previously to something resembling what you already know from i.e. Github.
So what previously looked like:
https://my-project-alias.scm.s1.umbraco.io/<GUID>.git
Is now: 
https://scm.umbraco.io/euwest01/my-project-alias.git
There are a number of advantages to this approach, aside from being easier to read:
All your projects are now gathered under the same domain
Combined with the single sign-on functionality, password management is now easier (especially if you're using a password manager)
Improved experience when upgrading to a different plan - The GIT URL stays the same, which was not always the case before.
More flexibility for managing load on servers (which could also lead to changed project GUIDs and therefore a new GIT URL)
In short, you now have a nice GIT URL that will always stay the same - only time a change will occur is if you rename your project (and thereby your project alias).
It's important to note that if you're migrating from the old to the new infrastructure, you will get access to the new Git URL but the old one will continue to work. This has been done to ensure no automated workflows for deployments etc. will be affected. New projects created will only have access to the new GIT URL format. The feature is documented in the migration documentation.
Released August 13th, 2021
Upcoming releases: Umbraco Forms and Deploy (RCs out now 🎉)
There's also a lot to look forward to if you are using Umbraco Forms and/or Deploy, as there are minor releases for both coming out in the near future with some highly requested features as well as bug fixes and improvements.
Umbraco Forms 8.8 will allow you to sort your forms in folders and make life a lot easier for anyone creating, updating and managing forms. You can also look forward to better handling of forms submissions, new options for rendering forms and improvements to how conditional fields are handled. This and much more will be available for you to try out in the Umbraco Forms 8.8  release candidate - Out now!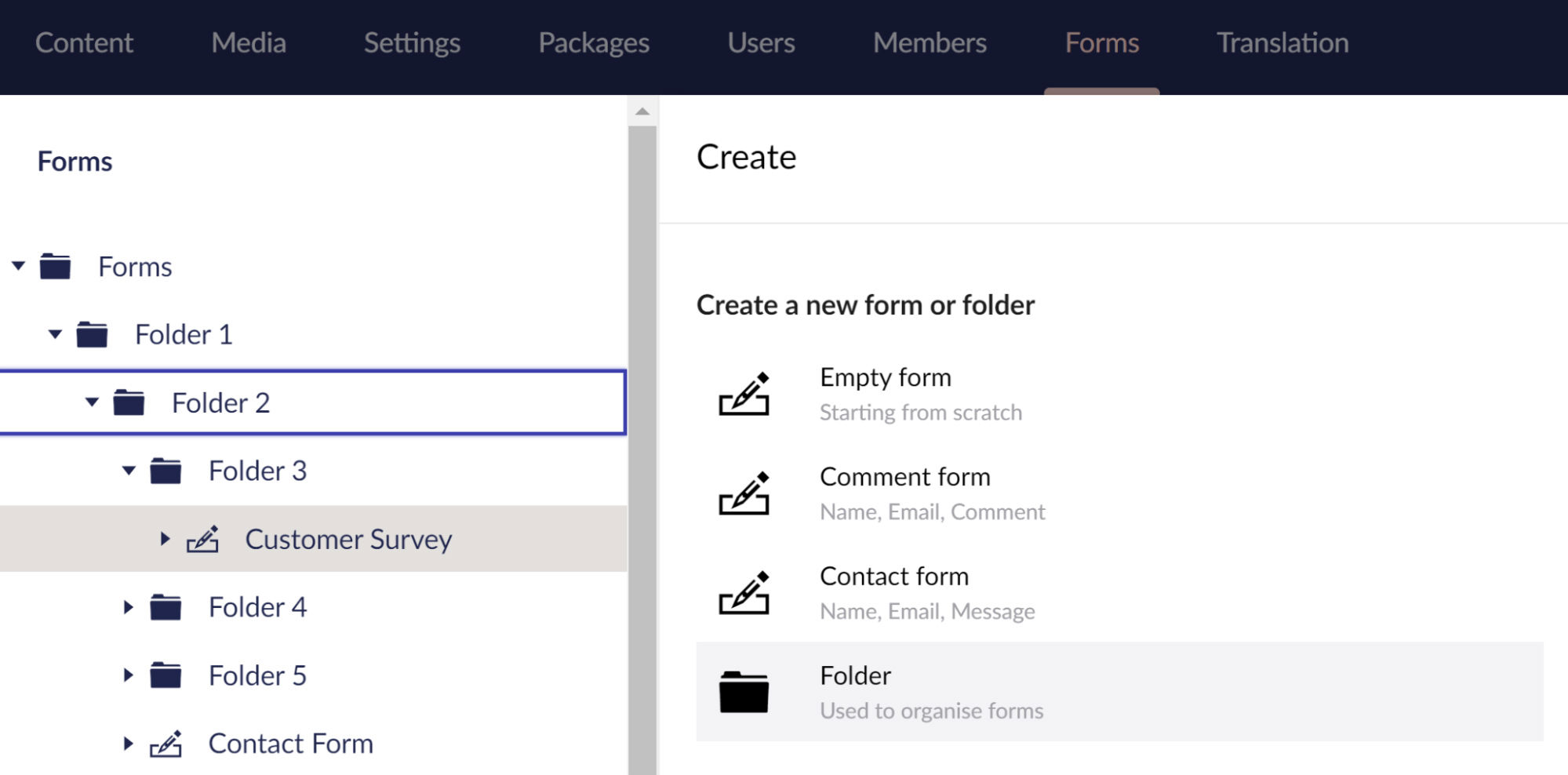 With Umbraco Forms 8.8 you can organize your forms in folders
Umbraco Deploy 4.2 adds support for the above-mentioned folders and has some other really great features as well. You will be able to configure Deploy to handle dictionary items as content. Meaning you can queue them for transfer in the backoffice if that suits your workflow handset up. You'll also be able to register custom data to be handled by Umbraco Deploy as part of a transfer the same way as is currently possible for Content, Media and forms. Just as with Forms, there is a release candidate out now for Umbraco Deploy 4.2 for you to try! 
If you're working with Umbraco 9, we've made the RCs for both Forms and Deploy available there as well. We hope you're as excited about the new features and improvements as we are and will help test them out to make sure the final release is as solid as possible - So if this has piqued your interest, you can read about the releases in detail in the Umbraco Forms and Deploy release candidate blog post.
Target release date: September 7th, 2021
Upcoming release: Umbraco 8.16 (Release candidate is out 🎉) 
A new minor release of Umbraco CMS is fast approaching and you can try it out today! Umbraco 8.16 provides a long list of fixes, updated dependencies and a couple of nice features to boot. You can catch all the details in the Umbraco 8.16 release candidate blog post and see how to get your hands on the RC as well as how to report if you find anything that needs to be addressed.
Target release date: Thursday, August 26th, 2021

Updates to the Roadmap
Two updates to the product roadmap this time around:
Umbraco 9 public release
We've still got a ways to go in the release candidate process and expect to release an RC3 and likely also an RC4 in the coming month. The means we will not be able to make the August launch window which was previously stated on the roadmap. We do however have a very clear plan to get to the release and this has made it possible to set a specific date for the public release. The roadmap has been updated with the target release date for Umbraco 9, September 28th, 2021. So mark your calendar, we will share more about our launch celebration plans when we get closer to the date 🎉
Tabs for Umbraco CMS
The re-introduction of tabs in the Umbraco backoffice is targeted for Umbraco 8.17 and we want to get it in your hands as soon as possible. We expect to make the release candidate for Umbraco 8.17 available earlier than usual in order to give as many people time to test as possible, and work on adding the functionality to Umbraco 9 in the process as well.
We'll have more on tabs in the next product update as well as the release candidate blog post for Umbraco 8.17.
The target release date has been updated to September 28th for Umbraco 9 and October 7th for Umbraco 8 (as part of the 8.17 release).
New majority stakeholder in Umbraco
Not strictly product related but nevertheless very big news for Umbraco, the HQ, and the wider community: The Swedish growth investor Monterro has acquired the majority stake in Umbraco. It's a testament to how far Umbraco has come over the last few years both as a product and a company that this is possible. It will help expand our efforts on all fronts and I think it's safe to say we're all very excited for the future. 
You can read more about this in the announcement blog post and if you have questions, comments, concerns, or high fives you want to give, you can join the community office hours next Wednesday where the topic is the next phase of Umbraco.
Kim Sneum Madsen, CEO and Chief Friend Maker at Umbraco, will also be joining UmbraCoffee tomorrow to talk about the big news - So get your brew ready and tune in at 12.30 CEST on the UmbraCoffee YouTube channel:
… Until next time
A large part of the work we do is inspired by the feedback we get from you. For issues and specific feature requests, you can find the issue trackers for our products on the Umbraco Github account.
If you have product feedback, you're welcome to reach out to us at product@umbraco.com.