Overview: 
New release: Patches for Umbraco Forms and Deploy
Today we have released new patches for Umbraco Forms and Deploy. All eligible Umbraco Cloud sites will receive the patch automatically.
Umbraco Forms 6.0.10 and 4.4.9
For Umbraco Forms, we are releasing patch versions 6.0.10 and 4.4.9 to resolve a regression issue with saved media uploads from the recent security vulnerability patches. So if you're on 6.0.x or 4.x you can now upgrade to the latest version. For everyone else, we highly recommend you upgrade to the latest version that includes the security patch. You can read all about the security issue and what patches are available in the security advisory blog post. Full details about the vulnerability will be published by the reporter in a few weeks.
Release notes and download can be found on the Umbraco Forms download page.
Released on Tuesday, August 3rd, 2021
Umbraco Deploy 4.1.3
The patch for Umbraco Deploy (4.1.3) is addressing an issue related to extractions on the new Cloud infrastructure.
Release notes and download can be found on the Umbraco Deploy download page.
Released on Tuesday, August 3rd, 2021
Umbraco 9 release candidate and package betas
The release candidate for Umbraco 9 has been out for a few weeks now and so has a number of betas for packages. We're thankful for the feedback received so far and hope more of you can get time to test the RC, or start upcoming projects, and report any issues so we can get these fixed before the final release.
If you want to use (or test) Umbraco Forms and Deploy you can find more information in the Umbraco 9 documentation. We'd love to get your feedback for both Umbraco 9 and the official add-ons.
Community packages
A great effort has been made on a number of the popular community and licensed packages for Umbraco to make them ready to run on .NET 5/.NET Core and Umbraco 9. You can even find some of them in the backoffice package section.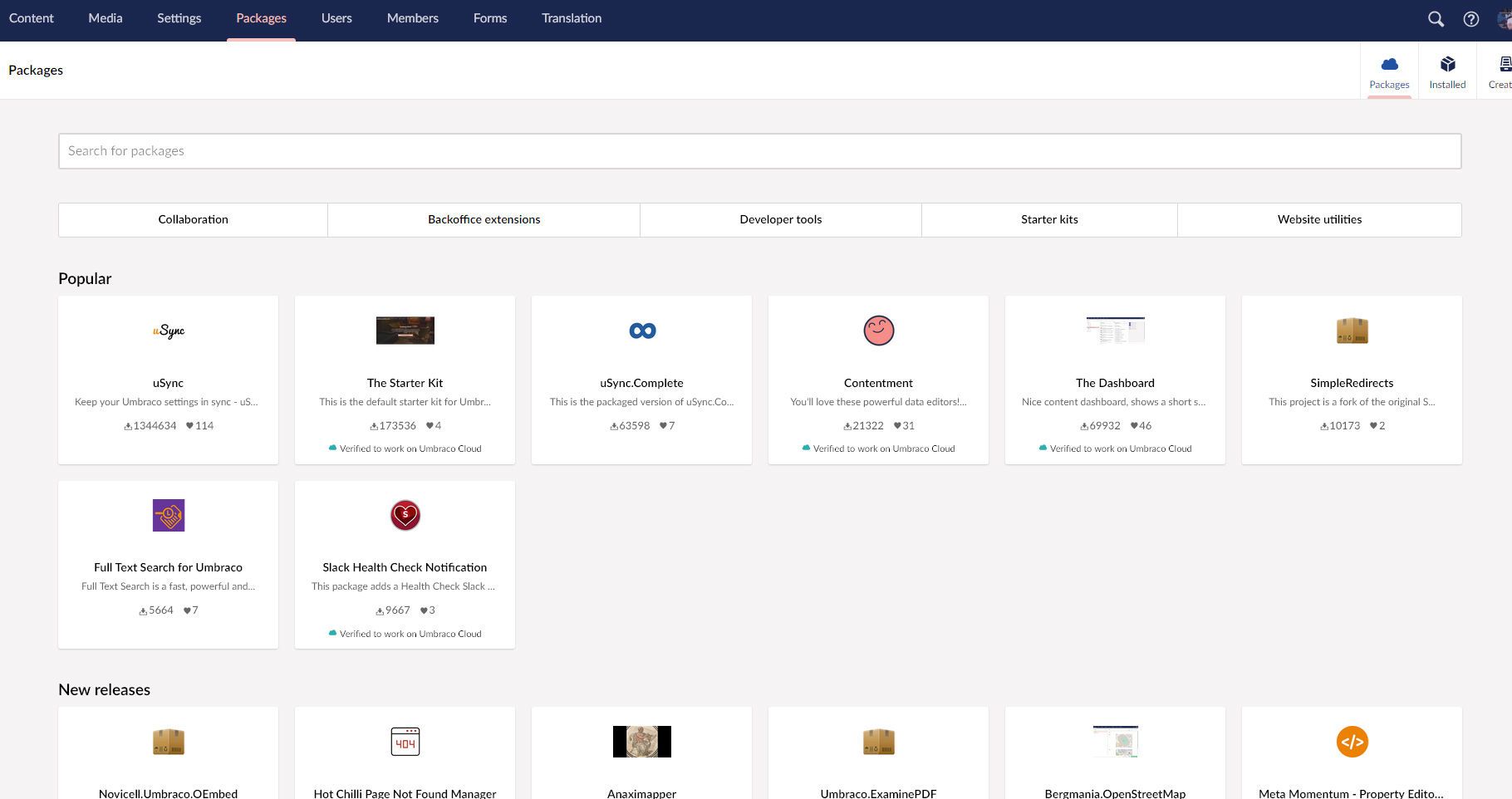 Note that packages in Umbraco 9 are installed via NuGet, so you'll either need to use the terminal (you can find the NuGet command in the package description) or via the package manager in Visual Studio.
Codegarden & chill 🍿
All 56 talks, including the keynote, have been uploaded to the Codegarden 2021 playlist on YouTube, so if you missed anything you can catch up at your own pace. You'll find a wide variety of talks covering everything from hardcore technical sessions on Unit Testing to tips and insights on how to build up your CV. There's also the infamous "Baking Show" and "Working at HQ" series, bringing the total count up to 62 videos - Enjoy!
1 day left to take the Developer Nation Survey
Join the more than 55,000 developers that contribute to the survey by sharing insights and interests. Participating in the Developer Nation Survey affords you the opportunity to impact one of the biggest surveys in our industry - and win some prizes too :)
This year, Umbraco has partnered with SlashData to bring more awareness around the Developer Nation Survey. A partnership that will help us learn more about the structure and needs of the Umbraco community, compared to the global developer community.
The deadline is tomorrow, August 4th, so if you haven't done so already, we hope you'll join in and help provide perspective from our corner of the tech community.
You can learn more about why we support the survey and why you should participate in the Developer Nation Survey blog post.

… Until next time
A large part of the work we do is inspired by the feedback we get from you. For issues and specific feature requests, you can find the issue trackers for our products on the Umbraco Github account.
If you have product feedback, you're welcome to reach out to us at product@umbraco.com.