Friday, January 6, 2017
The ultimate Umbraco achievement: Umbraco Certified Master
UPDATE: the Umbraco Certified Master requirements have changed since the publication of this blog post. Find the latest requirements here
Master. The word itself says it all; you're officially the best of the best, a cut above the rest - and who wouldn't want to be that? In November 2016 we introduced a new point system for Umbraco certifications along with new certification titles. And by doing so, we made it possible for you to earn the right to call yourself a master - an Umbraco Certified Master, to be exact. But what does it take to become a master and what do you actually gain by having the title? Find all the answers right here:


How to become, simply the best
How? You need to pass the full suite of available Umbraco certification courses. This means that you're one of the hardcore Umbracians who's invested in learning all levels of Umbraco and keep yourself up to date on new official Umbraco courses.
Unlike our two other Umbraco Certification titles: Umbraco Certified Professional (100 certification points) and Umbraco Certified Expert (200 certification points), the Umbraco Certified Master title has no set limit when it comes to the required number of certification points, because, as mentioned, you have to have the full suite of available Umbraco certification courses - at any point in time.
Right now we offer 4 official training courses:
Umbraco Fundamentals

Extending the Umbraco Backoffice

Umbraco, MVC and Visual Studio

Umbraco application integration
What happens to your master title when a new training courses is added?
If you've read the paragraph above, you might already know the answer to this question; in order to be able to call yourself an Umbraco Certified Master, you need to have passed the full available suite of Umbraco training courses. Thus, if you choose not to invest in the new course, you'll lose your master title.
You might think that sucks if you've just invested in all four courses simply to get the master title. But that's the terms we stick to in order for the master title to keep its value throughout time. To be a cut above the rest you have to want to keep yourself on top. And as stated on Umbraco.com:
"[Umbraco Certified Master is] A final step that may not be for everyone - only the truly hardcore Umbracians."

Another thing you might have noticed on our website is this:
"Search and taxonomy - coming soon, 1 day course, 50 certification points."
Yes, this is a new course that will be introduced in 2017. Search and taxonomy is planned to be available in the UK in the first half of 2017 and globally in the second half - no exact dates are official yet, but we'll make sure to keep you posted as soon as we know.
When official, it will take you all 5 courses to earn yourself the master title or the 1 if you're currently a master. And if you're currently a master enjoying your title and really want to keep it, there's no need to rush or worry; We give you 6 months from the first day that the new course is available to upgrade your Umbraco skills before your title drops to Umbraco Certified Expert. And remember, you can get your master status back at any given time as long as you upgrade and thus, have passed the full available suite of courses. It's up to you.
How often are new courses added?
Let's look at our course history: For the first 8 years (2007-2015) we had 2 courses: Level 1 + Level 2. Then in late 2015 we accounced that we would split the Level 2 course into 2: Asp.net Mvc Course and Extending the backoffice. About 6 months later we added another course: Umbraco application integration. And finally, we are rolling out a new course in 2017: Search and taxonomy.
We do not have any plans to add more courses in 2017. 2018? Possibly - we can't look into the future but we certainly hope that things keep moving forwards making it possible to discover and learn new things in Umbraco.
Top 4 reasons why you should invest in becoming one of the best:
Now you know what it takes - but why should you invest in becoming (or staying) an Umbraco Certified Master? There are many great reasons and benefits of calling yourself an Umbraco Certified Master. Reasons that goes far beyond an awesome title. Benefits that are both professional and personal. To make it more comprehensible, we have boiled it down to 4 main reasons:

You are a one man Umbraco army


You have the full suite - you do indeed know Umbraco! You know the full product, both in regards to implementation, UI and extending it. And you know how best to do it. This makes it possible to command an "architectural role" in a Umbraco project. You can create anything and you are able to suggest new ways of doing things, smarter and simpler. Basically, knowing it all makes it simpler and more fun for you to do your job.



You save time and money (and worry) on your projects


By knowing best practises in all aspects of Umbraco you have acquired the full skillset to set up a project correctly and efficiently, saving you time by getting it right the first time around. Saved time is saved money. But saved time can also mean that you're able to go the extra mile for your customers - suggest ideas they haven't even thought of and make them happen. It might not take you much effort but will put a big grateful smile on their faces and they'll come back or tell their friends.



You have the highest possible Umbraco skillset guarantee


You might already see yourself as an Umbraco master even without all the courses. But before you've taken the full suite, we, Umbraco HQ, simply can't give that guarantee. Thus, the master stamp is exactly that; a guarantee that you've required all official available Umbraco skills. A guarantee of the highest rank for you to give to your customers, your employer, the market and even yourself.




You can proudly call yourself an Umbraco Certified Master
Don't just give yourself a pad on the back, go ahead and brag loudly about your master title! It truly is an achievement and something that makes you stand out. Don't know how exactly? Look at the 3 reasons above and you'll know what the master title includes. The title also says that you're a devoted Umbraco developer - you know your stuff and you want to invest in the best Umbraco knowledge out there. And finally, you have earned the right to use the Umbraco Certified Master logo and you can link directly to your profile on Umbraco.com where your master title along with all your Umbraco skills is clearly stated for everyone to see.
In 2016 we were very honoured to see that more and more people decided to invest in the full suite of courses in order to gain top Umbraco skills and the title; Umbraco Certified Master. It shows that you understand the value of getting certified and that you want to stay updated. You're hungry and you want to stand out in the market - H5YR!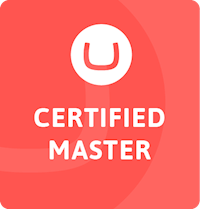 Want to join this exclusive group of Umbraco masters? Book your needed courses now and start enjoying the many benefits of, officially, being the best.