Request a free, personalized demo of Umbraco CMS
Stepping into the unknown can be quite intimidating and overwhelming. Even if we're talking about a CMS.
See firsthand how Umbraco, the flexible and future-proof CMS, works - and more importantly, how it can work for your team. Book a free, no-strings-attached 1-on-1 demo where our friendly Umbraco specialist will take you on a personalized tour of Umbraco.
In 45 minutes You will...
Learn how Your Business will benefit from using Umbraco CMS
Umbraco is more than a Web CMS. It's possible for editors to create and manage content in multiple languages, for multiple channels, and reuse content where needed. So whether you want to write blog posts and news for the web, manage data for a mobile app or promote campaigns on digital signage, Umbraco will deliver.
See for yourself how Umbraco works and what features it can offer your team. Book a live, 1-on-1, no-strings-attached demo of Umbraco, and let our specialists take you on a personalized tour!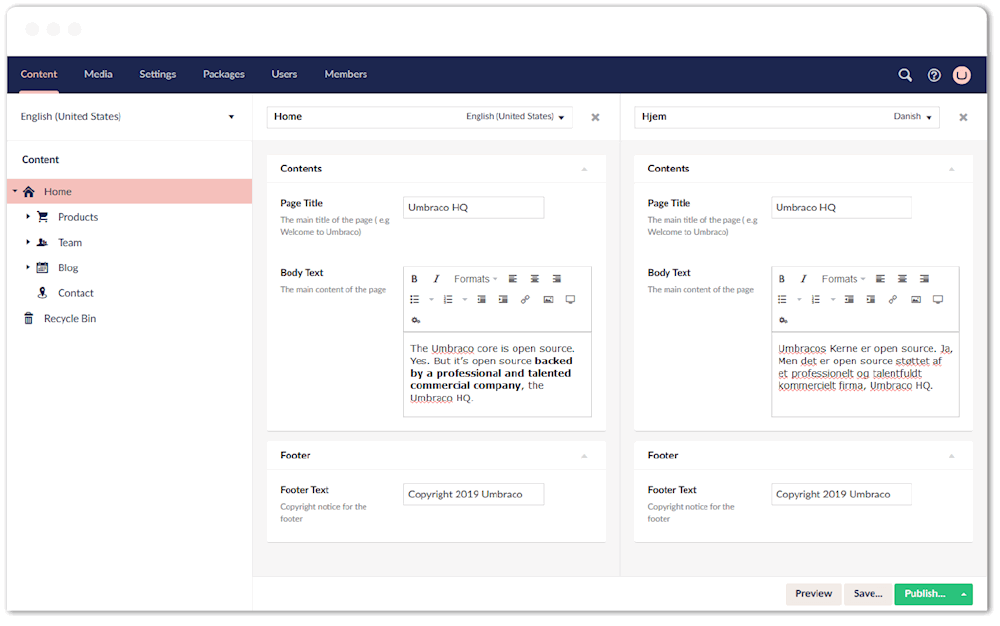 See the Umbraco CMS in action
Let's be honest - we could keep writing about how amazing our product is - But that's not the same as seeing it in action!
Let us show you how your website can benefit from Umbraco CMS.
You've probably gathered that Umbraco will take care of your content... but we also keep telling you that it's oh so much more!
But how? Let one of our friendly CMS specialists show you.
Book your live demo
We have a team of friendly CMS specialists ready to guide you through Umbraco. 
All you have to do is click the button below, and find a time that fits you. Then we'll do the rest, and prepare a nice demo for you.
What's the difference between the demo and a webinar?
To help you get started with Umbraco CMS, we offer an on-demand webinar, in which you get a tour of Umbraco CMS.
So how is a demo different?
The key difference is that while our webinar is an overall presentation of Umbraco CMS, our live demo will be made specifically for you - and there won't be any other attendees than you. If you add a bit of info when you book a demo, we can also prepare a demo specifically for you and what you want to see.
You can book a live demo on all business days - click the button above and find a time that suits you.