Get your content out in a simpler and faster manner
With Umbraco, you can create anything from simple blog posts to responsive campaign websites - all with a User Experience that lets you get the job done fast and with minimal training.
You can even create a customized editor experience with smooth workflows that won't interrupt your work, making your work with content a real joy! In the end, isn't this what a Content Management System should be all about - we think so! 

With Umbraco you get access to a lot of editor-friendly features and functionalities out-of-the-box. We've grouped these into 4 categories for you:


Publishing and previewing
Multi-device previews
Thanks to Umbraco's unique Responsive Preview, you can not only preview your content before it's live - you can also see how your content will look and feel on different devices.
This way, you'll know exactly how your visitors will experience your content whether they view it from a desktop, tablet and phone. And if adjustments are needed, you can go ahead and do them before publishing.
Scheduled publishing
How about going on holiday or on the road knowing that your site will update itself with new content?
Thanks to scheduled publishing, you can prepare news and campaigns ahead of time. Tell Umbraco what date and time the content should go live - and even when it should be removed again.
Work on drafts and publish when it suits you
If you didn't get to finish your page but want to save your progress and continue working with it later, that's no problem at all.
In Umbraco, you decide whether you want to publish your changes immediately or just save them and publish them at a later time. You can even schedule your new content to replace the existing live content at a specific time. You don't have to log in again to publish the new content when it's needed.  
Oh, and you can always preview your progress along the way without the content going live. This way, you can be absolutely sure that everything looks perfect and works as intended before publishing. 
Manage multilingual content in Umbraco
A global world calls for content in multiple languages. In Umbraco, you can find a supported set-up for managing and creating multilingual content.
This basically means that in your Umbraco 8 project, all content can exist in multiple variations at the same time.
Build all the needed content variations in one single content Umbraco project and take advantage of the built-in features that have been designed to make it simpler to update, manage and create multilingual content.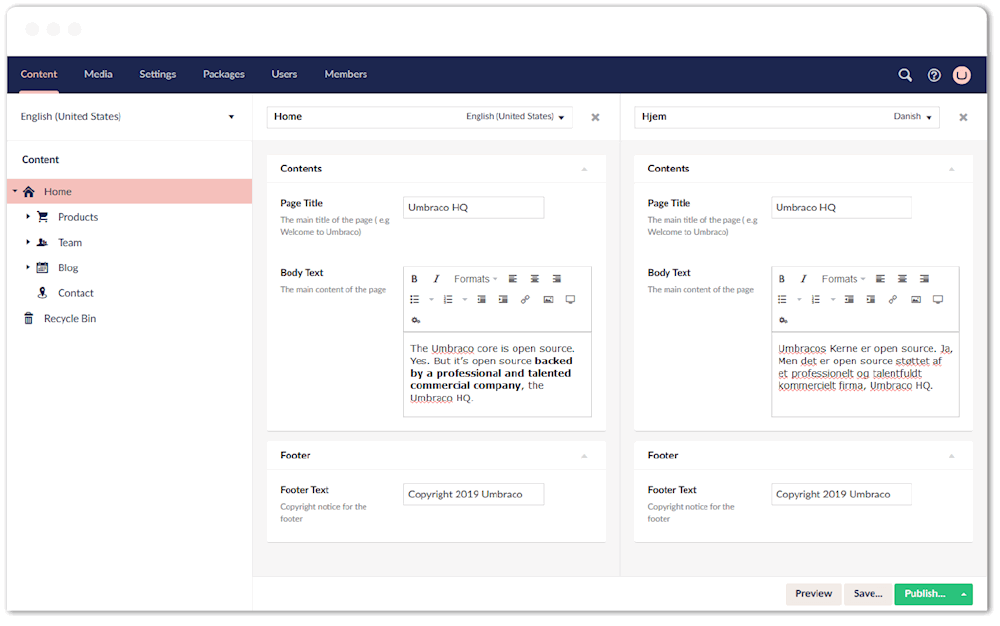 Create better content with insightful content companions
With Content Apps in Umbraco, you get content companions to help you create better content.
The apps can feed you information and feedback on the content you are creating as well as statistics and results of the impact of the content you have published. They can even bring you suggestions on how to improve your content while you're creating it.
No need to jump to external platforms or checklists to get these insights - you get it directly in Umbraco.
Versioned content - an infinite undo button
Worried about making a mistake or losing content? Perhaps you need to work on the content that's already been published?
None of the above is a problem as all content in Umbraco is versioned. This means that you can always roll back to an older version. It's like an infinite undo button - imagine what that'll do for your stress levels.
Build questionnaires and sign-up forms with zero coding
A great website is all about conversions and conversations. This is why Umbraco also features a form builder. Umbraco Forms makes it a breeze to build anything from simple contact forms to advanced questionnaires on your site - all without any coding.
Simply drag and drop different types of fields and questions into the form. You can start collecting the data that you need from your visitors directly on your site whether you want users to sign up for your newsletter, request a call or give you feedback on your services.
Keep a simple overview with the Umbraco media library
Content isn't just text. It's also photos, documents and videos. And often there's a lot of this extra type of content to enrich your copy.
That's why it's important for you to have a simple and well-structured depository for all these media. In the Umbraco media library, it's not just straightforward to add different types of media, it's also easy for you to create folders in order to keep things categorized and organized.
Find what you need, when you need it.
Ensure picture perfection with image cropper
Wave goodbye to chopped heads on tablets or missing logos on phones. The built-in Umbraco Image Cropper is a fantastic function that will ensure that your images get presented correctly on whatever device your visitors are using.
With the focal point, you simply point and click on the most important thing in the image. Umbraco will automatically resize and crop it so it fits perfectly on any device while ensuring that the most important thing stays in focus.
You can even set up default image sizes in Umbraco so there's no need to open photoshop before adding an image to your project. Pretty nifty.
Control how your content looks on social media
There's nothing better than seeing your quality content getting shared on social media. It's even better when you can decide how the social cards on Facebook and Twitter should look and what they should say.
With Umbraco, you can either reuse abstracts and media from your content or have specialized fields for editing the various social cards.
This way you make sure that your communication fits the tone of voice of the various SoMe channels, catching the attention of tons more people.
Content management across apps or websites
Umbraco is more than a Web CMS. It's possible for editors to create and manage content for multiple channels and of course reuse content where needed.
So whether you want to write blog posts and news for the web, manage data for a mobile app or promote campaigns on digital signage, Umbraco will deliver.
Personalize the experience for your visitors
Content managed in Umbraco is semantic and not static.
You can create content that can easily be enriched with taxonomies so the right content can be delivered to the right segments - whether that's by location, interests, time, or even based on 3rd party segmentation tools.
Great user management for a single editor or teams
Umbraco scales from a single editor to large content teams. And thanks to its advanced yet intuitive user management features, it's never been simpler to invite new team members and control what they can do in the system. You decide who should have publishing rights as well as who should be given editing access to certain parts of the content.
It can all be managed through groups of users, making maintenance as simple as possible and saving you from spending time on setting up individual permissions every time you get a new team member.
Find an Umbraco Partner
Choose an Umbraco Partner that can help you build your next project!
Learn more about Umbraco Cloud
Read more about how Umbraco Cloud helps you be more productive and let you focus on the fun stuff.
Ready to try Umbraco?
Experience Umbraco yourself - get started in just a few minutes with a free Cloud trial.